Magellan Midstream Partners (NYSE:MMP) is an MLP with an extensive growth and acquisition record. MMP focuses on refined products which contribute about 71% of MMP's 2013 gross margin. Its refined products segment includes a 9,600 mile pipeline system for the transport of diesel fuel and gasoline.
Magellan Midstream Partners pursues an aggressive pipeline acquisition strategy to expand its portfolio and connect its pipeline system to the attractive shale plays in the US. The United States is experiencing a massive fracturing boom in which previously inaccessible reservoirs can now be tapped with more efficient exploration technology. In the last five months, Magellan has acquired 800 miles of refined petroleum products pipelines (see graph below). The liquids-rich shale plays in the US are likely to contribute to further volume growth and higher MLP earnings.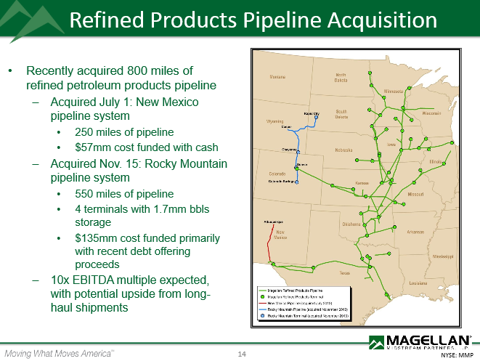 Permian Basin
Connecting the energy reservoirs of the Permian basin with Houston are one of Magellan's top priorities. The Longhorn pipeline has a capacity of 225k bpd and Magellan is pursuing a further expansion of 50k bpd until mid-2014. The BridgeTex pipeline, which is a JV with Occidental Petroleum (NYSE:OXY), will add another 300k bpd incremental pipeline capacity and it is expected to be operational in mid-2014. Occidental Petroleum is shifting its production focus to the shale regions in the US which is why I think this exploration company also has great long-term appeal.
These investments add substantially to Magellan's pipeline capacity and position the MLP right at the center of high-prospect oil exploration operations.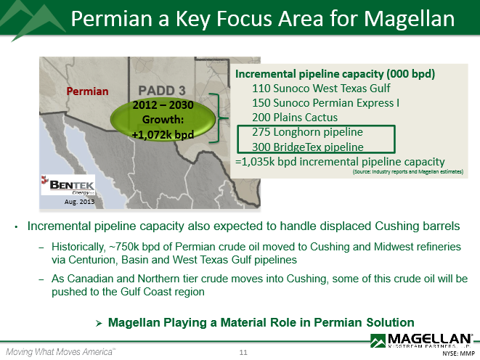 Eagle Ford positioning
Eagle Ford is one of the most attractive shale areas that are in-play in the US. Other high-impact shale plays include Bakken, Utica and Marcellus. Magellan is partnering with Kinder Morgan Energy Partners (NYSE:KMP) to transport condensate from the Eagle Ford shale. Given the above-average production growth rates of companies exploring the US shale landscape, I am very optimistic with respect to incremental earnings prospects from this joint venture.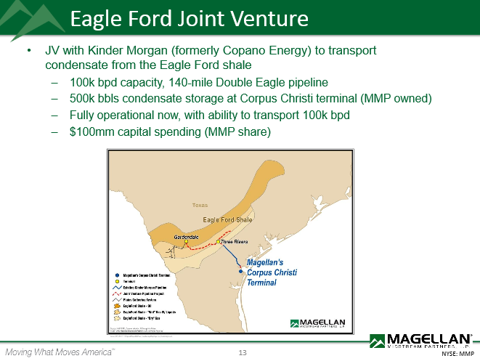 Distribution history
Of course, one of the main reasons to purchase Magellan Midstream Partners is its distribution record. Magellan has a record of distribution growth and aims to increase distributions by 15% in 2014 (16% targeted in 2013). Magellan's distribution growth trend creates confidence that the company will be able to deliver equally impressive distribution growth rates in the future. After all, its attractive asset footprint in the Permian and Eagle Ford areas should boost earnings, cash flow and distributions in the coming years.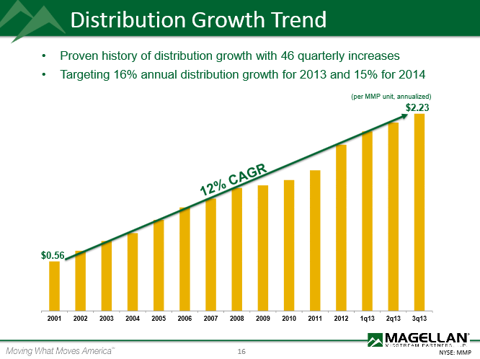 Conclusion
Magellan Midstream Partners is an investment-grade MLP with a proven history of distribution growth, a strong balance sheet and a demonstrated commitment to expand its asset footprint to the most attractive shale regions in the Lower 48. The addition of pipeline capacity, either through organic growth or acquisitions, should benefit the company over the long-term and sustain its capability to remunerate unitholders with increasing distributions. Investors purchasing Magellan Midstream Partners profit from an initial 3.6% dividend yield with prospects of double-digit distribution growth over the coming years.
Magellan's unit price has reflected its outstanding remuneration record. Magellan has returned 42% in the last year which makes it one of the top-performing MLP's in the sector. Kinder Morgan Energy Partners has severely lagged with a flat return of 0% and Plains All American Pipeline (NYSE:PAA) gained 13%. Even though Kinder Morgan Energy Partners has not gained much in terms of capital gains over the last year, this large-cap MLP is nonetheless a Strong Buy for long-term oriented distribution investors.
Given its very attractive pipeline expansion projects, its connection to the most relevant US shale plays and strong unitholder remuneration credentials, I rate Magellan Midstream Partners a long-term BUY for income-oriented investors with above-average distribution prospects.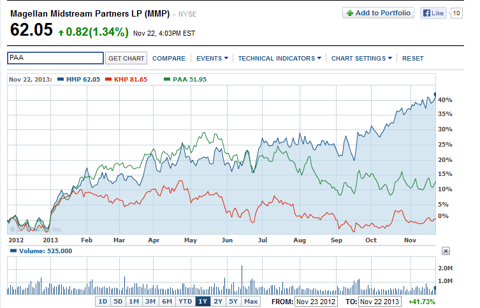 Disclosure: I am long KMP. I wrote this article myself, and it expresses my own opinions. I am not receiving compensation for it (other than from Seeking Alpha). I have no business relationship with any company whose stock is mentioned in this article.