Randgold (NASDAQ:GOLD) is a gold mining company operating in Africa. The company is managing assets in some high-risk jurisdictions but has been able to reap the rewards associated with these risks to build a business that has remained profitable even in times of declining gold prices.
Randgold reported on a very successful third quarter emphasizing operational excellence which manifested itself in very attractive financial results. In this article we will summarize Randgold's third quarter accomplishments and take a look at the financial position of the company.
Operations
The Loulo Gounkoto complex made an extraordinary contribution increasing gold production significantly due to an increase in grades and recovery improvements.
The Morila mine is winding down but still producing some gold from mineralized waste.
Tongon saw a significant increase in throughput and most importantly, improvements in utilisation of grid power where for the first time the feasibility target was reached. Recoveries were down for the quarter, apparently due to a change in process that should lead to improved recoveries going forward. However, gold recovery remains the main challenge at this mine.
The main event for Randgold in Q3/2013 was the first gold pour at the Kibali mine ahead of schedule in September. The mine is expected to exceed its 30.000 ounce production forecast for the fourth quarter of this year and is on track to meet its target of 550,000 ounces for 2014.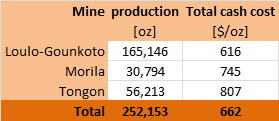 At Massawa, work for the feasibility study is ongoing to be finalized towards the end of 2014. Randgold is flagging the possibility of developing this mine with a partner.
Total cash costs were down pretty much across the board averaging $616/oz down from $799/oz in the June quarter and $735/oz year-on-year.
Randgold stipulates a 3M ounce threshold for a deposit at a cost assumptions of $1.000/oz for the company to become interested in mining. This entry hurdle has led to a very robust portfolio of operating assets for Randgold. It is important to note that Randgold has not recorded a single impairment charge on its mineral properties so far this year. A rare occurrence in the gold space of 2013 to put it mildly.
Exploration
"The last thing we cut is exploration" was one of the key messages conveyed by CEO Mark Bristow during the Q3/2013 earnings call. He evoked his memories of the nineties where according to his interpretation gold miners shortsightedly cut exploration only to encounter reserve bottle necks when the gold price took off again. Mark Bristow believes that the same error is happening again across the industry where cost-cutting almost unanimously means cuts to the exploration budget.
Bucking this general trend Randgold has increased Exploration and Corporate Expenditure year-on-year by 25% for the nine months ending September 30.
Exploration success is forthcoming at most projects the company controls, but maybe most visibly at the Kibali mine where reserves were recently increased to almost 12M ounces and an important near-mine discovery was made that could help to fill available mill capacity at the plant in the short-term.
Financial Position
The company finished the third quarter with a bottom line of $0.88 per share up from $0.50 in June quarter, and down from $1.33 year-on-year. We consider this an impressive result considering that the realized gold price dropped to $1,327/oz from $1,363/oz in the June quarter and $1,633/oz year-on-year.
This result was achieved by strong revenues of $332M due to strong production offsetting the lower gold price and cost control at the operating mines.
Despite a peak in capital spending in the third quarter the company still has close to $17M in cash available on top of the undrawn $200M revolving credit facility. The company remains practically debt-free. The depleted cash position will presumably see an increase again with reduced capital spending in coming quarters.
The current ratio of 2.9 indicates ample means to pay the bills in the near-term.
The company pays a modest dividend. We would not expect an increase in dividends until the company's cash position is rebuilt.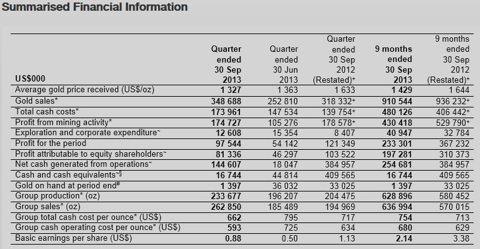 Conclusion
Randgold maintains a strong balance sheet, has been able to report profits despite the downturn in gold price and has some very attractive organic growth potential.
In our view, Randgold is very well positioned to remain profitable in a further gold price downturn should it occur; and to take advantage of an increase in gold price when it finally happens. The company has liquidity to take advantage of opportunities which currently abound in the junior sector that seems to become increasingly distressed.
Our exceedingly positive view of this company is of course always under the precursor that Randgold continues to manage its immense political risk exposure successfully.
Disclosure: I have no positions in any stocks mentioned, and no plans to initiate any positions within the next 72 hours. I wrote this article myself, and it expresses my own opinions. I am not receiving compensation for it (other than from Seeking Alpha). I have no business relationship with any company whose stock is mentioned in this article.