Greenlight Capital's David Einhorn is the latest Wall Street hot shot hedge fund manager to jump on the Micron (NASDAQ:MU) express. Einhorn confirmed his firm's new long position in Micron while speaking at an investor conference in New York. This follows the revelation that famed value investor Seth Klarman reported building a 64M share position over the last two quarters based on 13F filings for the quarter ended September 30th. Since Greenlight Capital reported no holdings in Micron for the latest 13F reporting period ending September 30th this means the shares were purchased between 10/1/2013 and 11/21/2013 somewhere between $16.50 and $20 per share. This is very bullish given Einhorn bought on the high end of Micron's 250% gains over the last 12 months as shown by the graph below.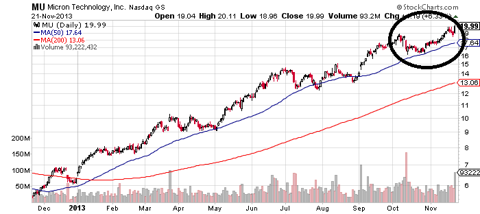 Einhorn cited consolidation in the DRAM industry and growth of flash and DRAM uses in smartphones and video game consoles as reasons for his positive outlook on Micron. Below is a quick list of catalysts for Micron's incredible YTD gains.
Elpida/Rexchip Acquisition
Micron's incredibly favorable acquisition of Elpida/Rexchip this year helped vault them to the top 3 of memory producers along with SK Hynix (OTC:HXSCL) and Samsung (OTC:SSNLF). In addition to virtually stealing Elpida/Rexchip it appears that Micron could be hiding upwards of $2.1B ($2/share) on their balance sheet from excess write downs related to the acquisition. I won't go into the accounting details in this article since they have been well documented on Seeking Alpha here and here. A rainy day fund maybe?
Increasing Memory Prices
DRAM and Flash prices have exploded higher in 2013 and have only recently pulled back slightly. A devastating fire at a Hynix plant in China on September 4th took about 25% of the DRAM off the market and contributed to elevated prices. Hynix's plant is still offline. Due to a favorable Supply/Demand forecast RAM and flash memory prices are expected to continue moving up.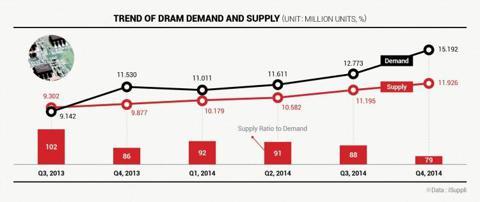 Source: iSuppli
Innovative Technological Advances
Micron continues to innovate, recently announcing shipping samples of its new Hybrid Memory Cube "HMC." HMC is expected to deliver 15x the performance of existing DDR3 technology using only 70% of the power. HMC will start out in super computers and is expected to migrate to consumer applications within 3 to 5 years.
On November 18th Micron announced the new Automata Processor. The processor will be a game changer for analyzing huge streams of data. According to Brian Shirley, Vice President of Micron's DRAM Solutions Group:
This announcement is a huge step forward for Micron and has the potential to unleash unprecedented levels of computing power.
Companies such as Google (NASDAQ:GOOG), Facebook (NASDAQ:FB), Amazon (NASDAQ:AMZN), LinkedIn (LNKD) and EBay (NASDAQ:EBAY) among many others will be users of this big data crunching technology. Automata is expected to be a direct threat to Intel's (NASDAQ:INTC) server business.
Estimated Valuations
Zacks consensus estimates for FY 2014 are EPS of $2.15 with a forward PE of 8.76 giving an estimated share price of $18.83. It's easy to see if Micron is compared to the average forward P/E for industry peers and the S&P it is significantly undervalued:
| | | | |
| --- | --- | --- | --- |
| | P/E | MU '14 FY EPS Estimate | MU '14 Share Price Est |
| MU | 8.76 | $2.15 | $18.83 |
| Ind Avg | 21.40 | $2.15 | $46.01 |
| S&P | 16.4 | $2.15 | $35.26 |
Now it gets even better. Analysts have had a difficult time trying to value the Elpida/Rexchip acquisition and what that will mean regarding future earnings for Micron (Micron has not been very helpful either) so the above $2.15 EPS estimates for next year should be taken with a grain of salt. Seeking Alpha contributor Russ Fischer crunched some numbers in this recent article and came out with a well reasoned FY '14 EPS estimate of $4.32. What could that mean?
| | | | |
| --- | --- | --- | --- |
| | P/E | Russ Fischer '14 FY EPS Estimate | MU '14 Share Price Est |
| MU | 8.76 | $4.32 | $37.84 |
| Ind Avg | 21.40 | $4.32 | $92.45 |
| S&P | 16.4 | $4.32 | $70.85 |
Now consider Einhorn's Greenlight Capital just bought in Q4 at prices between $16.50 and $20. Do you think David Einhorn believes the consensus estimate of $2.15 per share correlating to a $18.83 share price? I think not and we still haven't found that $2 per share in excess write-downs that Micron stashed from the Elpida/Rexchip acquisition.
Conclusion
Buy Micron.
Final Note: Seeking Alpha contributors Russ Fischer and Electric Phred should be required reading for anybody seriously considering investing in Micron. Russ has been banging the Micron drum for the last year starting around $6 per share and has been spot on.
Disclosure: I am long MU. I wrote this article myself, and it expresses my own opinions. I am not receiving compensation for it (other than from Seeking Alpha). I have no business relationship with any company whose stock is mentioned in this article.
Additional disclosure: This article is informational and intended to spur thought and discussion. This article is NOT a substitute for your own extensive due diligence and does NOT qualify as investment advice. DO NOT BUY OR SELL STOCKS BASED ON THIS ARTICLE.