Realty Income Corporation (NYSE:O) is often considered one of the all-stars in the REIT sector. The company has some of the best fundamentals in the industry, with a diversified portfolio of assets, both geographically and by tenant. Realty Income also has an enviable capital structure, with one of the few investment grade debt ratings in the industry. Lastly, Realty Income is widely known as the "monthly dividend company" with 519 consecutively declared monthly dividends. Realty Income's last monthly dividend was for $0.18185, or $2.182 annually, which at current prices equates to a yield of 5.60%.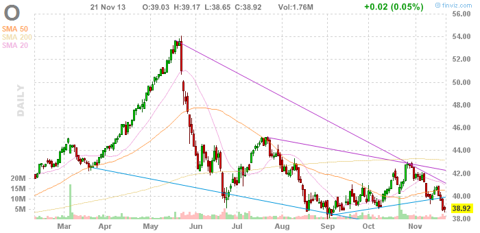 An overview of Realty Income: Strong, diversified asset base with high occupancy rates
***Do note that the vast majority of my data comes from Realty Income's November 2013 Investor Presentation
Realty Income focuses on acquiring freestanding, single-tenant commercial properties. The company has been able to achieve its dividend track record by focusing on long-term leases, oftentimes at 10 and 20 year intervals. While sometimes this limits short-term gains, it does lock in a dependable stream of lease income for the company. This gives Realty Income the stability needed to pay its monthly dividends, with some excess left over for growth.
Sometimes bigger is better, and with Realty Income, this is definitely the case. The company has a wide geographic footprint, with 3,866 properties in 49 states (Hawaii being the lone exception) and Puerto Rico. Having assets throughout the US allows Realty Income to avoid the impact of localized economic turmoil, such as is being seen in the rust belt region.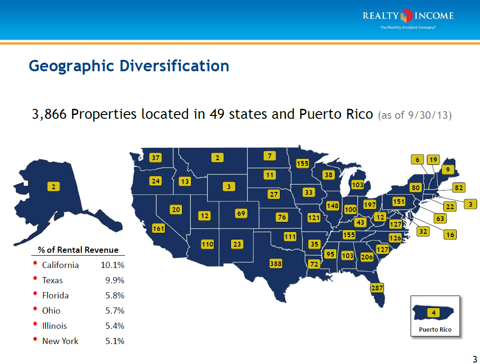 In terms of tenants and industry concentration, Realty Income is also fairly protected. While retail chains do make up the vast majority of properties at about 95%, they are a smaller percentage in terms of rental revenues at only 77.6%. In addition, retail is a broad term, consisting of a variety of very different businesses such as convenience stores, dollar stores, drug stores, restaurants, and so on.
Also note that Realty Income's largest tenants, FedEx (NYSE:FDX), Walgreen (WAG) and Family Dollar (NYSE:FDO), only makes up about 5% of total rent revenues. Indeed, when combined, Realty Income's top 15 tenants are only 44.4% of total rent revenues for the company. As of Q3 2013, Realty Income had 200 total tenants in 47 industries.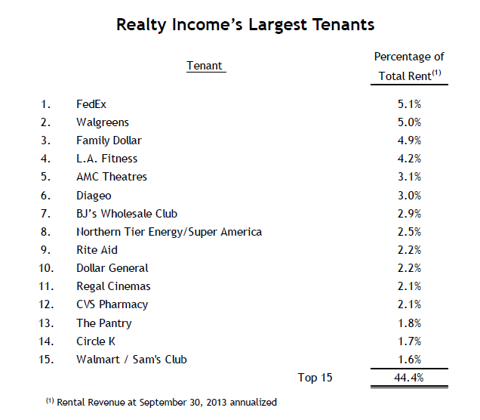 Realty Income also has a fairly consistent track record in terms of keeping its properties occupied. As of Q3 2013, the company had a portfolio occupancy rate of over 98%. More impressively, this rate has never once dipped below 96%.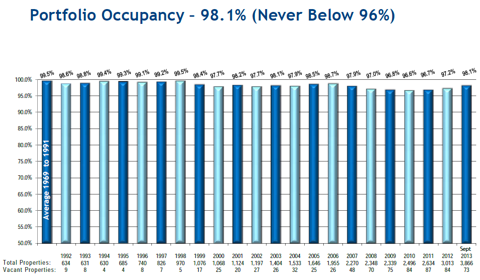 Realty Income Offers A Meaningfully High Monthly Dividend
Let's be honest, the primary reason most investors look at Realty Income is for its monthly dividend. The dividend is the cornerstone of Realty Income's corporate philosophy as it seeks to distribute monthly cash flows to its shareholders.
As I noted in the intro, Realty Income has paid out monthly dividends for 519 consecutive months. This includes a total of 73 dividend increases since its 1994 IPO as well as 64 consecutive quarters of dividend increases. While many of the increases are tiny, they are still growth.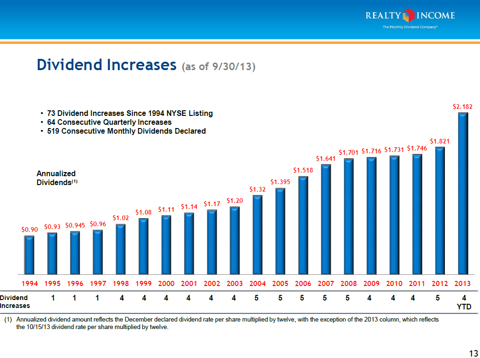 While some argue that Realty Income has been a laggard in 2013, this is merely the exception that proves the rule. Indeed, Realty Income has been trouncing the markets due to its yield. Monthly dividends allow for faster compounding when reinvested. This can be shown in Realty Income's total return metrics. Assuming reinvestment of dividends, the company has posted an average annual total return of 16.8% since its 1994 listing on the NYSE. This easily beats comparable equity REITs and all the major indices.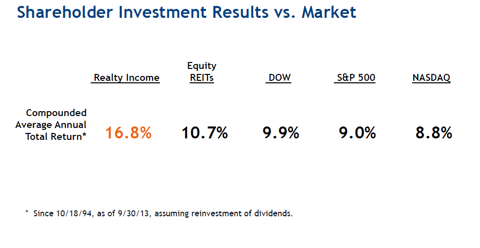 Guidance points toward a solid 2014
Another reason to be bullish Realty Income is that its guidance points toward continued growth for 2014. As many in the stock will know, Realty Income completed the very large acquisition of American Realty Capital Trust (NASDAQ:ARCT) earlier this year that allowed it to boost its dividend nearly 20%.
While growth by acquisition is nice, Realty Income typically aims for organic growth. For FY 2014, the company notes that it anticipates funds from operations, or FFO, to increase to about $2.53 to $2.58 per share. This would represent growth of 5% to 8% from 2013 levels.
FFO is a vital metric for elevating a REIT's valuation. At current prices, this implies a 15.00X to 15.40X Price to FFO, or P/FFO, multiple using FY 2014 FFO estimates. While this multiple is still somewhat higher than peers, it is well below where Realty Income was trading for earlier in the year.

Final Thoughts and Conclusion
Due to great fundamentals, strong income generation potential and attractive valuation, I finally initiated a long position in Realty Income earlier in the week. I consider the stock to be one of the more low-risk options out there for income.
Realty Income appears to be a solid buy at current prices. The stock is down 30% from its YTD highs and is finally trading at a reasonable valuation. Its current dividend payout ratio using FFO is about 90%, implying even further upside for the dividend.
Disclaimer: The opinions in this article are for informational purposes only and should not be construed as a recommendation to buy or sell the stocks mentioned. Please do your own due diligence before making any investment decision.
Disclosure: I am long O. I wrote this article myself, and it expresses my own opinions. I am not receiving compensation for it (other than from Seeking Alpha). I have no business relationship with any company whose stock is mentioned in this article.