The Institute of International Finance (IIF) recently reported on private capital flowing into emerging economies. The IIF found that emerging economies received $232 billion dollars less in 2009 than they had received in 2008… from $667 billion down to $435 billion.
So if there was significantly less money in emerging economies to stimulate growth in 2009, how could so many emerging regions have scored amazing '09 stock market returns? Answer… the markets are forward looking.
Consider the following facts: The overwhelming bulk of the dollars that shifted away from emerging economies in 2009 moved away from recession-ravaged Eastern Europe. The forward-looking markets anticipated the severity of the financial shift, as SPDR S&P Emerging Europe (NYSEARCA:GUR) lost -66% in 2008. That was far worse than Asia (NYSEARCA:AIA), Latin America (NYSEARCA:ILF) or Middle East/Africa (NASDAQ:PMNA) in 2008.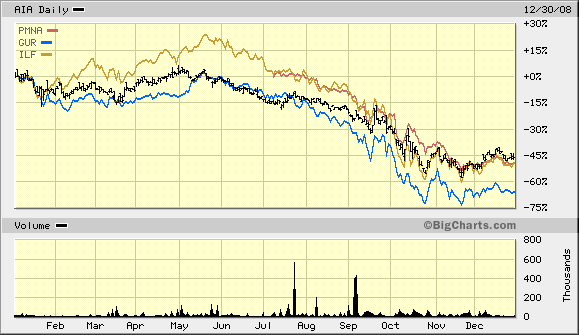 Now consider the projected private capital flows for 2010. Whereas only $20 billion made it to Eastern Europe/Emerging Europe in 2009, the forecast is for roughly $175 billion this year. That doesn't quite make it back to the $267 billion that Eastern Europe/Emerging Europe witnessed in 2008, yet the money flow back into the region should spur growth. Stock prices in 2009 reflected that expectation, as Latin America (ILF) was the only region with a better run than Emerging Europe (GUR).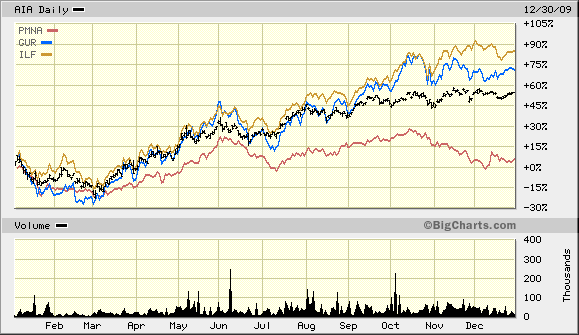 While the IIF anticipates a record $722 billion of private capital flowing into emerging regions in 2010, those expectations are already "priced into" emerging market equities. If private captial actually fosters economic growth in emerging regions (and that's a debate for another time), investors would be wise to track developments at the IIF's web site. It certainly would appear that increases (decreases) in anticipated private capital inflows might relate to Emerging Market ETF fortunes and/or misfortunes.
Disclosure Statement: Gary Gordon, MS, CFP is the president of Pacific Park Financial, Inc., a Registered Investment Adviser with the SEC. The company and/or its clients may hold positions in the ETFs, mutual funds and/or index funds mentioned above. The company does not receive compensation from any of the fund providers covered in this feature. Moreover, the commentary does not constitute individualized investment advice. The opinions offered herein are not personalized recommendations to buy, sell or hold securities.