Navidea Biopharmaceuticals Inc. (NYSEMKT:NAVB) focuses on the development of drugs and techniques that contribute to the diagnosis of diseases for cancer, dementia, and movement diseases. It has a market cap of just under $200M and is trading under $1.50. Since announcing a new public offering in September, the stock has been on a steady down trend, falling from just over $3.00 to under $1.50. While this can be frustrating for traders, for investors this presents an opportunity as the company has one drug approved for sale in the US and is expanding to Europe, and several other drugs in phase III development. There will be a turnaround for this company, but I'm not sure we've hit the bottom yet.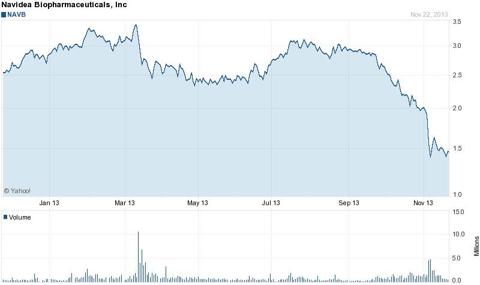 Click to enlarge
NAVB has several products in development:
Lymphoseek®, a radiopharmaceutical agent for sentinel lymph node mapping for patients with several different types of solid tumor cancers. Lymphoseek was approved by the U.S. Food and Drug Administration in March 2013 and launched in May 2013 for use in lymphatic mapping to assist in the localization of lymph nodes draining a primary tumor in patients with breast cancer or melanoma. The Company is planning a sNDA submission in 2013, and is awaiting MAA clearance by the EMA in Europe.
NAV4694 a powerful, second-generation PET imaging agent in Phase 3 development which may aid the differential diagnosis of mild cognitive impairment and dementia, including Alzheimer's disease, allowing patients to seek earlier treatment options.
NAV5001, a best-in-class SPECT imaging agent in Phase 3 development for the diagnosis of movement disorders, including Parkinson's disease, and Dementia with Lewy Bodies.
RIGScan a tumor-specific targeting agent that holds great promise in detecting occult and metastatic cancer in patients with colorectal cancer and other adenocarcinomas.
The Manocept™ Technology Platform focused on inflammation via CD206-targeting of macrophages across a range of potential disorders including rheumatoid arthritis, lupus, Crohn's disease, tuberculosis, vulnerable plaque and others.
During the recent conference call, Dr. Pykett, the CEO, highlighted three recent developments for the company: Lymphoseek launch, partnering activities outside the U.S., and the company's financial position.
Lymphoseek Launch: Since approval in March, and launch of the drug in May, momentum has been building for Lymphoseek. Sales have increased almost seven fold from Q2 to Q3 with both repeat orders and new customers coming on board. In addition, many customers are also ordering multiple doses, indicating they are stocking up on the product in their pharmacies and displacing previous generations of radiopharmaceuticals. And with all of this good news for the company, this still doesn't take into account the benefit the company will receive from the pass-through C-code from CMS, which became effective on October 1.
Global Partnering: During the call, the company announced the partner for expanding Lymphoseek into the European market is Norgine BV. Norgine already has a strong footprint in Europe and a reputation in the Pharma community, and should help navigate Lymphoseek to regulatory approval quickly. This will open another stream of revenue for the company going forward, but it may be a while before it begins to flow. The company has taken a strategy to retain long-term economic values and returns, and not focused on near-term compensation. While Europe will probably present the second most profitable stream, the company did announce they were in the process of executing a number of other smaller partnerships to serve patients in the Americas and Asia.
Financial position: Revenues for the third quarter was over $400,000 which included approximately $144,000 from the sale of Lymphoseek, approximately 90% of which was driven by procedures performed, with the remaining 10% coming from restocking of radiopharmacies. While revenue almost doubled, profit more than tripled from that revenue.

Click to enlarge
During the previous quarter, the company completed a $30 million offering, increasing the cash on the balance sheet.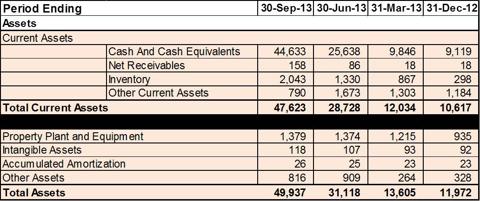 Click to enlarge
However, that may not be enough unless the company can get the revenue from Lymphoseek up. R&D costs alone were almost $20 million. Unless the company can get their R&D costs under control, or bring in another partner, they may have to go back to issuing additional equity.
Timeline
Over the past three months, NAVB has fallen from a just over $3 a share, to just under $1.50 a share, over 50%. Over that period of time, there have been several significant press releases: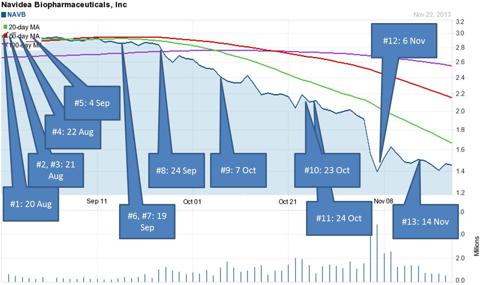 Click to enlarge
#1: Centers for Medicare & Medicaid Services (NYSE:CMS) issues an HCPCS Pass-Through C Code for Lymphoseek, effective October 1st, 2013, which will streamline billing and reimbursements.
#2: Signed an agreement with Siemens PETNET Solutions that grants PETNET Solutions the right to manufacture NAV4694 clinical trial material at select U.S. radiopharmacies, with the possibility of expanding into additional Siemens PETNET Solutions locations next year.
#3: Awarded a Small Business Innovation Research (SBIR) grant from the National Institute On Aging (NIA) of the National Institutes of Health (NIH) for Phase 3 clinical program for NAV4694 for up to $1.8 million in support through the conclusion of the Phase 3 clinical study.
#4: Reached agreement with the (FDA) for two special protocol assessments (SPA) for Phase 3 program with NAV5001.
#5: Award a second SBIR grant from the NIH for development NAV4694 for partial support of Phase 2b clinical study valued at up to $2.3 million program in support.
#6: Presented at the Cancer Advance Conference at Harvard Medical School underlying Lymphoseek Injection.
#7: Announced results from the Phase 3 clinical trial of Lymphoseek in JAMA Otolaryngology Head and Neck Surgery to identify sentinel lymph nodes in head and neck squamous cell carcinoma and correctly identified pathology-positive lymph nodes in 38 of 39 patients.
#8: Completed the sale of common stock and warrants for $30 million under a registered direct public offering with Crede CG III, Ltd. at a price of $2.84 per unit.
#9: Announced additional results from Phase 3 clinical trial Lymphoseek Injection in patients with head and neck squamous cell carcinoma. Navidea previously announced that the NEO3-06 study met the primary false negative rate efficacy endpoint of accurately identifying sentinel lymph nodes (SLNs) in subjects with squamous cell carcinoma of the head or in the mouth, as compared to the removal of all lymph nodes during multiple level nodal dissection surgery of the head and neck.
#10: Navidea Biopharmaceuticals Reiterates Position on Recent Financing, Stock Price: The Company believes the decline in value is unwarranted, and reiterated that it raised the funds primarily to enhance a series of initiatives underway including commercial opportunities for Lymphoseek outside the U.S., the continued development of its neurodegenerative imaging portfolio, and further evaluation of Manocept platform initiatives.
#11: Announced the publication of a special supplement Nature Outlook: Medical Imaging which will appear in the 31 October issue of Nature, and in which new collaborative data from proof-of-principle studies of the Company's Manocept" platform will be featured.
#12: Announces Third Quarter 2013 Results: Pleased with the initial stages of Lymphoseek commercialization at launch and believes that Lymphoseek continues to hold the promise to become the standard of care in lymphatic mapping. The recent equity offering enhances the ability to advance several efforts underway, including commercial opportunities for Lymphoseek outside the U.S., the continued development of our innovative neurodegenerative imaging portfolio, and further evaluation of the recently announced Manocept platform initiatives.
#13: Announced the U.S. Patent and Trademark Office (USPTO) issued a new patent covering the formulation of the Company's radiolabeled dopamine transporter (DAT) receptor ligand, NAV5001, used with SPECT imaging for potential differential diagnosis of Parkinsonian Syndromes and Dementia with Lewy Bodies.
Why the sell off?
With all the good news and announcements on successes, the only announcement that should have triggered a sell off was #8, the announcement of issuing equity through Crede CG. At the same time, there is a realization that unless the company can get sales of Lymphoseek stronger, bring in another partner, or lower R&D expenses, they may need to either issue more equity or more debt.
The company does have strong product lines, that will be profitable for the company once they can commercialize them. Lymphoseek is in the process of becoming fully commercialized and profitable for the company. The company also has two other products in phase III development and may see those approved soon.
Some near-term catalysts that could propel the stock higher are:
Approval of the sale of Lymphoseek in Europe
News on revenue from the pass-through C-code from CMS, which became effective on October 1
Results of the Phase III trials for NAV4694 or NAV5001
Offers to partner or buy out NAVB
Conclusion
I believe NAVB will see a turnaround, and return to profitability, but I'm not sure we've seen the bottom yet. The company has several strong products which benefit patients and stockholders. As Lymphoseek is approved in Europe, Australia, and Asia, profits will be compounded and sales and revenues will increase.
Disclosure: I have no positions in any stocks mentioned, but may initiate a long position in NAVB over the next 72 hours. I wrote this article myself, and it expresses my own opinions. I am not receiving compensation for it (other than from Seeking Alpha). I have no business relationship with any company whose stock is mentioned in this article.