In a year's time, tiny Car Charging Group (OTC: CCGI) has acquired four competitors and become the largest independent owner and operator of EV charging infrastructure. With the speed at which CEO Michael Farkas has consolidated the industry, one has to wonder if he is getting Car Charging ready for a timely sale. Even if he didn't have a roll-up in mind when he started the company just four years ago, this year's flurry of acquisitions could get a variety of potential suitors interested in Car Charging.
What Would Be For Sale?
Car Charging is often referred to a public EV charging provider. While the phrase may be easy to understand, it is a misleading way to describe Car Charging's value. First, the word "public" implies that Car Charging can earn no revenue on residential charging. Given that most EV charging is done at home, many people mistakenly conclude that Car Charging is in the wrong place. This is simply not true. It is more correct to say Car Charging provides "commercial" EV charging.
Can a commercial EV charging solution also be a home charging solution? Of course it can. For a large swath of Car Charging's potential users that do not own their residences, the only way they can avail themselves of convenient overnight charging at home is if it is provided by the property owner (e.g., an apartment complex manager). In such cases, Car Charging installs and provides EV charging equipment free of charge in exchange for a long-term revenue sharing agreement with the property owner. It also does this for owners of multi-tenant office buildings and other commercial properties, providing EV owners other daily opportunities to charge their EVs.
How large is the market for commercial charging? Car Charging says 40% of all U.S. residences lack a personal carport or garage, with the greatest concentrations being in urban areas where its deployments are focused. Given that the homeownership rate in the U.S. is currently about 65% according to the U.S. Census Bureau, that figure seems reasonable.
The other problem with thinking of Car Charging as a public EV charging provider is that it puts the emphasis on the charging equipment. Though it is easy to rank EV charging providers by how many chargers they have in the ground, to do so would be to miss the crux of Car Charging's value.
Car Charging's real value lies in the exclusive, long-term agreements it has to provide EV charging services at sites owned by over 87 commercial partners. The terms of these agreements are up to 21 years. This is an important point because charging rates of late model EVs are starting to surpass the charging rates of Car Charging's chargers. Car Charging, however, knows it will have to upgrade its stock of installed chargers. As Michael Farkas has said in interviews, the life expectancy of an EV charger is only about three years. That means a contracted Car Charging site could see 5-7 upgrades over the term of the agreement.
It's very similar to the internet service provider model. When they started out in the mid-1990's, all service was dial-up. As customers demanded faster speeds, ISP's responded with DSL service. Car Charging can do the same, and as charging speeds improve, shorter charging scenarios like drug stores and shopping malls will make more sense. The bottom line is that Car Charging's true value is in its real estate agreements, not in its equipment.
Who Could Be A Buyer?
Like any emerging industry, Car Charging could be acquired by anyone above or below it in the value chain. It all depends on what a potential suitor's strategy is for conquering this new market and whether it has the capital to spend. Let's consider a cross-section of potential buyers:
Tesla Motors (TSLA): In addition the shared future Tesla and Car Charging have in the middle market (as described in a previous article), there are a few other good reasons why it would make sense for Tesla to acquire Car Charging. First of all, Elon Musk has shown a passion for vertical integration. Tesla makes the car, provides a proprietary network of Supercharger stations to charge the car, and even makes a home solar power storage solution to enable EV owners who commute to a day job to charge at night. Through Solar City (SCTY) (where Elon Musk serves as Chairman), he also generates a portion of the power dispensed by his Supercharger stations.
Such an acquisition would also fill-in the holes left by the Supercharger network, which is and will always be a skeletal network designed to enable the Tesla owner's occasional long-distance road trip (see map below). It would enable Tesla's charging operations to branch out into supporting day-to-day driving as opposed to the infrequent cross-country trip. If Musk were to follow the same Tesla-only model used by the Supercharger stations, he could further lock-out his competitors.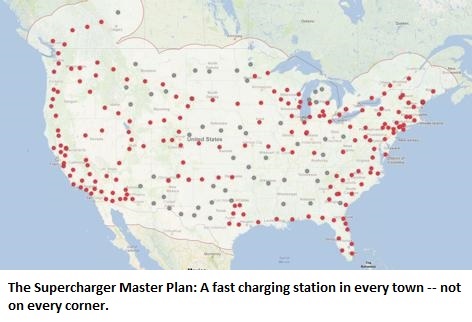 Tesla is currently sitting on a cash position of $795 million (page 4) - enough to buy Car Charging several times over if it were to act fast. However, that money may be marked for another vertical integration project under consideration, namely building its own battery factory. If that takes priority and there is no joint venture partner, Telsa will need all that and more to start making its own batteries.
Traditional Car Manufacturers: Though a wide variety of traditional car manufacturers are making plug-in EVs now, General Motors (GM), Nissan (NSANY), and Toyota(TM) have the greatest market presence. According to Hybirdcars.com, the combined U.S. market share of the Chevrolet Volt, Nissan Leaf, and Toyota Prius Plug-in is 60% (see chart below).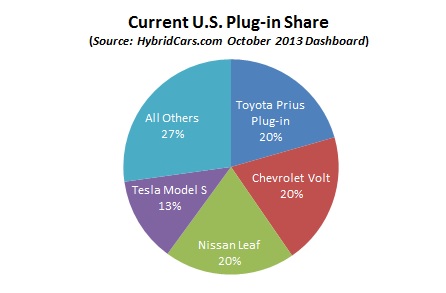 From a cash perspective, these three have enough money in the cushions of their couches to acquire Car Charging Group. (General Motors had over $20 billion (page 3) in cash as of end of the third quarter.) Through the EV Project, which Car Charging is taking over the management of as part of the ECOtality asset purchase deal, General Motors and Nissan already have a relationship with Car Charging. Nissan, however, has taken the relationship deeper by partnering with Car Charging to deploy 48 Nissan-branded quick chargers on the east and west coasts by the end of the year.
General Motors and Toyota may be less eager to partner with Car Charging because they are less anxious about range anxiety. That's because the Volt and Prius Plug-in are both hybrids. So, while a Leaf has an average range of 73 miles, a Volt has a total range of 380 miles on a full charge and a full tank of gas. Clearly, Nissan has the most pressing need to acquire a company like Car Charging.
Chargepoint: The closest thing to a direct competitor of Car Charging is Chargepoint. It is a complicated rivalry since Chargepoint has been Car Charging's largest supplier of EV charging equipment. In addition, Car Charging will likely inherit ECOtality's position in the Collaboratev initiative which was formed to foster interoperability between the Blink and Chargepoint networks. Though the two have danced around each other so far, they recently clashed over Car Charging's purchase of the ECOtality Blink Network assets. Shortly after the deal was announced, Chargepoint offered current commercial hosts of Blink Network charging stations up to a $2,200 trade-in credit if they would switch to Chargepoint.
Because Chargepoint is a private company, it is unknown whether it has a war chest to draw on for an acquisition. If it really wanted to, it could raise the capital through a private offering. With Chargepoint and Car Charging suddenly the last major players standing, the hostilities could lead to an olive branch in the form of an acquisition proposal.
NRG Energy( NRG): Another potential suitor for Car Charging is the wholesale electrical power generator NRG Energy. Right now, it seems to be merely dabbling in EV charging. Its eVgo subsidiary only has 42 Freedom Stations (40 located in Texas, 1 in Washington, D.C., and 1 in California). However, as a result of a legal settlement (see page 51) with the California Public Utilities Commission in 2012, NRG has to get much deeper into the EV charging business. Over the next 4-6 years, it must build at least 200 public EV fast charging stations and provide the wiring and associated work to prepare 10,000 commercial and multi-family parking spaces for EV charging in the state. It also has an appetite for green acquisitions, having announced in October its intent to acquire the assets of Edison Mission Energy for $2.6 billion which will make it the third largest U.S.-based producer of renewable energy.
More than Meets the Eye
These companies understand that Car Charging is much more than the book value of its current installed base of 13,000+ EV chargers. Like any other technology, they will be upgraded or replaced over and over again. What will not change for a couple decades are the rights Car Charging has to provide EV charging services at locations across the country. For the large number of people who could not have an EV were charging not offered as an amenity where they live and work, Car Charging provides a crucial service. It is the lock Car Charging has on these locations that make it a compelling acquisition target for a variety of players in the emerging EV industry.
Disclosure: I have no positions in any stocks mentioned, and no plans to initiate any positions within the next 72 hours.
Business relationship disclosure: Business relationship disclosure: Market Exclusive is a team of analysts and writers. This article was written by Carlos Uribe, one of our Group contributors. We did not receive compensation for this article (other than from Seeking Alpha), and we have no business relationship with any company whose stock is mentioned in this article.