There's been no mistake about it - the war between the next generation video game consoles Xbox One and PlayStation 4 is in full swing. Sony had led the charge, claiming over 1 million in PS4 consoles sold in the its first day, topping the first day sales for its PlayStation 3 console.
Sure, this is a war about video game systems.
But, it's so much more than that, if you take a step backwards and think about what these two machines are going to be capable of delivering to your home ecosystem. It is, in reality, a war to plant these products in your living room. From there, the benefits are going to be significantly more than for video gaming.
Microsoft (NASDAQ:MSFT) stock has, even in the midst of a CEO search, performed very well. It's up 8.1% over the last three months and up over 40% since the beginning of 2013. Microsoft - both the company and the stock - definitely have some momentum behind them.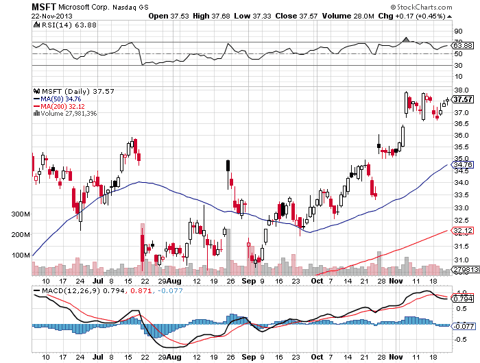 Click to enlarge
Microsoft's momentum is on the heels of its last quarterly report, where it made $5.24 billion in net income on $18.53 billion in revenue - major increases from the same quarter of the year prior. In addition to the Xbox One, Microsoft's Surface revenue grew quarter over quarter catalyzed by the Surface 2. The Surface is the only other major hardware production commitment that the company has currently.
And so, in the face of Sony's launch, it was time to see what the Xbox One was made out of. Its launch started the weekend well for happy gamers who were able to go out and upgrade their systems. Additionally, it appears that Xbox One found the same type of success from its launch that Sony did - a good sign, not only for the Xbox brand, but potentially for the future of Microsoft.
CNBC.com reported:
Microsoft sold over 1 million of its new Xbox One game consoles within 24 hours of their hitting store shelves on Friday, on par with Sony's PlayStation 4 despite launching in far more countries.

The new console, which launched in 13 countries, set a record for first-day Xbox sales and is currently sold out at most retailers, Microsoft said in a statement.

Sony said it sold 1 million PS4 units in 24 hours after launching last Friday in just the United States and Canada. The PS4 expands to other regions, including Europe, Australia and South America, from Nov. 29. It then hits Japan in February.
Bearish analysts on Wall Street call it too costly, and a distraction for Microsoft. In some regards, they can be right. The platform is pinned to lost around $1 billion for the year in 2014. After that, it's a question of how long it's going to be before it's profitable.
The timing is right, some argue, to spin Xbox off of the company. It's a road that some analysts have suggested Steven Elop would take first thing if he was brought in as CEO of Microsoft.
Yusuf Mehdi, Microsoft's vice president of strategy, says that Xbox has been profitable the last couple of years. He says the company sees the gaming industry growing from an annual $66 billion to $78 billion in 2017. I think it's likely that some of that growth is going to be attributable to the Xbox becoming part of a household "ecosystem."
What the Xbox bears don't realize is that the way Xbox One integrates with your TV gives it enormous future growth potential for Microsoft if they can monetize these items. Due to the fact that the One is a "media first" system that integrates your cable, Skype, Netflix, and your video gaming altogether, there's potential a la the Apple iTunes store to make the One the front line for media monetization for Microsoft. Whether or not they can execute that, that's a different story. But, the chance exists.
Again, the One is similar to GoogleTV in the sense that it has the power to integrate with your cable box directly and "take over" your television, allowing the Xbox to paint over your normal signal with their user interface. Skype is also integrated directly into the Xbox One software.
A one stop home media integration device. Is the Xbox One there yet? That remains to be seen. PC World's review seems to think that it isn't quite there, but it's the closest of any console so far:
Many people will see the One strictly as a gaming console and will focus on its strong lineup of launch titles. That's fine. But if we view the Xbox One as potentially being something more, we reach a different conclusion: As it is now, the Xbox One offers too little value as a component of the Microsoft ecosystem. I'd say that Microsoft gets closer than almost every other vendor, but it still falls short.

Fortunately, there's room for improvement. And with Sony fanboys already gleefully suggesting that Xbox fans overpaid for their $500 console, Microsoft should do everything it can to convince them that they're wrong.
So, let's not write off the One too quickly. Put aside the initial losses that it's going to cost Microsoft and think about it from a long-term ideological perspective - Microsoft is, with the One, starting to take control of your home media center. From there, the road to monetization is one you can almost draw a straight line to, as long as Microsoft can execute.
I remain bullish on Microsoft, convinced it should keep Xbox, and happily an Xbox user. Best of luck to all investors.
Disclosure: I have no positions in any stocks mentioned, and no plans to initiate any positions within the next 72 hours. I wrote this article myself, and it expresses my own opinions. I am not receiving compensation for it (other than from Seeking Alpha). I have no business relationship with any company whose stock is mentioned in this article.