For those of you who have been fortunate enough to have been investing in the stocks that our Young And Restless Portfolio holds, you would be enjoying some spectacular capital appreciation right now. It begs the question; is it time to cash out and book profits?
In this article I would like to focus on the drivers of this portfolio with a special emphasis on Amazon (NASDAQ:AMZN). I will also give my opinions on whether or not to sell these featured positions.
The "Young and Restless" portfolio now consists of Galena Biopharma (GALE), Amazon, Facebook (FB), Yahoo (YHOO), Zynga (ZNGA) and Ambarella (NASDAQ:AMBA).
The Numbers Are Quite Spectacular
While the entire portfolio is up well over 70% since we began this journey little more than one year ago, there are 3 key stocks that have become the standouts: AMZN, GALE, and AMBA. Say what you will about these stocks, especially Amazon, but the facts remain that these three stocks are up stunningly since we purchased them.
Here are how they look as of today, 11/22/13:
| | | | | | |
| --- | --- | --- | --- | --- | --- |
| Stock | Orig.Price | Price Now | Orig. Invst | Value Now | %+/- |
| AMZN | 230 | 373 | 10,000 | 17,000 | 70% |
| GALE | 2 | 3.98 | 10,000 | 19,900 | 99% |
| AMBA | 17 | 23 | 10,000 | 14,000 | 40% |
Gains such as these are not easy to come by, and the question I have been getting is if we should take profits now. My short answer is no, but let me explain why, for each of these stocks.
Ambarella
This company has the leading 4k technology for video, and the momentum of the company has just begun to gain strength. As I detailed in this article, the company's latest partnership with Dropcam is yet another significant development that should have an immediate impact on the AMBA revenues and earnings.
The size of the total surveillance market has grown and will continue to grow, and currently is at roughly $15 billion. Take a look at this chart from research done by "Video Surveillance Market - Global Forecast & Analysis (2011-2016)":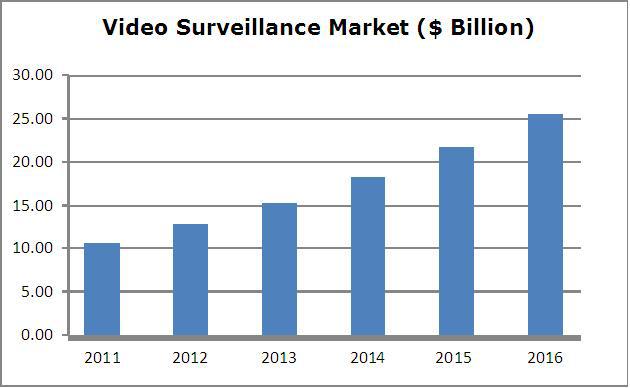 Dropcam Pro leverages Ambarella's HD camera SoC to provide industry-leading compression and outstanding low-light imaging. Dropcam Pro provides 2x the video quality of the previous model during the day, and 7x better performance in low-light conditions. Ambarella's solution also enabled Dropcam to develop a camera that provides pristine HD video quality even over the limited bandwidth connection typical of a home environment.
This technology is just getting started and some of the future uses can be found in this article. I believe that the use of 4k technology from AMBA will be used in the ultra high definition market. While the technology is already is happening for televisions, AMBA has yet to get started, and the potential is compelling.
In just about every business segment that AMBA works in, the company is considered top of the line, as noted by Dropcam with its decision to use AMBA.
No, I would not sell this stock.
Galena Biopharma, Inc.
I began covering this stock on June 19th of this year. One week prior to my wife's diagnosis. My last article noted the progress being made on the company's pipeline of drugs aside from NeuVax, and this company is just getting started as well.
The recent positive phase 1 clinical trial of FBP-E39 has now given hope to thousands of women who have been diagnosed with ovarian cancer (or have taken prophylactic measures based on the BRCA1 and BRCA2 tests), to have an after treatment drug that could reduce or eliminate a recurrence of THAT form of cancer.
From the Galena website:
Ovarian cancer occurs in over 22,000 patients per year in the U.S. and is the most lethal gynecologic cancer. Despite the incidence of ovarian cancer being only approximately 20% that of breast cancer, the number of patients that die from ovarian cancer is nearly 50% that of breast cancer. Due to the lack of specific symptoms, the majority of ovarian cancer patients are diagnosed at later stages of the disease. These patients are routinely surgically debulked to minimal residual disease, and then treated with platinum- and/or taxane-based chemotherapy. While most patients respond to this treatment regime and become clinically free of disease, the majority of these patients will relapse, and once the disease recurs, the treatment options and successes drop dramatically.
Combining this with the recent launch of the drug Abstral for breakthrough pain, gives this company, and the stock, every reason to continue to hold, and probably buy more!
No, I would not sell this stock.
Amazon.com
The stock that everyone loves to hate but the share price continues to rise. I believe that the enormous valuations that Wall Street has placed on this stock is warranted for a very simple reason; the company continues to grow, and even though they are not making any money right now, they have taken over the online retail business, as well as just about every business segment it decides to get into.
The fact is that Amazon has perhaps the largest moat of any company on Earth and there has been no other company to even come close. With this latest announcement, I believe that Netflix (NASDAQ:NFLX) is shaking in its boots.
Amazon.com today announced an exclusive content licensing agreement with new film studio A24, known for cutting-edge commercial hits such as Spring Breakers and The Bling Ring. This groundbreaking multi-year agreement makes Prime Instant Video the exclusive premium subscription home for all of the current and forthcoming A24 titles shortly following their release on DVD and Blu-Ray.

We are always looking for new ways to bring our Prime Instant Video customers, unique, exclusive movies and TV that we think they will love, said Brad Beale, Director of Digital Video Content Acquisition for Amazon (AMZN). As always, we monitor DVD and digital sales very closely and A24 movies such as Spring Breakers and The Bling Ring are exceptionally popular among our customers. This new deal with A24 allows us to offer those same titles to our Prime Instant Video customers soon after they are released on DVD and Blu-Ray and at no additional cost.
If Amazon wants to own this business they will. Just as they have in every form of e-retail commerce available. Take a look at some facts: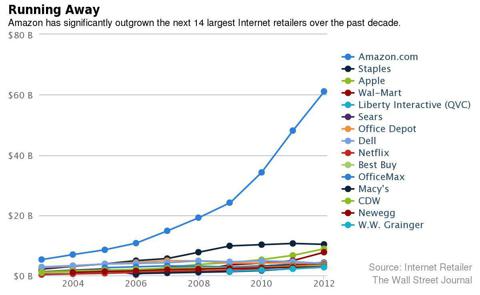 How about the overall growth of retail e-commerce itself?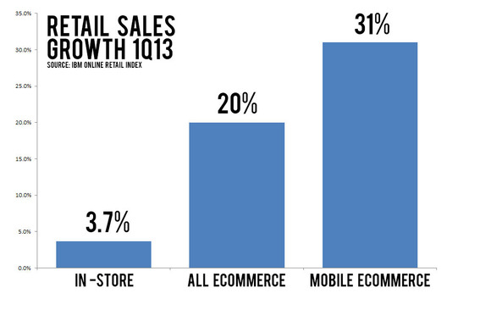 Of course here in the USA, the rate of growth for internet sales has picked up steam as well:
With Amazon sales at more than $60 billion as of 2012, it seems to me that as sales grow, so will Amazon.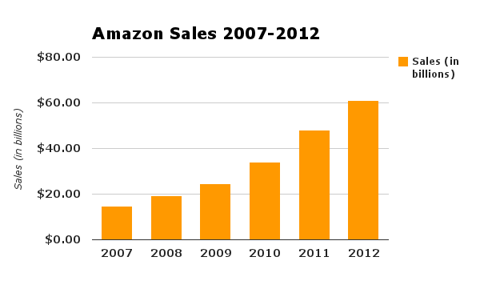 Even in a relatively small business such as web services, and is categorized by Amazon as a "side business" with its sales recorded as "other, this side business rakes in over $2 billion in sales on an annual basis and has grown substantially.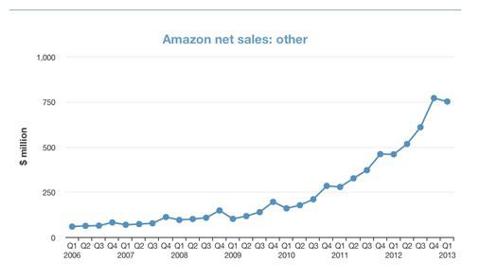 While we all can agree that the lofty valuations of Amazon appear ludicrous, and the love affair that Jeff Bezos has with Wall Street is a thing of beauty, the disconnect between those of us who believe that Amazon will continue to grow, and those of us who believe that the company will fall under the sheer weight of itself, is a gap that only time will tell who is right and who is wrong.
As far as I am concerned, Amazon is much like our nation's monetary supply; if money is needed it is printed. In the case of Amazon, if money is needed, they enter a business and immediately grow revenues.
Is this the kind of company I want to be invested in for growth? You betcha'!
No, I will not sell this stock.
The Bottom Line
At some point I will take profits, but right now these 3 companies are showing me what growth is all about. Until such time that they show me a fundamental change, or if they begin to flounder, I will be a holder, and probably be buying both GALE and AMBA on significant dips.
I have no crystal ball and have no idea how high these stocks could go, but I believe that the future potential is even greater than the current success.
Disclaimer: The opinions of the author are not recommendations to either buy or sell any security. Please do your own research prior to making any investment decisions.
Disclosure: I am long AMBA, AMZN, FB, GALE, YHOO, ZNGA. I wrote this article myself, and it expresses my own opinions. I am not receiving compensation for it (other than from Seeking Alpha). I have no business relationship with any company whose stock is mentioned in this article.