First things first, I do own shares of Intel Corporation (NASDAQ:INTC); it is the smallest position in my portfolio. I own enough to make me pay attention to what is happening, but not enough for me to care if it goes up, down, or sideways. This makes me focus on the fundamentals of the business and get the feel of the market for shares of Intel. With that said, I think one of things that I am seeing is a misperception about the fundamentals of the business.
In this report, I will discuss recent research and analysis from Seeking Alpha's #1 technology stock publisher, Ashraf Eassa. Also, I will model the financial performance of Intel in 2014, and lastly I will value the common equity shares.
In terms of the fundamentals, management and I agree that the PC Client Group faces headwinds in 2014. Also, while Intel dominates the high end of the server market, I think the Data Center Group faces secular headwinds from Cloud Computing and Virtualization; in other words, the data center becoming more efficient should adversely impact the Data Center Group's revenue. So, Intel's two core segments face secular headwinds and the new mobility offerings are an attempt to offset some of that weakness.
In summary, I'm not going to add to my Intel position partly because of the forecasted fundamentals and partly because the company is fairly valued.
Secular Trends Impacting Intel
Mr. Eassa has an outstanding understanding of Intel's mobile product's technical specifications and how the products stack up against competitors. But I think that there are a few things that he is missing. Most importantly, I think he is overestimating the strength of the PC Client Group and Data Center Group. I'll begin by discussing it at a high level.
Intel is primarily PC and Data Center. The PC segment faces headwinds from the consumer market, which the reader probably already knows. The enterprise portion of PC should get a tailwind from the Windows 8.1 release; from my conversations with IT Managers at large U.S.-based corporations, they tend to wait until the second version of the release before they upgrade. So, the dynamics at play are strength in enterprise, but a prolonged slump in consumer. In other words, the consumer market is going towards tablets, or convertibles, and consumers aren't going back to laptops. Simply said, at best, the PC Client Group will be flat in 2014 and 2015.
Next, Data Center is facing secular headwinds in the form of virtualization and cloud computing. So, what we are seeing in the data center is consolidation of workloads; the data center is becoming more efficient reducing the demand for servers. Intel has been fortunate so far as spending by cloud service providers has more than offset weakness in enterprise server expenditure. I think we are going to continue to see some commoditization of the data center as well as increasing efficiency. I think at best the Data Center Group is up in the low-single digits in 2014 and 2015.
Before I get into the models, what we are seeing is Intel attempting to offset weakness in its two core segments with market share gains in smartphone and tablet. I think Mr. Eassa is missing the secular trends in IT, but I would like to thank him for his work on Intel's product launches. Lastly, Mr. Eassa thinks Intel is heading towards being the market leader, but Intel has to solidify a second place position in smartphone and tablet before it can be the market leader.
Modeling Financial Performance
I think the focus of my models should be on the future revenues of Intel; thus, I will model a few scenarios for the operating segments of the tech behemoth. Before I get into the 2014 scenarios, I'm looking for total revenue of $52.321B in 2013, which is down 1.9% y/y.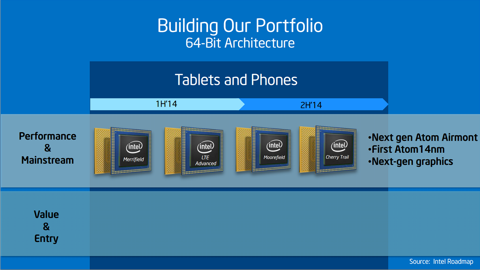 My understanding is that Intel does not have design wins in the iPhone, iPad, or Samsung's Galaxy lineup, which says that Intel will be competing for market share in a small portion of the overall smartphone and tablet market in 2014. Maybe Intel will be able to gain more share in 2015, when it releases more offerings.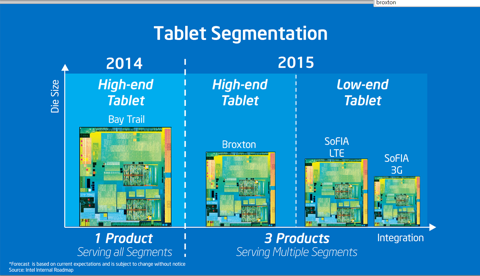 So, I color coded the table; the optimistic forecasts suggest caution and so does the baseline scenario. The pessimistic scenarios suggest a potential share price decline.

In the baseline scenario, the PC Client Group's total net revenue declines 5%; Data Center is flat and mobility (Other Intel...) is up 5%. Software is up 5% and all other is up 10%; this leads to total net revenue declining 2.17%, which is roughly inline with management's expectations.
In the optimistic scenario, PC is flat and Data Center is up 5%; mobility and software are up 10% and all other is up 17.5%. This scenario leads to a 3% net revenue increase; consequently, the rosy scenario suggests upside will probably be limited without PC.
This is why I said Intel is using a push into smartphones and tablets to offset weakness in PC and maybe server which would lead to roughly flat revenue at best.
Without looking at the valuations, I don't see the financial performance providing a tailwind to the valuations so I am not adding to my position.
Valuations
I'm going to use the multiplier models to value Intel; I will compare the tech company with the S&P 500.
| | | | |
| --- | --- | --- | --- |
|   | INTC ("TTM") | S&P 500 | INTC 5-Year Avg. |
| P/E | 13.6 | 17.1 | 14.5 |
| P/B | 2.3 | 2.5 | 2.3 |
| P/S | 2.5 | 1.6 | 2.5 |
Intel is undervalued, it's price/sales should be above the market's price/sales, relative to the market, but the forward growth rate could be below the market's growth rate. Also, Intel is typically undervalued relative to the market. Consequently, Intel is fairly valued.
The valuations and forecasted fundamentals suggests being underweight Intel; in other words, I don't think Intel is going to outperform the market in 2014.
Disclosure: I am long INTC. I wrote this article myself, and it expresses my own opinions. I am not receiving compensation for it (other than from Seeking Alpha). I have no business relationship with any company whose stock is mentioned in this article.