by Dee Gill
I need to find an auto shop for some brake work, and it's clear that Yelp (NYSE:YELP) isn't going to help here. Yelp doesn't list my city of 250,000 in services, although I find my neighborhood hidden in a drop-down box for the metro area. Checking it and a few other familiar locations gives me 17 results for auto repair shops, but the anonymous reviews are of little use. None of the listings got more than two reviews -most had none, and even some of those were bad.
On Angie's List (NASDAQ:ANGI), I limit my search to shops within 10 miles of my house and get a list of 87 possibilities. They appear to be ranked by overall ratings and the number of real customer reviews, which is in the dozens for the first five. Many of them have discount coupons attached. In five minutes I find three places to call.
For investors, my whiny car story should bring up a pertinent question: can Yelp's crappy service company product really do more for their share prices than Angie's List far superior one? That appears to be the market consensus at the moment.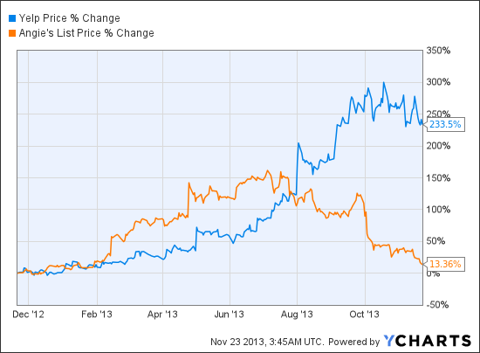 YELP data by YCharts
Service provider reviews, useful or not, are crucial to the long-term share prices of both Yelp and Angie's List. Although Yelp built its reputation by becoming the go-to site for restaurant reviews, it cannot achieve the growth investors expect without gaining similar status in the service world. It needs hoards of customers to write their opinions of plumbers, nail salons and house painters so it can sell ads to those very businesses. Ads are essentially Yelp's only source of revenue.
Angie's List was born as a more rule-bound review site, where reviews are written by verifiable customers rather than any wandering web crawler. Consumers pay subscription fees for access to the List, and they agree to contribute to its veracity by writing reviews themselves when they hire someone. Angie's gets about 27% of its revenues from these consumer subscribers, and the rest from businesses that pay it for ads within their listings and, sometimes, transactions. Angie's success depends on continuing to convince consumers that this List is worth paying for, even if free facsimiles of it are available at Yelp and elsewhere.
Both companies are growing like weeds, racking up 55% or more revenue growth every quarter for the past two years.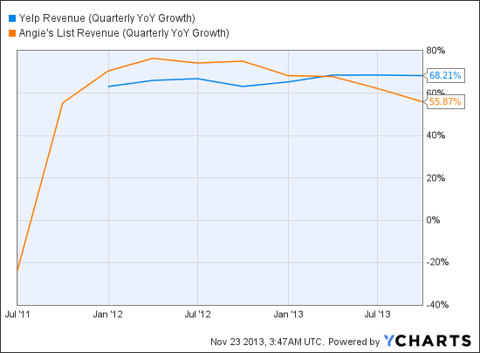 YELP Revenue (Quarterly YoY Growth) data by YCharts
Both companies have to sustain incredible growth to keep their share prices rising. The expectations are spelled out in very high forward price-to-sales ratios.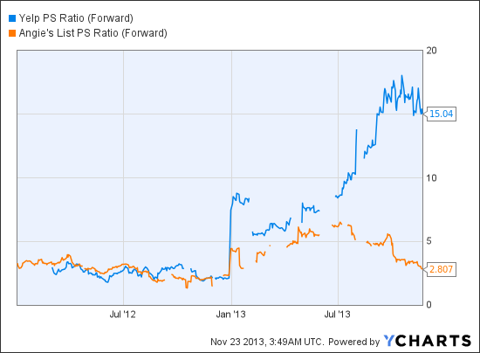 YELP PS Ratio (Forward) data by YCharts
And they are both losing money. Both Yelp and Angie's List lost more money in the third quarter than analysts had expected.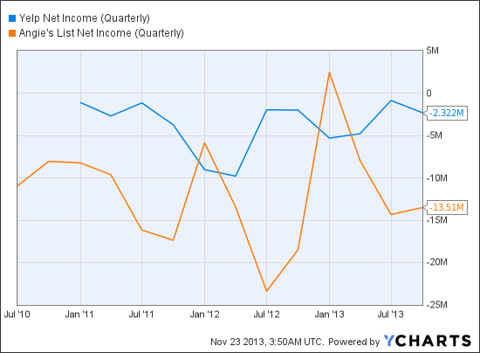 YELP Net Income (Quarterly) data by YCharts
Industry analysts are wishy-washy on both shares, although Angie's List gets a slightly bigger portion of buy ratings. Long term, the big question for both of them is whether Yelp can attract enough numbers in its service reviews to give its free information as much credence as Angie's paid List. Yelp has successfully done this in restaurants, where Angie's offers little help, and in shopping. If Yelp cannot become similarly respectable in service businesses, it cannot attract enough advertising to satisfy market expectations of revenue growth. Its enormous share price valuations suggest that such a scenario would spook investors into a whole lot of selling.
What would a Yelp success here do to Angie's List? Angie's shares also are priced for growth, although not nearly as exorbitantly as Yelp's. Regardless, they would surely deflate if any serious competition took hold.
Whether a freebie like Yelp could truly doom Angie's List is an interesting conjecture. In the past, Angie's List might have been protected by the general understanding that "you get what you pay for;" i.e., quality costs money. But with a generation raised on an Internet full of free information, the value of quality data has declined. Yelp doesn't have to excel at the product to devastate Angie's. It just has to get close enough.