Over the past few years, Big Lots' (NYSE:BIG) financial performance has not been up to par because of the major restructuring and poor performance of its wholesale business. This restructuring included new retail inventory management systems that resulted in a $5.6 million increase in cost of sales in 2012 and the acquisition of Liquidation World in 2011. The company was also betting on its wholesale business which was not generating good financial returns.
Recently, the company made the difficult decision to discontinue its wholesale business because over the years the wholesale business environment has changed. It has become increasingly more competitive and this has resulted in lower sales and margin growth opportunities. I believe that this directional shift will help the company to improve its financial performance. It can also be an entry point for long-term investors as share price is currently depressed.
Promo
I have analyzed the company's business model, competitive advantage, and historical financial performance. I have also performed a valuation of the company. I also discussed the factors that will help the company to improve its margins and achieve higher growth in the coming future. These factors include:
Increase in consumer spending and disposable personal income
Lower fuel prices will help the company to improve its operating margins
Unique business model (deep discount retailer)
Growth potential in Canada
Directional shift (i.e. closure of wholesale business) will improve company's margin
In addition to that I also applied the discount free cash flow model to valuate fair value of the company's stock. Based on my assumptions and estimates, I have anticipated the fair value of the stock to be $46.85 with an upside of 24.68%.
Business Model
Big Lots is North America's largest broadline closeout retailer. As of February 2nd, 2013, the company operates a total of 1,574 stores in the U.S. and Canada. The company has a unique business model with great savings on brand-name closeouts and other value-priced merchandise.
Closeout merchandise generally results from production overruns, packaging changes, discontinued products, liquidations, returns, and other disruptions in the supply chain of manufacturers. The company generally purchases closeout merchandise at lower costs than what would be paid by traditional discount retailers. The company then offers the closeout merchandise to its customers at lower prices than those offered by traditional discount retailers.
Competitive Advantage
The biggest competitive advantage the company has over its peers is its unique business model. The company seeks to target a large customer base rather than a limited one. The company has many categories of merchandise which include: food, consumables, furniture, home, seasonal, hard lines & toys and electronics & others. This variety provides the company with better vendor relationships and higher purchasing power than its competitors because most of the competitors in this sector are category specific. In other words, the company provides a huge variety of lower priced merchandise under one roof.
The company also took advantage of the lower rental rates, lower property prices and lower mortgage and interest rates over the years to expand its number of stores from 1,339 in 2008 to 1574 in 2012, an increase of 17.6 percent. This increased the company's sales, by 16.2 percent, and lowered its operating expenses.
Financial Performance
Over the last few years, the company has showed improvements in its top line but its bottom line has suffered. Over the period of five years, the company was able to generate revenue at a CAGR of 3.84%. The reason behind the growth in revenues was increased merchandising; an increase in the number of stores. The highest increase in sales was in 2011 due to the company's purchase of Liquidation World, which resulted in an additional $62.1 million in sales.

Cost of goods sold is the major cost for the company and has a major impact on the company's margins. This is the reason why the company's operating and net margins move in the same direction as its gross margin. The company's gross margin was affected by several factors including greater markdowns, high inbound and outbound costs because of increasing fuel costs and a greater proportion of sales generated from the lower margin food and consumable segments.
Big Lots has constantly increased its earnings per share; however, in 2012 it dropped by a small amount from $2.98 in 2011 to $2.93 in 2012 due to higher cost of goods sold. The higher cost of goods sold was due to a higher markdown rate, recognition of an expense in relation to a change in an accounting policy, and also because of a small increase in the operating expenses.
Merchandise Category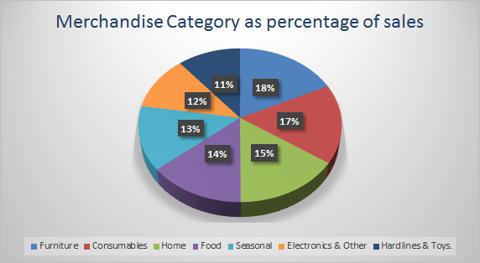 The company offers seven major merchandise categories in its stores; including Food, Consumables, Furniture, Home, Seasonal, Hardlines & Toys, and Electronics & Other. Furniture is the largest category, contributing 17.9% to sales in 2012, whereas Hardlines & Toys is the smallest category contributing 11.0% to sales in 2012.
Year to Date Earnings Preview
The company's net sales increased by $24.39 million or 1% to $2.54 billion year-to-date compared to $2.51 billion in 2012. The increase in net sales was due to a net increase of 51 new stores since the end of the second quarter of 2012.This increased net sales by $76.8 million and was partially offset by a 2.6% decrease in comparable store sales of stores open at least fifteen months which in turn decreased net sales by $59.7 million. The furniture category was the strongest performer and had the largest sales gains in the year-to-date 2013. Upholstered items were the primary driver. The sales increase in the consumables category was led by the pet department with household chemicals, housekeeping supplies, and paper products also contributing to the increase. This increase was partially offset by declines in health and beauty care and home organization products.
The Consumables category benefited from an increased volume of brand name closeouts early in the year. The increase in its seasonal category was consistent with the growth in the new stores. Sales in the electronics &other category decreased due to slow electronics sales, particularly in tablet, digital camera, gaming, and DVD sales. The decline in the hardlines & toys category was primarily driven by slow automotive and home maintenance sales throughout the year coupled with a planned reduction in toys and books offerings. The company's year to date financial performance was also affected by higher inbound and outbound costs due to increases in fuel costs during the year and poor performance of its wholesale business. These events resulted in a lower gross margin of 39.3% compared to the 39.4% gross margin of 2012 and net margins of 2% compared to the 2.5% net margin of 2012.
Sector Outlook
The retail sector acts as a measure of consumer spending. When the U.S retail sector shows weakness, it means that the consumer spending is not strong enough. If that becomes the case, economists assume that the U.S. economy will perform poorly since consumer spending makes up about two-thirds of the U.S. gross domestic product (GDP).
Rising competition and online retailing, transformed by the digital and mobile revolution, has changed the shopping behavior and attitude of shoppers. Shoppers compare prices more than ever now, which also force many big retailers to attract shoppers through deep discounts. Many U.S. retailers offer deep discounts to win back-to-school shoppers, which is the second-biggest selling period after the holiday seasons.
Because of these changing dynamics, many retailers are modifying their business model, from discounts retailers to deep discount retailers. But these unusually high level deep discounts raised concerns regarding retailers' margins. So, in this business model only those retailers would survives who have a strong vendor relationship and sustainable purchasing power with their vendors.
On the other hand, improving consumer spending, backed by increased consumable income and home prices, cheaper gasoline and more employment opportunities are providing households with the means to boost purchases. A pickup in wage growth would provide an additional spark to spending.

Over the past years, the Canadian retail sector has shown a tremendous growth. Recently, the Canadian landscape has become increasingly crowded as a relatively strong pace of consumer spending and growth in disposable income attracted many foreign retailers, including some of the World's largest retailers focusing on expansion plans in the country. The strengthened Canadian dollar is also a main source of attraction for many retailers to invest in Canada. So the opportunity for retailers, especially deep discount retailers, seems quite promising as well in Canada.

Future Outlook Of The Company
The closure of its wholesale business is a sign that the company is now headed in the right direction and will improve its overall performance in near future as well. The wholesale business has affected the company's financial performance (margins) over the years. Furthermore, the expansion in Canada is a good growth opportunity for the company as currently no big player with this business model is operating in that market. This will help the company to grow its number of stores to further increase its sales. Moreover, as you know, the housing sector is in recovery mode, which means that the demand for household goods will help the company to increase its sales and margins in future.
Comparative Analysis
Big Lots operates in the highly competitive retail industry. The company faces strong sales competition from other general merchandise, discount, food, furniture, arts and crafts, and dollar store retailers, who operate in traditional brick and mortar stores and/or the e-commerce marketplace.
Usually the comparative analysis in the retail industry is based on sales per selling square footage, average selling square footage per store, and net sales per store of the company. Big Lots' unique business model helps the company to generate higher revenues on higher volumes and generate higher revenue per store.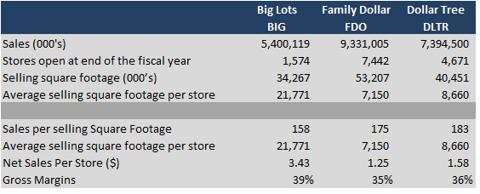 Source: BIG, FDO and DLTR
The operating statistics mentioned above are key measures used in the retail industry to compare retailers. For comparative analysis I chose Family Dollar (NYSE:FDO) and Dollar Tree (NASDAQ:DLTR) as close competitors. Both of these competitors are discount retailers, not deep discount retailers. As you can see from the chart above, the company's average selling square footage per store is more than its competitors which indicates that the company operates larger stores than its competitors. This also resulted in lower sales per selling square footage than its competitors. Despite its lower number of stores, the company was able to generate more net sales per store and gross margins than its competitors due to its unique business model.
Risks
Slight fluctuations in commodity prices, including but not limited, to diesel fuel and other fuels used to generate power by utilities, may affect its gross profit and operating profit margins
Reduction in disposable income and consumer spending may hurt company sales
A significant component of the company's sales growth strategy is to open new store locations. If the commercial real estate market tightens and the company is not able to negotiate favorable new store leases and lease renewals this may negatively affect its margins
An increase in competition may also affect its margins as the company already offers deep discounts to its customers
Valuation
For the valuation of the company I have used a free cash flow discount model by projecting the company's revenues, net income, cash flow from operations and capital expenditures. I have made assumptions, to forecast revenues, margins and capital expenditures, mostly based on the company's historical financial performance. I assumed that the company will open few stores in the near future but that the number will eventually increase in the long term, because of the opening of new store in Canada. I also believe that sales per square foot will increase backed by increasing consumer spending and improving economic condition.
Historically, the company's capital expenditure is quite limited. On average, it is 2.14% of revenues, but I believe that the company will increase its capital expenditure initially to improve its current stores ambiance in Canada and later to increase the number of new stores in both Canada and U.S.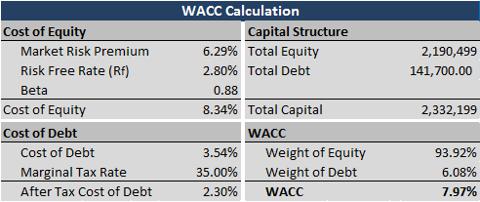 The table above shows the calculations of the WACC. By using a market rate of return of 6.29% (consensus market risk premium), a risk free rate of 2.8% (10 year Treasury yield) and a company beta of 0.88 the cost of equity is calculated to be 8.34%. Based on the company's 2.54% cost of debt and marginal tax rate of 35%, the after-tax cost of debt is calculated to be 2.3%. Using both the cost of equity and cost of debt, WACC is calculated to be 7.97% and will be used for the discounting cash flows.

Based on my assumptions, I projected the company's revenues, net income, CFO and capital expenditure. For terminal growth I used a 1.5% growth rate (consistent with U.S. economic growth). By applying the discount factor and mid-year adjustment I calculated an enterprise value of $2.81 billion.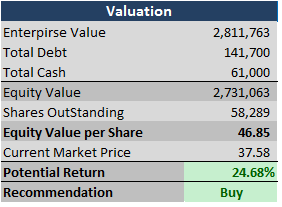 Equity value was calculated by adding cash to enterprise value and then subtracting total debt from that figure. Based on the company's current shares outstanding of 58.29 million, the expected equity value per share is calculated to be $46.85. Currently, the company's stock price is at $37.58 per share. My calculations suggest an upside potential of 24.68% which, in my opinion, is sufficient enough to attract more investors. Therefore, my recommendation is to buy this stock.
Disclosure: I have no positions in any stocks mentioned, and no plans to initiate any positions within the next 72 hours.
Business relationship disclosure: The article has been written by a Blackstone Equity Research research analyst. Blackstone Equity Research is not receiving compensation for it (other than from Seeking Alpha). Blackstone Equity Research has no business relationship with any company whose stock is mentioned in this article.