The coal exchange traded fund outlook looks murky as large investors, and even developed countries, pull out of coal-fueled energy over greenhouse gas emission concerns.
Storebrand ASA, which manages $74 billion in assets in Norway, dumped 24 coal and oil-sands companies, including Peabody Energy Corp. (NYSE: BTU), the largest U.S. coal producer, in an attempt to reduce fossil fuel holdings, Bloomberg reports.
Recently, Norway's Labour Party proposed banning the $800 billion sovereign wealth fund from holding coal investments.
HSBC Holdings Plc predicts that future curbs on carbon emissions beyond 2020 could put pressure on coal asset valuations by as much as 44%.
"There is the beginnings of divestment out of pure play coal by some investors," Nick Robins, head of HSBC's climate change center of excellence, said in the article. "There's been a very marked rise in concern about this issue. There's a recognition that as you move to a low-carbon economy that coal is potentially most vulnerable."
The United Kingdom, along with the U.S., is minimizing funding to foreign coal-fired power plants, according to a separate Bloomberg article. Funding would be allowed in "rare circumstances" when there are no alternatives or if it would help reduce poverty.
"We will work to get support of more countries and the multilateral development banks," U.K. Energy Secretary Edward Davey said at the U.N. climate change conference.
Coal was used to generate 30.3% of the world's primary energy in 2011, the highest level since 1969. The so-called dirty energy is still in high use from China and India where demand is estimated to expand 4% a year through 2020. Nevertheless, global thermal coal producer stocks have declined over the past two years due to diminished demand and fears of oversupply.
"There's a pretty plausible case that this is the beginning of the end," Craig Mackenzie, investment director and head of sustainability at Scottish Widows Investment Partnership, said in the article.
The Market Vectors Coal ETF (NYSEARCA:KOL) is down 20.6% year-to-date.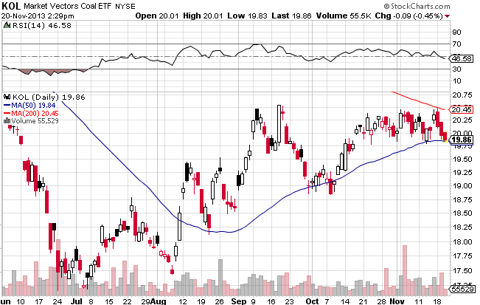 Disclosure: I have no positions in any stocks mentioned, and no plans to initiate any positions within the next 72 hours. I wrote this article myself, and it expresses my own opinions. I am not receiving compensation for it. I have no business relationship with any company whose stock is mentioned in this article.