My View of Repligen's Business Model
I think that Repligen's (NASDAQ:RGEN) bioprocessing businesses is one of the best business models that I have seen in my many years as an analyst. Products used in bioprocessing have very long product lives because changing the manufacturing process for a biological product once it is approved or after it has completed phase III trials can change the characteristics of the product. Hence, a change in the manufacturing process at virtually any level can create troublesome regulatory issues as the FDA will require assurance that the product is unchanged. The agency may request new studies, possibly including clinical trials in humans that demonstrate that there is no change in the product.
The economic benefits of any change in manufacturing efficiencies are trivial in comparison to lost profits if output is interrupted by the need to validate a change in the biomanufacturing process or if in the worst case it changes the product characteristics. This means that once Repligen's products are incorporated into a manufacturing operation at the commercial level they are likely to be used through the life of the product. As a result, its products enjoy very long life cycles and have minimal vulnerability to competition; Repligen's products are like annuities.
Sales and Earnings Outlook
I think that Repligen is classic buy and hold stock; however, in 2014 there is a very significant but. Based on technology developed by Repligen when it was an emerging biotechnology company and prior to the focus on bioprocessing, it gained patent rights to technology that was used to develop Bristol-Myers Squibb's (NYSE:BMY) $1 billion blockbuster drug Orencia. As a result, BMY has been paying a royalty to Repligen and because there are no offsetting costs these royalties drop straight to operating income. In 2013, I think that Repligen will report operating income of $23 million of which $5 million comes from the bioprocessing business, $17 million from Orencia royalties and $1 million from a milestone payment from Pfizer (NYSE:PFE).
The but in the Repligen story is that the Orencia royalty ends as of December 31, 2013 and will contribute nothing to operating profits thereafter. In 2014, all operating profits will come from the bioprocessing business which I project at $10 million. In terms of fully diluted EPS, I am projecting $0.52 for 2013 but with the loss of Orencia royalties, there is a sharp drop to $0.25 for 2014 followed by a 25% increase to $0.32 for 2015. If one focuses only on EPS, the P/E ratio for 2013 is 25 times but based on 2014 EPS, it is 52 times and for 2015 EPS it is 40. This is based on the recent price of $12.91. As I will discuss shortly, Repligen's value cannot all be captured by only considering reported EPS. Still, this is the easiest thing to focus on and for someone looking at the company for the first time this looks to be a pretty hefty valuation.
Let me start the analysis of Repligen by giving you my view of the growth prospects of the bioprocessing business as it now stands. I think that growth in EPS from 2014 through 2016 could be exceptional. Over this period I am estimating sales per annum growth of 16% and per annum EPS growth of 31%. The business is neither capital nor marketing intensive so that I expect gross margin to increase over this period of time and for SG&A to decrease as a percent of sales. This is what provides the leverage to allow profits to grow much faster than sales. Here is my sales and earnings model for Repligen.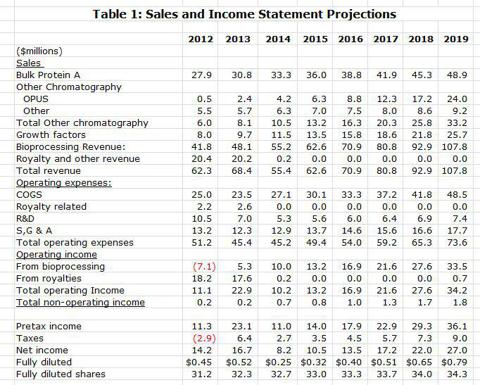 Source: SmithOnStocks Projections
Wrestling With a 2014 Price Target
In trying to assess the potential for the stock in 2014, the question that investors have to wrestle with is whether the market will focus just on EPS, in which case, the P/E ratio seems high. However, there are other aspects to the Repligen story that add value and may mean that the total focus of the market may not just be on 2014 reported EPS. The "bottom line EPS in 2014" are an important part of the valuation assessment, but it is much more complicated than just that.
Repligen is a strong generator of cash. Cash on the balance sheets of emerging biotechnology companies is destined to be consumed by operations and has minimal value for creating shareholder value in other ways. However, Repligen is cash flow positive which means that cash on the balance sheet does have incremental value for shareholders. It is available for other purposes such as acquisitions, share buybacks or dividends. In the near term, it will almost certainly be used for acquisitions. By year-end 2013, the cash per share of Repligen is projected to be about $70 million or $2.19 and is on track to rise to $79 million by year-end 2014.
Repligen also has three biotechnology assets that it is monetizing. Two of these are orphan drugs that could have very significant potential. It is very hard to estimate the value of these assets. However, as a rough stab I think that if these assets were the basis of a standalone biotechnology company, based on the valuations of comparators, they might be valued at $50+ million or $1.55 per share. Some investors place the value as much higher, but I am trying to be conservative. Bear this in mind as you read the next paragraphs.
This exercise suggests that cash on the balance sheet and the biotechnology assets are worth about $3.75 per share. If so, this means that investors are paying $9.16 for the core bioprocessing business. The 2014 and 2015 P/E ratios based on this adjusted $9.16 price are 36 and 29. These multiples in comparison to the projected 30% growth for EPS are not that much out of line for multiples paid for companies with this level of EPS growth, quality of earnings and sustainability of earnings. Finally, there is also the significant potential that bolt-on acquisitions can be made that could significantly increase the rate of EPS growth. The company has the manufacturing and marketing infrastructure to support significant acquisitions.
To illustrate the potential impact on EPS of an acquisition, let me hypothesize what an acquisition might look like. Let's assume that Repligen has the opportunity to buy a company or product with $10 million of sales and that it can buy this asset for three times sales or $30 million. Let's further assume that this business has gross profit margins of 50% like Repligen's current bioprocessing business and that the asset can be manufactured in Repligen's facilities and that the incremental marketing expense would be adding five salesmen which would cost about $1 million. With all of these assumptions, the operating profit contribution would be $4 million and the after-tax contribution would be $0.09 per share. Obviously, one or two acquisitions like this could dramatically improve the growth rate of the company.
You can sense my dilemma. I am nervous in the short term that some traders will jump on what appears to be a high valuation combined with the 47% decrease in EPS that I am projecting for 2014 EPS and exert pressure on the stock. Yet, I think that this is an exceptional company and will reward "buy and hold" investors handsomely over the next decade.
Rather than telling other investors what they should do, let me tell you what I am doing. Based on life experience, I think that when you are invested in a company like Repligen, which offers exceptional stability and growth potential, you don't trade in and out. The risk is that you get out and never get back in. I will hold my stock, but I am not adding to my position. I want to see how the market reacts to the 2014 EPS decline. I think that the company will issue formal EPS guidance for 2014 in the 4Q, 2013 conference call in February or March of 2014. This guidance will certainly make the 2014 EPS decline crystal clear to the market. It may be the case that the market is placing a much higher value on the biotechnology assets than I am and has totally factored in the EPS decline. We shall see.
Further Information
This note is an excerpt from a more detailed report that focuses on the company's exciting new product venture, OPUS disposable chromatography columns, and the potential for acquisitions. These are critical elements in Repligen's long-term outlook. That report is available only to monthly or annual subscribers to my website.
Disclosure: I am long RGEN, BMY. I wrote this article myself, and it expresses my own opinions. I am not receiving compensation for it. I have no business relationship with any company whose stock is mentioned in this article.