In a previous article we wrote about the attractiveness of Senior Housing within the Healthcare REIT sector. We shared some very compelling statistics on the ageing baby boomer generation and how the supply/demand dynamics of the industry favored those REITs owning properties in the Senior Housing space.
The investment thesis we presented in that article was:
The dynamics of certain sectors provide opportunities for companies to provide attractive returns to investors over the long term. The healthcare industry, and in particular, senior housing, is poised to benefit from an aging baby boomer generation, supply shortages, and demographic trends that will continue to drive demand for their services.
The Statistics
In 2010, there were 40.3 million Americans age 65 or older, accounting for about 13% of the total US population. Of these individuals, 5.5 million were 85 years and older.
44% of Americans aged 65 or older lived alone in 2010.
The number of Americans who need long-term care is expected to increase from approximately 12 million today to 27 million in 2050.
By 2030, when the last baby boomers turn 65, the number of Americans age 65 and older is projected to be 72 million, or 19% of the total population.
The percentage of the population that is age 85 or older is expected to grow by more than 25% by 2030 and by 126% by 2050.
Healthcare spending as a percentage of GDP is currently 18% and it is expected to increase to $5 trillion by 2021, which is 20% of expected GDP.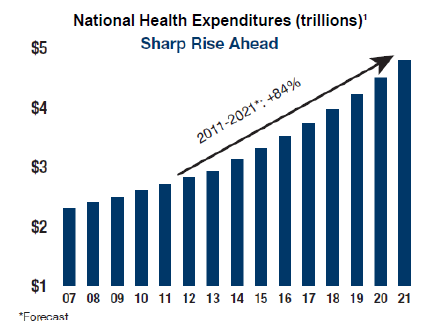 Source: VTR Company Website
Supply and Demand
Despite these trends, senior housing supply has actually dropped almost 9% from 2000 to 2009, and occupancy rates across the entire sector have remained at a steady 90% or so. While construction of nursing homes, assisted living facilities, and independent living facilities has recently begun to pick up, the growing demand for these services should drive occupancy rates higher and provide a catalyst for price increases.
The winners will be operators with entrenched positions in markets with high barriers to entry. While they may eventually be affected by the new supply of facilities coming online, the impact in the next few years should be immaterial.
We feel the best way to play this theme is through REITs, and in particular, REITs with operations in senior housing. And while we understand that REITs are known to be negatively impacted by interest rate increases, a paper by Cohen & Steers exposes the myth of this dynamic, particularly for certain types of REITs.
In the paper, Cohen & Steers argue that certain REITs are less sensitive to interest rate and inflation increases because of the short-term nature of the lease contracts.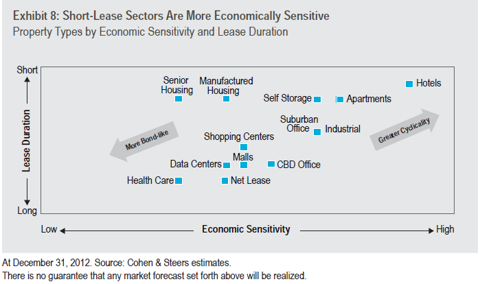 Click to enlarge
Source: Cohen and Steers
We would add that for those REITs operating with triple net lease properties, the leases on these properties typically contain variable increases tied to some index, such as inflation. So healthcare REITs in senior housing and/or triple net lease properties should be fine if interest rates begin to rise. But even so, it may be difficult to find the REIT opportunity.
Finding the Right REIT
There has been quite a bit of M&A activity and with only 10% of healthcare properties owned by REITs, the potential for additional consolidation is quite high. This activity could help larger, more established REITs pull away from smaller REITs or new entrants as they take advantage of economies of scale and keep expenses low. Larger REITs also have a competitive advantage in the acquisition race, and with only 20% of senior housing owned by REITs, there could potentially be quite a bit of activity.
Another factor to consider within the Senior Housing space is the source of revenue for each REIT. Investors should stay away from REITs with high exposure to Medicaid and Medicare payments as these programs get cut and government funding in the future remains uncertain, at best.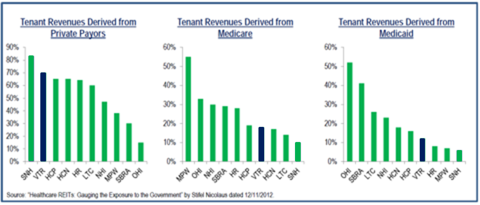 Click to enlarge
Source: SNH Company Website
Finally, the passing of the REIT Investment Diversification and Development Act in 2007 (RIDEA), loosened some of the restrictions on REITs being able to own and operate properties, allowing REITs to participate in the upside potential of certain properties through Tax REIT subsidiaries.
When we consider all of these factors, we can narrow the list down to a handful of REITs, and we have already mentioned SNH. But we admit, SNH is more of a speculative play and can be more volatile than some of the larger players. For investors desiring a higher level of safety and more predictable returns, the larger more established REITs may be better options. One of our favorites is Ventas (NYSE:VTR)
Ventas
Ventas is a real estate investment trust (REIT) with a portfolio of senior housing properties and healthcare properties in the United States and Canada. Ventas is one of the three largest healthcare REITs with a market capitalization of approximately $18 billion. The other two big healthcare REITs are HCP (NYSE:HCP) and appropriately named Health Care REIT, Inc. (NYSE:HCN). Combined, these three REITs have a market capitalization of over $50 billion and revenues of over $7 billion.
Ventas has had incredible growth over the last ten years, growing from just $205 million in revenues in 2003 to over $2.7 billion in the trailing 12 month period through 9/2013. Its balance sheet has ballooned from just $1 billion in properties in 2003 to over $21 billion as of 9/2013, which a big growth spurt occurring in 2011, when the balance sheet grew from $6 billion to $18 billion. This growth has come primarily from acquisitions and the current plan is to continue to make acquisitions in the $1.5 to $2 billion range.
Investors in Ventas have benefited from its rapid growth to the tune of a 479% return over a 10 year period, with dividends per share growing at a 9% compounded annual growth rate (CAGR) and funds from operations, a popular measure of REIT performance, growing by a whopping 11% CAGR over the same period.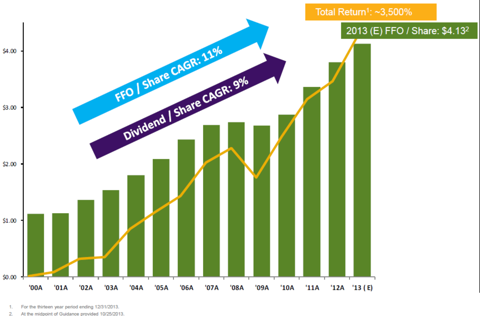 Click to enlarge
Source: VTR Company Website
While this growth may slow going forward and VTR's size makes it more difficult to post similar growth rates in the future, investors may feel more comfortable in a more stable, safer investment, such as Ventas, when compared to the smaller SNH.
Property Types
Ventas has a well-diversified portfolio of property types, each with its own characteristics. The breakdown of net operating income on its 1,476 properties is as follows: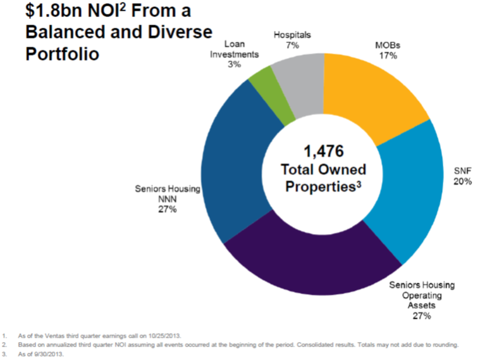 Click to enlarge
Source: VTR Company Website
Triple net lease seniors housing makes up 27% of NOI of the portfolio and another 27% includes seniors housing operating assets, often referred to as SHOP and/or the RIDEA portfolio. Another 20% is in skilled nursing facilities (NYSE:SNF); 17% in medical office buildings (MOBS); 7% in hospitals, and 3% in loan investments.
Seniors housing communities make up 713 of the 1,476 properties, skilled nursing, 379, MOBs 329, and Hospitals, 8.
54% of net operating income comes from the senior housing properties. Of these, about half are considered to be SHOP and the rest are triple net lease (NNN). The difference between the SHOP or RIDEA assets and the NNN assets is that the SHOP assets provide much more upside potential on the operations of the properties. As previously mentioned, the opportunity was created by Congress' REIT Diversification and Empowerment Act of 2007, which increased the percentage of a taxable REIT subsidiary that a REIT is allowed to own, thereby making available the opportunity to own operating assets and benefit from any improvements in the profitability of each property. With triple net leases, by comparison, the REIT will receive its contractual rent and rent increases but any pricing or cost cutting benefits would be realized by the management company, not the REIT. While RIDEA has provided REITs with the ability to diversify their portfolios into more operating properties, it is important to note that the variability of returns for these properties is higher than NNN lease properties.
Of Ventas' entire portfolio of properties, there are two groups that will drive returns in the stock. On the one hand, it has the SHOP portfolio, with plenty of upside but greater volatility, and on the other hand, the triple net lease portfolio, which is highly stable but does not offer as much upside.
SHOP Portfolio
The Ventas Senior Housing Operating Portfolio consists of 235 private pay communities consisting of almost 24,000 units. This part of Ventas portfolio is currently one of the best performing with 5-6% year over year same store NOI growth and revenue per occupied room (REVPOR) exceeding $5,000 per quarter. NOI is expected to reach the mid $400 million levels and occupancy rates continue to stay above 90%. Both of these metrics compare favorably to the National Investment Center for the Seniors Housing & Care Industry (NIC) averages for the top metropolitan statistical areas (MSAs). REVPOR is trending at $2K higher than the average for the top 100 MSAs and occupancy is slightly higher.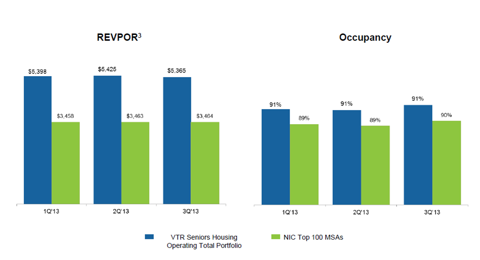 Click to enlarge
Source: VTR Company Website
According to the Ventas NAREIT World Presentation in November 2013, Ventas feels like its assets are located in superior markets compared to the top MSAs. For example, the median household income of constituents in VTR markets is considerably higher than both the US median and top 100 MSA median.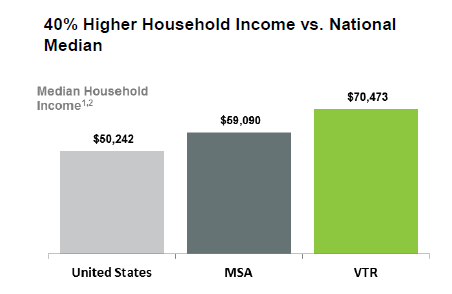 Source: VTR Company Website
The median net worth of those households age 75+ is approximately 12% higher than the 100 MSA median and more of the population in VTR markets is aged 75+ compared to the 100 MSAs.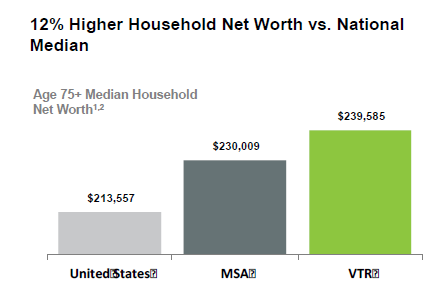 Source: VTR Company Website
Finally, the median home value is 78% higher in VTR markets than the national median and $40K higher than the top 100 MSAs. All of these comparisons indicate that Ventas portfolio of SHOP assets are in attractive markets.
Triple Net Leases
The triple net lease portion of the portfolio, while more stable than the SHOP portfolio, does not have as much upside potential nor the same level of expected growth as the SHOP portfolio. The triple net lease portfolio has had 2%-3% annual same-store sales growth with variable terms tied to inflation. The majority of the NNN assets are seniors housing and skilled nursing facilities , which make up about 87% of the entire portfolio.
Triple net leases have been VTR's bread and butter since its founding, but with the passing of RIDEA, it has been slowly growing the SHOP portfolio.
Acquisition Activity
Much has been mentioned in the press about the deal flow in healthcare and in particular, seniors housing. Of the $1 trillion healthcare real estate market, only 10% is owned by public REITs according to Stifel Nicolaus, indicating a high probability of continued consolidation in the industry.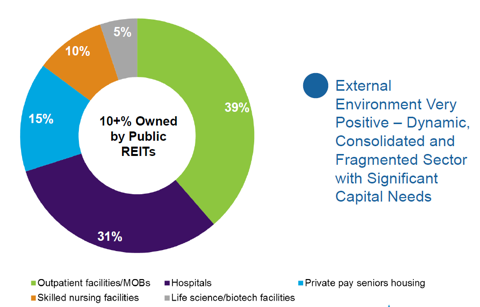 Click to enlarge
Source: VTR Company Website
While other sources state that the percentage owned by REITs is closer to 20%, it still leaves quite a bit more room to grow for those REITs with acquisition capabilities. As previously mentioned, Ventas has forecast between $1.5 and $2 billion of acquisitions this year and it currently has approximately $350 million in projects either underway or soon to start with yields as high as 12%. These projects range across its entire portfolio type including SHOP, NNN, and MOBs of all different sizes.
Risks
There are a few risks that concern us with regards to Ventas over the long-run. First, they have experienced extremely fast growth over the last 3 years. Until now, management has done an excellent job of integrating new acquisitions into the portfolio and demographic trends serve as wind at its back. But new construction is coming on line faster than it has in any period over the last 10 years, and while supply may take a few years to catch up with demand, growth and profitability may slow relative to prior years. We already mentioned that Ventas doesn't think the new supply will adversely affect it, as new supply seems to be in areas that make up just 4% of its' NOI.
Secondly, the increasing focus on operating assets, or the SHOP portfolio, if you will, adds an element to Ventas strategy that has not existed for very long. These assets, as previously mentioned, while providing more upside than its traditional triple net lease properties, may contribute quite a bit of volatility to funds from operations and funds available for distribution, both of which have been very predictable for investors for many years.
Valuation
From a valuation perspective, Ventas is not necessarily cheap. That being said, if it is being considered as a long-term holding, it is always difficult to predict the perfect entry point. Coincidentally, we think we are around a good entry point. The chart below shows that the RSI has just dipped below 30, indicating an oversold status on the stock, but the MACD does not look like it has quite stabilized to level we feel comfortable with. We would watch this metric and begin, and we repeat, begin to enter into positions, looking for additional entry points in the future.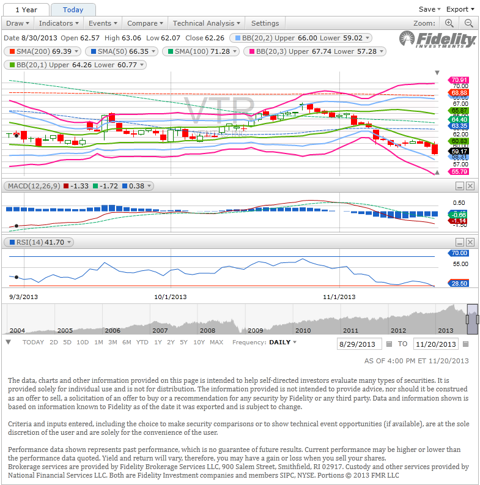 Click to enlarge
Source: Fidelity
For investors already holding the position, now is a good time to consider adding to your holdings, provided you maintain a reasonable position size, as we always stress in portfolio management.

Click to enlarge
Source: Morningstar
Portfolio Allocation
Ventas is a core holding in a portfolio that has REITs. We don't recommend investing and forgetting about any position in your portfolio but we feel fairly comfortable with VTR as a long-term holding with positive industry dynamics that are set to play out over a very long period of time.
Disclosure: I am long VTR, SNH. I wrote this article myself, and it expresses my own opinions. I am not receiving compensation for it (other than from Seeking Alpha). I have no business relationship with any company whose stock is mentioned in this article.