Introduction
In this article I'll have a closer look at Coeur Mining (NYSE:CDE) and its Q3 results as one would expect the company would have been hit hard with the lower precious metals prices. I'll provide my view on Coeur's financial results and balance sheet, and will already look forward to 2014. This will result in my investment thesis at the end of this article.
My view on the financial results
The company produced 4.2 million ounces of silver and almost 64,000 ounces of gold in the third quarter of this year, which is respectively 9% lower and 5% higher than in the second quarter. The revenue was $200.8M, which is 2% lower than in the second quarter, but this is quite good, as the average received price for the gold and silver dropped by respectively 6% and 8%.
Coeur's adjusted net loss came in at $23.4M or $0.23 per share. But as I said in several previous articles, in the mining sector it's more important to look at the cash flow statements instead of at the bottom line, as the cash flow statements give a much better impression of the quality of the underlying operations.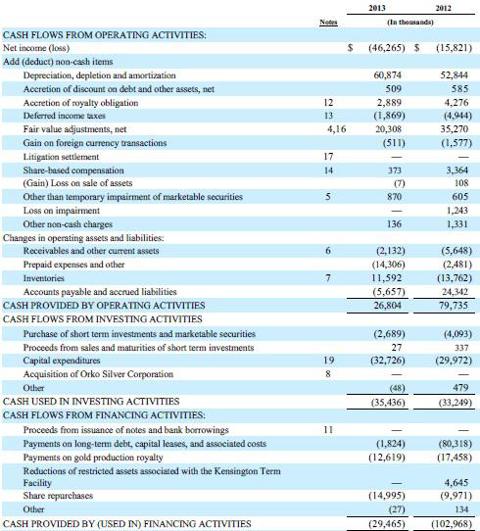 Click to enlarge
So when looking at the cash flow statements, we see the company's mines generated an operating cash flow of $26.8M (which would have been higher if the company wouldn't have paid $14.3M in prepaid expenses), but as Coeur spent $32.7M on capital expenditures the company was clearly free cash flow negative, as it also had to cough up $12.6M in royalty payments on the gold production (which is booked as a financing activity instead of deducting it from the operational cash flow). All these factors (and a $12.6M share repurchase) caused a net cash outflow of $38.1M.
The third quarter wasn't bad, but I hope Coeur Mining will stop repurchasing its own shares as long as the company is free cash flow negative. Coeur will need more money to develop its La Preciosa silver project in Mexico it acquired earlier this year after buying out Orko Silver, so I think it'd be wiser to keep as much cash as possible in the treasury. I do understand Coeur's reason to buy its shares as the company is relatively cheap right now and it's tempting to put the working capital at work, but I'm only in favor of share repurchases if it's funded by free cash flow which isn't the case here.
My view on the balance sheet
Moving over to the balance sheet, Coeur had a very healthy working capital of $322.2M at the end of the third quarter, which is a lot better than the $167.9M at the end of last year. On September 30, Coeur Mining's current ratio was a very healthy 3.03 compared to 1.70 last year. Keep in mind a current ratio higher than one means the company has sufficient current assets to cover its current liabilities.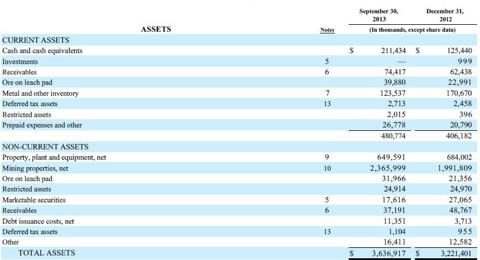 Click to enlarge
At the end of the quarter, Coeur had a book value of almost $23 per share, which means the company is currently trading at less than half its book value. This is the main reason why Coeur decided to repurchase some shares, and although I prefer such repurchases to be paid for by free cash flow, I understand the decision, and hope the management will look like true geniuses if the gold and silver price goes up again.
The outlook
Coeur Mining is reaffirming its production and cash cost guidance, and still expects to produce 18-19.1 million ounces of silver and between 250,000 and 258,000 ounces of gold at a cash cost of respectively $9.5-10.5/oz and $950-1000/oz. The majority of the operational cash cost will be spent on capex, for which the company has budgeted $100-110M.
As Coeur Mining spent just $72M in capex in the first nine months of the year, I'm expecting capital expenditures of $30-40M in Q4 of this year, which will very likely push Coeur Mining in the negative free cash flow territory again.
Coeur Mining is also going ahead with the La Preciosa project, as it expects to spend another $17.5M over the next 9 months on exploration, evaluation and a fully detailed feasibility study. I'm personally not too keen on spending too much money at La Preciosa, as its PEA has proven the project is not viable at the current silver price.
Investment Thesis
Coeur Mining is trading at less than half of its book value and at less than 10 times its annualized operating cash flow. Unfortunately the company will not generate any free cash flow as Coeur will spend in excess of $100M in capital expenditures.
The company is also advancing the La Preciosa silver asset towards a final feasibility study, and I'm eager to see if Coeur's results will show a better picture than the PEA which shows the asset is unviable at the current silver price.
It might be interesting for CDE-bulls to write some put options and collect the option premiums while they hope to get some shares assigned. I'm particularly looking at the P10 Dec 2013 for an option premium of $0.20 and a P8 June 2015 for an option premium of $0.50.
Disclosure: I have no positions in any stocks mentioned, and no plans to initiate any positions within the next 72 hours. I wrote this article myself, and it expresses my own opinions. I am not receiving compensation for it (other than from Seeking Alpha). I have no business relationship with any company whose stock is mentioned in this article.
Additional disclosure: I have no position in CDE but might write an out of the money put option anytime.