It has been a couple of days now since Intel (NASDAQ:INTC) had its Investor Day Presentation. While the day started out great and shares rose almost 3% on Thursday, Intel decided to pull the rug out from everyone by providing a huge 2014 warning. That led me to slam the company, which is now looking at a third consecutive disappointing year. Now that there has been some time to calm down and look at some more numbers, I'm here to detail Intel and its aftermath.
The analyst pre-debate:
Before I get into the aftermath of last week, I want to circle back about 2 weeks. At that time, there was a hilarious event between two analysts. An analyst at Jefferies told investors to buy Intel ahead of the Investor Day, but just a few minutes later an analyst at MKM downgraded Intel based on "no catalysts".
This seemed funny at the time, but it basically turned out that both analysts were right in a sense. If you did buy Intel ahead of the event, you were nicely rewarded because Intel rallied during the presentation to multi-month highs. If timed right, an investor/trader could have made over a dollar on Intel shares. While that doesn't seem like much, a 4% plus gain in just 6 trading days is not too shabby. So the Jefferies analyst nailed that call in a sense. But then when Intel warned and shares dropped, the MKM analyst looked good too.
A quick recap of the Investor Day:
Intel pleased investors as it announced it would be quadrupling its tablet CPU shipments in 2014. Intel also announced it would be heavily focusing on its foundry business. These announcements looked promising and shares rose throughout the day on Thursday. However, towards the end of the presentation, Intel provided its 2014 guidance. The key takeaway is that the company guided to flat revenues, well below the 2.1% growth analysts were looking for. Shares declined by 1.3% in the after-hours session, but that was nothing compared to what would come on Friday.
The analysts are back at it:
So about two weeks later, we had another analyst showdown, and again, the Jefferies analyst was pounding the table. The analyst reiterated his Buy rating on the stock and actually increased his price target by $2, stating the following:
"We think the analyst day will be a catalyst and left the analyst day with increased conviction in our Buy thesis."

Intel's message was compelling: its product line is geared to the new market reality, PCs are stabilizing, servers are growing, and it expects to grow its tablet MPU shipments by 4x to 40m units in 2014. Most importantly, it appears to be extending its manufacturing lead over TSMC, which we think translates to share gains in tablets and smartphones."
Either the analyst left the Investor Day Presentation early, or he doesn't care about revenues and operating profits. The funny part is that his Buy rating looks rather strong now, with his price target representing more than 34% upside from Friday's close. But just as it happened a few weeks prior, this analyst's buy recommendation would be stepped on. This time, it took about an hour and a half, as Goldman Sachs reiterated a Sell rating and $16 price target, representing 33% downside from Friday's close. The analyst said the following:
"We attended Intel's analyst day in Santa Clara, Ca. We came into the meeting looking for reasons to get more bullish on the stock and had explicitly laid out several things we were hoping to hear during the meeting. Instead, we got nearly exactly the opposite with Intel guiding for another year of no revenue or EPS growth but still record capex levels."

"In addition, we believe even the flat revenue growth could prove to be aggressive as it assumes no negative impact from the end of the corporate refresh cycle and it assumes that data center growth accelerates to low teens even after several years of Data Center growth that has been far below the company's guided targets. Unfortunately, 2014 looks like another year where the Street will need to be worried about estimate reductions throughout the year and we therefore believe the stock is likely to continue to underperform."
So again, we have one analyst that loves Intel stock, but another analyst that just doesn't. I am on the side of the Goldman Sachs analyst at the moment (although not as bearish as a $16 target), just because Intel has not done anything to prove me wrong in the past couple of years. Unless Intel is sandbagging the year to set up a bunch of beats, a third straight year of disappointment is going to sap investors from this name. You started to see a mini exodus on Friday, and if Intel continues down its current path, that exodus will continue. These are just the first two analysts to comment on the Investor Day. More will follow.
How the numbers have fallen:
It's only been a couple of days, but some analysts have already taken down their estimates, with more to definitely come. Here was the comparison chart against other top tier tech names like Apple (NASDAQ:AAPL), Microsoft (NASDAQ:MSFT), Cisco Systems (NASDAQ:CSCO), and Google (NASDAQ:GOOG). This chart was as of Thursday close, before the guidance warning.

*Non-GAAP numbers for EPS growth and P/E.
Looking at the above numbers, Intel was in second to last in terms of revenue growth, and the middle of the pack in earnings growth. However, despite the decent dividend yield, Intel seemed a bit overvalued due to the lack of growth. Here's how the same table looks as of Sunday, with current estimates, thanks to a few analyst changes.

In just a few days, Intel's 2014 revenue estimate average is down by $410 million, and earnings per share estimate average is down by two cents. The sad part is that we are only one third of the way through the process, assuming analysts put their average at Intel's forecast. Intel's revenue growth forecast has gone from 2.1% to 1.4%, but the company guided to flat revenues. I'd be shocked if the average is still above 1% by the end of this week, and the only reason it may not be is if a few analysts take some time off for the holiday. With analysts needing to reduce revenue estimates by another $700 million or so to get the average to a flat 2014, it seems likely that the earnings per share number will turn to a decline in 2014. Intel guided to flat operating income for the year, which means that earnings per share would currently come down to three items:
Other income items
Tax Rate
Share count
Intel is buying back shares, but not as aggressively as it used to be. In fact, if the buyback slows down enough, Intel may not see any EPS boost from the buyback. If the share count actually starts to rise, EPS numbers may actually be hurt. Also, a rise in the tax rate or some "other income" items being negative could pressure earnings per share. Remember, this was a company that had earnings per share of $2.39 in 2011, and that was with a higher share count. Net income has plunged even faster.
Where Intel stands now:
Of the five names above, Intel was in a solid fourth last week thanks to Cisco's huge warning. Even if Intel had a great 2014, it was unlikely to match the revenue growth of a name like Apple, Microsoft or Google. Intel's earnings growth may have been alright, but earnings per share can be played with due to items like the buyback and tax rates.
But as I referenced last week, Intel's 2014 isn't in great shape compared to many others. In fact, I said that Intel was just "less bad" when looking at Cisco. Well, after Intel's warning, Intel is certainly heading towards Cisco territory. Cisco shares are 19% off their 52-week high thanks to a couple of disappointments. A fall of that size for Intel would put shares just above $21, almost $3 below where we are now. I don't see that kind of fall happening without a technical even like the "death cross" happening. However, it would not surprise me if Intel trades down to roughly 12 times expected 2014 earnings. That's a fair valuation that I will give Intel based on the 2014 growth picture and comparisons to other top tech names. With current estimates calling for $1.90 next year, that gives me a fair value of $22.80, a little more than a dollar below here. That assumes of course that estimates don't change. If the EPS estimate comes down again, that will obviously lower my fair value.
The technicals are in play again:
Earlier last week, I discussed some technical factors regarding Intel when I reduced my dividend raise prediction. I noted that Intel was trading up near its upper Bollinger band, and that indicated that a pullback for Intel could be coming soon. The upper Bollinger band had been a level of resistance for Intel in recent months, so I said even a 50 cent pullback was possible, and could be coming. Well, I had no idea how soon this pullback would come, but it did. Here's an updated 6-month Intel chart with the Bollinger bands.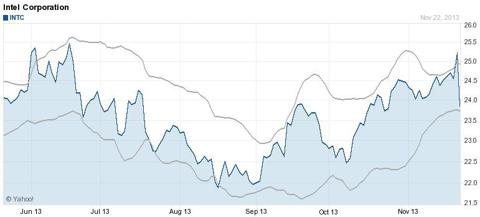 (Source: Yahoo! Finance)
Friday's drop was so large that it sent Intel shares from above a level of resistance to one of support. Unfortunately, this will not be true support, as the lower Bollinger band will trend lower from here. The other important item to consider is one I was talking about in September and October, and that is the death cross. With Intel shares falling, it could put the dreaded death cross in play. As you can see from the chart below, the death cross was avoided for a time.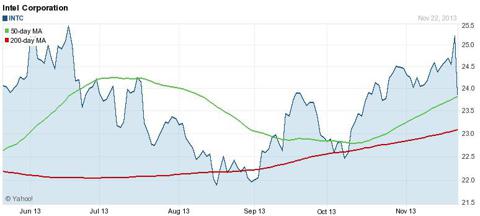 (Source: Yahoo! Finance)
Thanks to Friday's fall, if Intel shares do not rally back a bit, it will only be a matter of time before the 50-day moving average rolls over and turns lower. As of Friday's close, the separation between these two averages was about 72 cents, so it is a large gap. However, should Intel shares remain at current levels or even trend lower, that gap will start to narrow, and rather quickly. The last time Intel hit the death cross, shares went from $26 to $19. I don't see a fall of that magnitude coming, but the death cross could be enough to knock the stock down another dollar or two. We could see Intel shares head towards $20 if that is the case.
Final thoughts:
It's only been a few days since Intel's 2014 warning, but analysts have already taken a chunk out of their estimates. Those estimates are likely to continue lower, and I would not be surprised to see another couple of analyst downgrades or price targets lowered. Intel went from having a potentially decent 2014 to having another disappointing year. Based on other names in this space, I still think Intel is a bit overvalued due to the lack of growth for a third straight year. Intel's fall on Friday may only be the start, as a bit of technical damage was done, which could have further implications. Given how disappointing 2012 and 2013 were for Intel, I was surprised that Intel shares were above $25 at the Investor Day. Well, I don't have to worry about that now, as Intel continued its latest string of disappointments. Until Intel does something to prove the bear case wrong, this stock will remain a decent short candidate.
Disclosure: I have no positions in any stocks mentioned, and no plans to initiate any positions within the next 72 hours. I wrote this article myself, and it expresses my own opinions. I am not receiving compensation for it (other than from Seeking Alpha). I have no business relationship with any company whose stock is mentioned in this article.
Additional disclosure: Investors are always reminded that before making any investment, you should do your own proper due diligence on any name directly or indirectly mentioned in this article. Investors should also consider seeking advice from a broker or financial adviser before making any investment decisions. Any material in this article should be considered general information, and not relied on as a formal investment recommendation.