Plains All American Pipeline (NYSE:PAA) has had a decent Q3 2013. Adjusted EBITDA came in at $480 million vs. $502 million in Q3 2012 and distributable cash flow stood at $330 million compared to $360 million in 2012. While y-o-y values have declined, PAA also managed to outperform its own Q3 midpoint guidance by $50 million each for EBITDA and distributable cash flow.
Breaking down the quarterly results to a segment basis shows that the fall-off in numbers was attributable to PAA's Supply & Logistics segment whose adjusted segment profit dropped by $45 million y-o-y. Both Transportation and Facilities managed to increase earnings y-o-y as indicated below: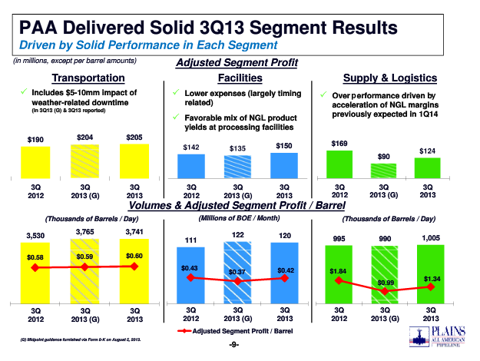 Click to enlarge
Outstanding distribution record
In the first quarter of 2001 PAA paid $0.93 (annualized) per unit in cash distributions. Until the fourth quarter of 2013 this regular distribution has risen to $2.40 per unit: PAA has increased payments to unitholders by an annual growth rate of nearly 8%. Just as important, PAA has met or outperformed its own guidance for 47 consecutive quarters and the degree of outperformance has increased since 2011. I believe the length of this distribution record and PAA's ability to outperform its own guidance add substantial credibility to management and underline its capability to deliver returns for unitholders in the future.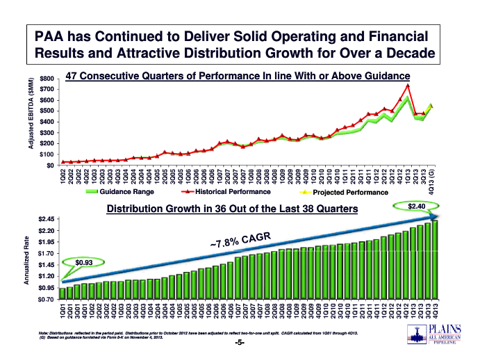 Click to enlarge
Dependence on fee-based contracts lowers risk
PAA forecasts that its fee-based segments will see 20% growth in 2014. Only 25% of PAA's cash flow is margin-based. The other 75% of cash flow relate to predetermined fee schedules that help de-risk PAA's cash flows. Lower risk cash flows also translate into lower risk distributions which is a big positive for PAA investors.
Extensive capital program
PAA's 2013 investment program had a volume of $1.6-1.7 billion and was mainly comprised of smaller projects. Scale and scope of PAA's capital deployment point at continuous capacity improvements in a variety of high-impact drilling shale areas in the US: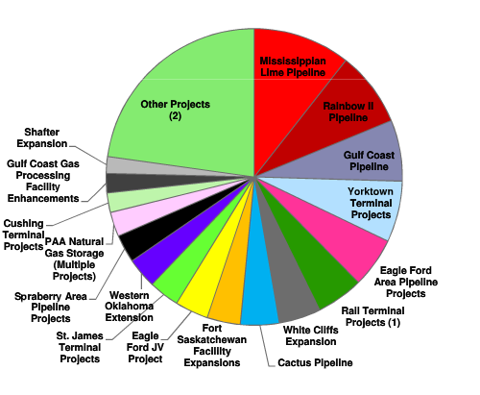 Click to enlarge
PAA's project pipeline remains filled with substantial multi-stage expansion projects coming online in 2014 and 2015. I expect meaningful cash flow accretion in those years as new projects are completed.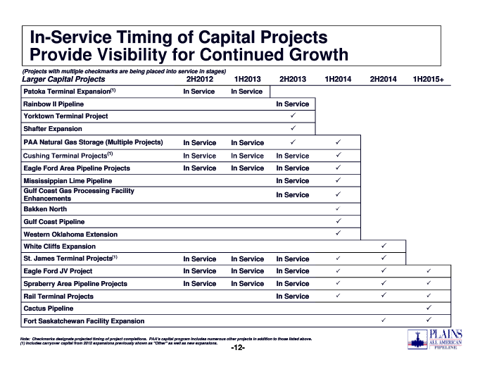 Click to enlarge
Share performance
PAA reached a new five year High on May 13, 2013 at $59.49. Since then units have corrected 13% and currently quote at $51.95. PAA's units have performed quite well (in fact, PAA is one of the top performing pipeline companies in terms of unit price performance) with a two-year return of 63% and a five-year gain of 204%. Strong EBITDA, cash flow and distribution growth has backed the rise in PAA's unit value and there is nothing on the horizon that makes me think the distribution stream will come to an end.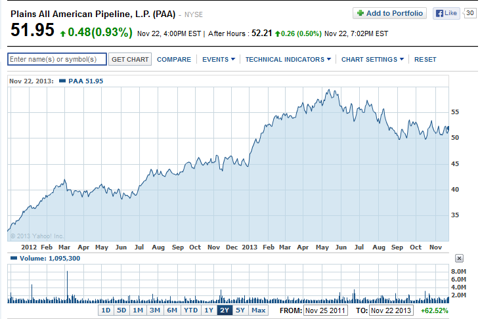 Click to enlarge
Conclusion
With 18,000 miles of active pipelines, a liquids storage capacity of more than 115 MMBbls and natural gas storage capacity of 93 Bcf, PAA is a heavyweight in the pipeline industry. PAA fetches a market capitalization of $18 billion which compares to $36 billion for Kinder Morgan Energy Partners (NYSE:KMP), $21 billion for Energy Transfer Equity (NYSE:ETE) and $20 billion for Energy Transfer Partners (NYSE:ETP).
With an annualized distribution of $2.40 PAA now offers investors an initial distribution yield of 4.6% with strong prospects of rising distributions in the future. PAA's distribution record and outperformance of its own guidance suggest that investors will profit from further, meaningful distribution growth in the coming years. Given PAA's attractive asset footprint in the most promising drilling regions in the US, a broad investment program to add capacity, an outstanding distribution growth record since 1999, a high dependence on low-risk cash flows and a high current yield of 4.6%, I rate PAA a strong BUY for income oriented investors with a long time horizon.
Disclosure: I am long KMP. I wrote this article myself, and it expresses my own opinions. I am not receiving compensation for it (other than from Seeking Alpha). I have no business relationship with any company whose stock is mentioned in this article.