We have been following J.C. Penney Company Inc. (NYSE:JCP) off and on since 2011 because Bill Ackman previously invested in JCP and because Ackman was influential in recruiting Ron Johnson away from Apple Retail (NASDAQ:AAPL) in order to become JCP's new CEO to succeed Myron Ullman, who was JCP's CEO from 2004-2011. Unfortunately, Ron Johnson's strategic transformation of JCP did not work and resulted in JCP's revenue dropping by 30%. JCP ended up firing Ron Johnson and rehiring Myron Ullman as its CEO in April 2013. JCP's revenue decline resulted in the company incurring $1.9B in accumulated losses since the end of FY 2011. JCP's recent cash burn has forced the company to increase its outstanding debt by 79% ($2.45B) during the period as well as issue 84M shares at $9.65/share. JCP's poor performance leads us to question if the company will survive beyond FY 2014.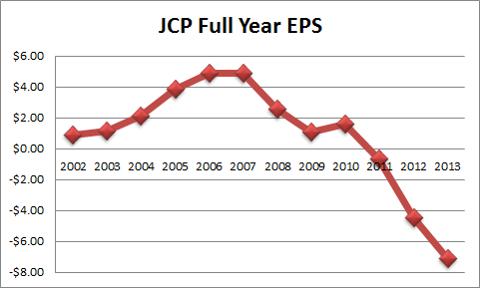 Click to enlarge
Source: Morningstar Direct
JCP's recent performance in Q3 2014 was a mixed bag. We were pleased to see that JCP's comparable store sales declined at a narrower rate (-4.9%) than previous quarters and JCP even attained positive comparable store sales growth (+0.9%) in October. JCP also reduced its SG&A expenses by 7.5% and offered a positive outlook for its Q4 2013 fiscal period. However, we were aware that JCP's gross margin declined due to clearance sales on Ron Johnson-era inventory. JCP's loss during the quarter was $1.94/share versus $.56/share for Q3 2012 due to increased interest expenses, decreased gross margins, reduced gains from real estate and other assets and the reduced ability to write off operating losses for tax purposes. Furthermore, analysts still expect JCP to lose $.93/share in Q4 2013 and $2.21/share in FY 2014.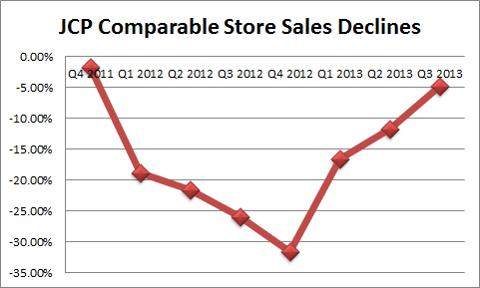 Click to enlarge
Source: J.C. Penney's Last 5 Quarterly Results
After the market closed on November 22, Standard & Poor's announced that it was demoting JCP from the large cap S&P 500 Index to the mid cap S&P Mid Cap 400 Index. Ingersoll-Rand's announced that it would spin off its door locks manufacturing subsidiary Allegion PLC (NYSE:ALLE) on November 29 and Allegion will replace JCP in the S&P 500 Index as Allegion's market cap ($4.2B) is higher than JCP's ($2.7B). JCP will bump Aeropostale (NYSE:ARO) from the S&P 400 Mid Cap Index and Aeropostale will displace Corinthian Colleges (NASDAQ:COCO) from the S&P Small Cap 600 Index. As JCP's share price has collapsed by 80% since peaking at $43.18 in February 2012, we are not surprised that Standard & Poor's demoted it from the large cap S&P 500 Index to the mid cap S&P Mid Cap 400 Index.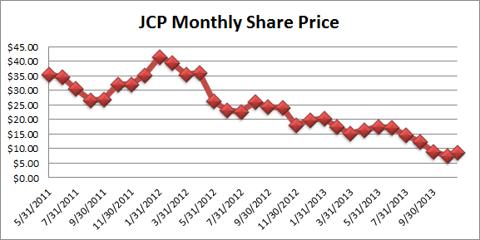 Click to enlarge
Source: Morningstar Direct
One highlight that JCP stakeholders can hang their hats on relates to JCP's relationship with the French cosmetic retailer Sephora. Sephora began operating stores inside JCP in 2006. Sephora inside J.C. Penney features some of the same makeup, skincare, and fragrance brands as well as its own product line found in stand-alone stores nationwide. Sephora has increased its store footprint inside JCP from five in 2006 to 446 in Q3 2013. JCP also launched its Disney Store partnership with Disney in October. We were also pleased to note that jcp.com revenues were $266M during the quarter, up 24.5% year-over-year. This now represents 9.6% of JCP's total revenues.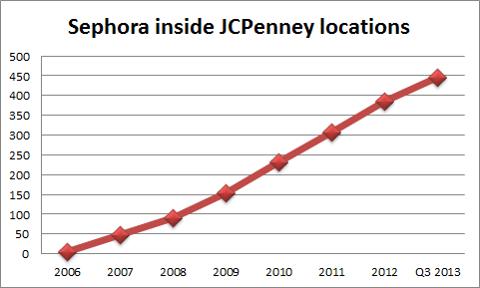 Click to enlarge
Source: JCP's 2006-2012 Annual Reports and Q3 2013 Earnings Report
We are stunned at how poorly JCP has performed since Ron Johnson's arrival. We have seen a number of notable investors in J.C. Penney's shares and bonds because they were expecting Mr. Johnson to reinvent JCP because of his solid record of performance with Target and his outstanding record of accomplishment with Apple Retail. Unfortunately, Ron Johnson's strategic reorganization wreaked havoc on JCP's top and bottom line. The following notable individuals and institutions own or owned JCP's stocks and bonds:
Former Shareholders:
Bill Ackman's Pershing Square Capital owned 39M shares representing 17.8% of JCP's stock as of Q1 2013 before selling it at a whopping loss in August and before JCP issued a dilutive secondary offering.
Steven Roth's Vornado Realty Trust (NYSE:VNO) owned 23.4M shares representing 10.8% of JCP's outstanding shares as of February before selling 10M of its shares in March and its remaining stake in September.
Dodge & Cox owned 20.2M shares representing 9.3% of JCP's stock as of Q1 2013 but liquidated its position in Q2 2013.
Fidelity Investments owned 15.8M shares representing 7.19% of JCP's stock as of Q1 2013 but has sold all but 1.56M of its share as of Q3 2013.
Wellington Management Company had 14M shares representing 6.36% of JCP's stock as of Q4 2012 but liquidated its position in 2013.
Hotchkis & Wiley Capital 13.9M shares representing 6.32% of JCP's stock as of Q1 2013 but liquidated its position in Q2 2013.
Current Shareholders as of Q3 2013:
Soros Fund Management (20M shares representing 6.57% of JCP's stock).
Glenview Capital (12.4M shares representing 4.06% of JCP's stock).
Evercore (11.04M shares representing 3.6% of JCP's shares).
Perry Corp (10M shares representing 3.28% of JCP's shares).
Jennison Associates LLC (7M shares representing 2.3% of JCP's shares).
Hayman Advisors LP (5.7M shares representing 1.9% of JCP's shares).
Meditor Capital Management (4.5M shares representing 1.48% of JCP's shares).
Goldman Sachs and Highfields Capital Management each have 3.25M shares representing 1.07% of JCP's shares.
The J.C. Penney Savings, Profit Sharing and Employee Stock Ownership Plan owns 11.3M shares representing 3.7% of JCP's outstanding shares.
Daniel Fuss of Loomis Sayles has $134.5M worth of JCP's bonds in three active fixed income funds that he and his team manage and we estimate he had a similar amount in his SMA and institutional account mandates as well.
Avenue Capital, Ares and Oaktree Capital Group have also purchased JCP debt.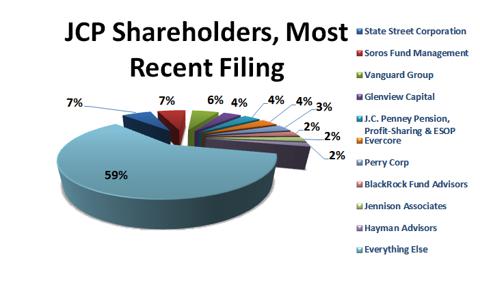 Click to enlarge
Source: Morningstar Direct
JCP burned through $2.9B in cash during YTD 2013 ($1.7B if we adjust for changes in inventory and working capital during the period). This forced JCP to raise $786M from selling 84M shares, which diluted existing shareholders by 38%. JCP also increased its outstanding debt by $2.6B to deal with its cash burn. In Q3 2013, JCP burned through $865M on a reported basis and $421M if we adjust for inventory build and other working capital changes. JCP's sales declines and cash burn since the end of FY 2011 has weakened its balance sheet. At the end of FY 2010, JCP had $5.46B in stockholders' equity, $3.1B in outstanding debt, $2.6B in cash and cash equivalents and $375M in other investments. As of Q3 2013, JCP had $2.65B in stockholders' equity, $5.6B in outstanding debt, $1.2B in cash and cash equivalents and $69M in other investments.
JCP has a long way to go in order to recover the sales that it lost since 2011. If we were to compare JCP to Target, Macy's (NYSE:M) and even Kohl's (NYSE:KSS), we can see that those stores were able to enjoy better same-store sales growth in each firm's most recent quarterly period. Macy's checked in with 3.5% same-store sales growth in its most recent quarter while Target checked in with 0.9% comps and Kohl's incurred a 1.6% in negative comps.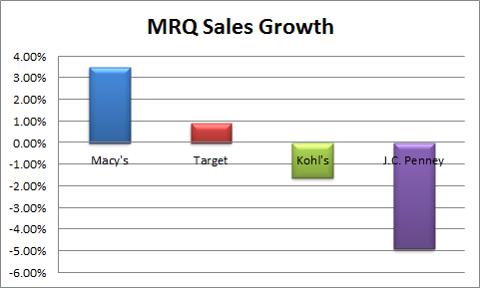 Click to enlarge
Source: MRQ Earnings Reports for Macy's, Target, Kohl's and J.C. Penney
In conclusion, we will continue to coverage of J.C. Penney. We are intrigued with the high level of capital conviction, as JCP's largest shareholders are a "Who's Who" of deep value investing. JCP is not a company we would not have ordinarily pursued due to its underwhelming brand name, shopping experience and financial performance. We can see that we saw the same mediocre management that Bill Ackman referred to in his presentation at the Ira Sohn conference. We liked that at the very least; it owned 49% of its retail square footage footprint and if JCP can't survive as a retailer, it will have to monetize the real estate owned in order to salvage value for shareholders. While Ron Johnson's record of results as a merchandising executive with Target and as the father of Apple Retail were impressive, it was obvious that he was not the right man to turnaround JCP. Furthermore, we remain concerned that it may not be a going concern after FY 2014. JCP's share price is trading at a slight premium to its book value and we would like to see it retest its October lows of $6.24/share before we take a position ourselves.
Disclosure: I have no positions in any stocks mentioned, and no plans to initiate any positions within the next 72 hours. I wrote this article myself, and it expresses my own opinions. I am not receiving compensation for it (other than from Seeking Alpha). I have no business relationship with any company whose stock is mentioned in this article.