Executive Summary
The reasons for this article are twofold. First, I want to introduce my analysis to Seeking Alpha and in doing so establish some credibility with the community, and second, I want to give investors insight into how Diageo (NYSE:DEO) operates, so they can decide on how to invest in it. Diageo, PLC, is a successful, sustainable company, but in my view, may be at a price too high to currently invest in.
Introduction
I have been investing since I was 12 years old. I started out investing in mutual funds, but have grown to start analyzing and investing in equities. I have analyzed and pitched 3 stocks for my investing group over the last 2 years, Diageo PLC, YUM! Brands (NYSE:YUM), and GameStop Corporation (NYSE:GME). This article will focus on Diageo, and my next articles will cover YUM! and GameStop.
Analysis: Diageo
Company Overview
Diageo is an alcoholic beverage producer that controls quality brands such as Smirnoff, Crown Royal, Johnnie Walker, Jose Cuervo, and Guinness. The alcoholic beverage industry has historically performed well in both prosperous economic times as well as recessions, giving Diageo a hedge against a possible looming bear market (though I can see markets remaining relatively flat for a while). The company is currently transitioning out of its high growth phase into a corporate giant that should post increasing dividends in the coming years.
The focus of this analysis is primarily an emerging markets play, but it also concentrates on an established and dominant market share, environmentally sustainable practices, and a consistent, increasing dividend.
Emerging Markets Penetration:
Diageo has a very strong, established position in the United States, but has been focusing on gaining traction in emerging markets across the world in order to capitalize on these regions' increases in alcohol consumption. The company has launched advertising campaigns and targeted celebrities in emerging markets to increase their penetration there. In addition, Diageo has also made several acquisitions of premium local spirits, keeping in line with the company strategy of managing top brands.
Source: DEO Investor Presentation
This strategy maintains good fit within Diageo. However, as the company is so outright and conspicuous about this strategy, this is not likely to cause the stock to significantly beat the market. It remains to be seen if Diageo will be able to seamlessly integrate these products into its mix. If so, they will be able to leverage these premium names into high growth and product line expansion, capturing new segments of the market and possibly sending the stock price soaring.
Established and Dominant Market Share:
Though you may not have heard of Diageo PLC, if you drink alcohol, you have contributed to its profits. The company produces beer, wine, and spirits, and controls many of the top brands, as noted at the bottom of the above image. Johnnie Walker, Crown Royal, Windsor, Smirnoff, Ketel One, Ciroc, Captain Morgan, Tanqueray, Guinness, Don Julio, and many other brands make up Diageo's diverse product assortment. These brands give the company a way to make nearly everyone its customer.
This unique product mix allows Diageo to set very high prices for its products while seemingly defying the price/demand curve. Net sales have seen increased growth at around 6-7% for the past several years, including double digit growth in several emerging markets such as Eastern Europe, Africa and Turkey, and Latin America and the Caribbean.
Sustainable Business Practices:
The market seems to place a negative stereotype on sustainable business practices in relation to the bottom line, but Diageo is a company that utilizes these practices to actually increase its profits. While the company has spent a lot of capital in recent years on creating an environmentally sustainable business, it should come to reap the rewards of its efforts in the long term. For example, the firm has set out to make its packaging weigh 10% less, which increases initial research costs. However, this will decrease shipping expenses for perpetuity into the future, which proves more and more important as shipping costs increase.
(click to enlarge)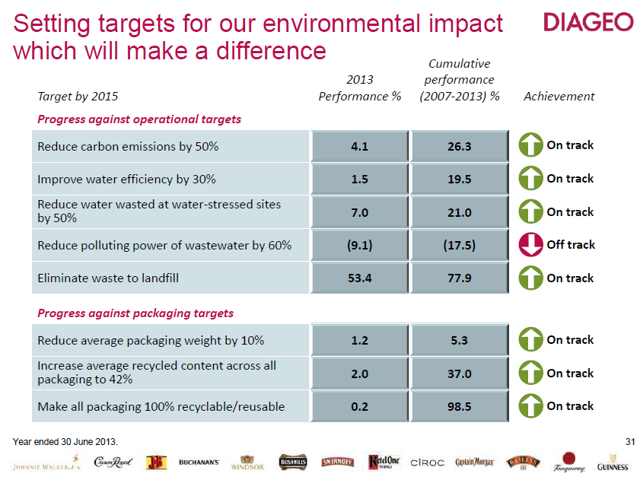 (click to enlarge)
This image shows several of the enterprises undertaken by the company in order to be more sustainable. In addition to reducing packaging weight, reducing water usage, eliminating waste, and improving water efficiency should all lead to operating savings in the future.
Consistent, Increasing Dividend:
Diageo pays dividends twice per year, at a current yield of around 3%. The company has increased dividends 9 out of the last 10 years, and Chief Executive Ivan Menezes is committed to doing so repeatedly in the future. He recommended a 9% increase in final dividend for this upcoming year, and maintains that the company will continue to increase investor returns into the next several years. This dividend gives investors a constant income stream as well as a hedge against a potential drop in the share price.
Recommendation:
As this article demonstrates, Diageo is a solid corporation with good ownership and business structure. However, I think that investors have already realized most of the competitive advantages the firm has, and this has been reflected in the stock price. In September of '11, when I first pitched the stock (verified by the last picture below), the price was under $80. As of this writing, the stock price is $129.97. This represents over a 60% gain. While I still think this is a great company to invest in, as a value investor I look for stocks with low prices and the ability to expand. At Diageo's current price, however, I don't see enough upside to warrant a "buy" at this stage. I would "hold" this company, as I expect it to consistently hit earnings and growth targets over the next several years, in addition to reducing operating expenses. I just don't view it as a company that will beat analyst estimates.
For me, the primary reason to buy DEO right now would be its solid dividend. While not the highest dividend currently, the company will continue to grow the dividend as it reaches maturity and has less room for huge growth, placing its extra cash flows into the hands of investors.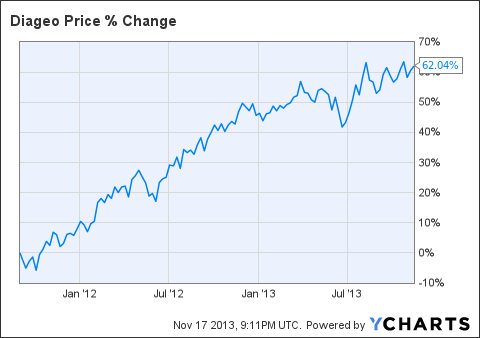 DEO data by YCharts
The image below verifies the timing of the research and analysis I did.
(click to enlarge)(click to enlarge)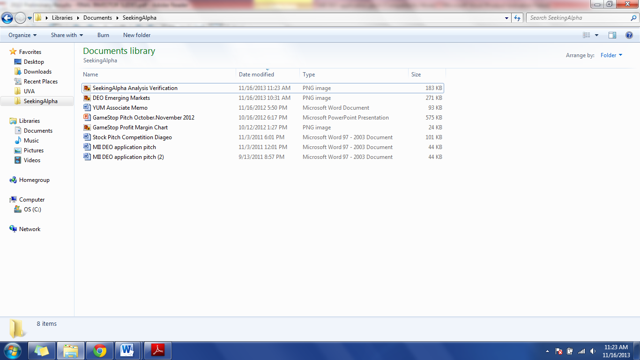 Variant View/Risks I'm Wrong:
As this article demonstrates, Diageo is a solid corporation with good ownership and business structure. Emerging markets are difficult to predict, and Diageo has shown ability to increase market share dramatically in the past. If the company is very successful in its strategies, it could beat estimates and cause the stock price to jump.
Similarly, Diageo's acquisitions could prove to be unwise investments that don't pan out. For example, its acquisition of Shui Jing Fang in China has performed well below expectations; if other brands turn out to flop, Diageo's operating margins could be hit hard.
Thank you for reading, and please comment and tell me how I can improve my articles in the future!
Disclosure: I have no positions in any stocks mentioned, and no plans to initiate any positions within the next 72 hours. I wrote this article myself, and it expresses my own opinions. I am not receiving compensation for it (other than from Seeking Alpha). I have no business relationship with any company whose stock is mentioned in this article.