Click to enlargeEOG Resources (NYSE:EOG) is poised to become the largest oil producer in the lower-48. Not being satisfied with that distinction, President and CEO Bill Thomas has set the company's sights on being the largest oil producer in all of the US. Total oil production has grown at a 43% annual rate over the last three years with many wells achieving a 100%+ rate of return. New completion techniques should offset any potential weakness in WTI prices. As a result, the company's stock price should power higher. After doubling over the last 5 years, EOG should continue to deliver superior shareholder returns and could double again over the next 3 years.
At a recent BofA Global Energy conference presentation, I was surprised to hear Thomas claim EOG would soon be the largest oil producer in the lower-48:
When you think about 2014 through 2017, when you think about EOG you're really thinking about that we're going to be one of the largest oil producers in the U.S., and that includes Alaska and offshore. We're already the largest producer this year in Texas, which is the largest producing state. We're near to being the largest producer of oil in the Lower 48 and we believe that we will be largest producer in the Lower 48 in the near future. And then we've got our sights set on being the largest producer in all of the U.S., so we have a tremendous inventory of oil to drill.
You can read the entire Seeking Alpha transcript of EOG's conference presentation here.
EOG's phenomenal growth is due to the company's positions in both of the predominate shale plays: the Eagle Ford and the Bakken. EOG has a large and expanding lead over its peer group: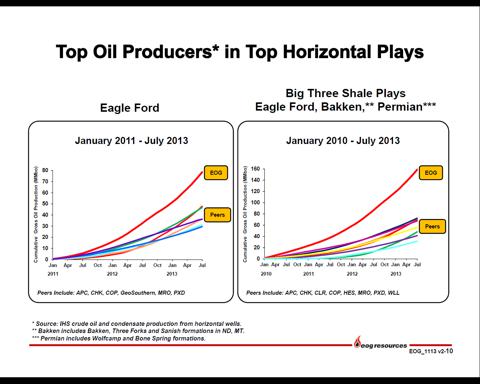 Click to enlarge
But this is more than a story of production growth for growth's sake. The company has continually shown its ability to use technology and logistics to improve cash margins per barrel. In fact, cash margins have doubled since 2010 to $40.36/boe. Not surprisingly, the stock has followed.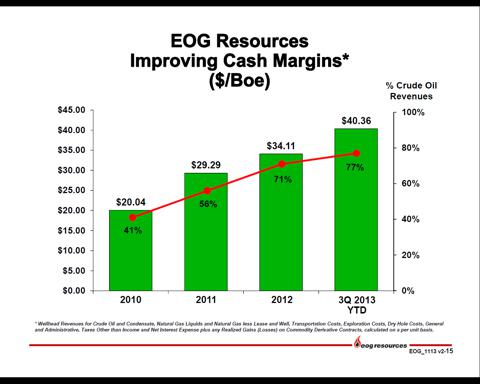 Click to enlarge
During that timeframe in the Eagle Ford, the company has improved production and margins by increasing lateral lengths from 4,265' in 2010 to 5,787' (YTD in 2013) while at the same time reducing drilling days from 15.1 to 9.6 (YTD). Implementation of new completion techniques have improved 120 day cumulative oil production by some 30% in the Western Eagle Ford over 2012 results. Average oil IP rates have increased a whopping 20% just from Q1 to Q3 of this year.
The Bakken
Similarly, in the company's Antelope field in the Bakken, EOG has seen a 58% improvement in 100 day production this year over 2012 results, with average 30-day IP rates improving 50% YTD. According to Bernstein Research, of the top-10 all time wells in the Bakken, EOG claims seven of them. Morgan Stanley says EOG's average 30-day IP rates in 2013 are 1,128 boe/day - more than 500 boe/day higher than the peer group average of 597 boe/day.
The Permian
Despite recent unbridled enthusiasm in the media about the Permian Basin (myself included as this article shows), EOG Resource's CEO Thomas seemed to echo ConocoPhillips' (NYSE:COP) recent remarks about the Permian's potential. While both CEOs agree there is a massive amount of oil-in-place in the Permian Basin, they are tempering their outlook. Thomas said:
Permian has got a huge amount of reserve potential, but the quality of the Permian oil is not ever not going to be the quality especially of an Eagle Ford well and you're not going to see the Permian in our view ramp up like we've seen this rapid ramp up in the Eagle Ford.
Likewise, at the same conference COP's Executive VP Alan Hirshberg said (SA transcript):
So we have early wells that we've drilled here that have been very successful in these areas, where we're continuing to do pilot work and really trying to make sure we understand these reservoirs before we move into a more extensive kind of investment mode. ....We're still making sure we understand it before we get into manufacturing mode in the Permian Basin.
As a result, despite EOG's large acreage positions in the Delaware Basin's Leonard and Wolfcamp plays, as well as 113,000 net acres in the Midland Wolfcamp (see below), and the very large reserves potential, expect the company to continue to reinvest the large percentage of cash flow into the Eagle Ford and the Bakken, at least for the next several years.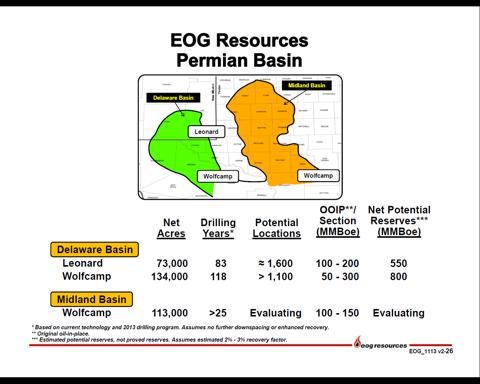 Click to enlarge
Logistics
Also helping to keep margins strong is EOG's ownership of rail loading terminals in the Bakken, Permian, Eagle Ford, and Barnett regions. It also owns unloading facilities at Cushing, OK and St. James, LA. As a result, the company is able to receive Louisiana Light Sweet ("LLS") pricing for much of its Eagle Ford production, for example.
Q3 Results
The latest quarterly earnings report (Q3) was fantastic:
Total production was up 9.6% to 526,400 boe/day.
Total liquids production was up 38.8%.
Net income was $1.69/share, up 29% YOY.
A record Western Eagle Ford well was brought in: 2,815 bopd, 160 bpd of NGLs, and 940 Mcf/day of natural gas.
Total 2013 production guidance was increased from 7.5% to 9%.
Summary & Conclusions
EOG is consistently drilling the best oil wells in the best shale plays in the US. Liquids production growth is excellent. Margins per boe have consistently improved due to advances in completion technology, reduced drilling times, and logistics. As a result, it is poised to become the top oil producer in the lower-48. With a debt-to-capital under 30% and sporting an A rating from both Moody's and S&P, the company is on a solid footing to generate substantial increases in cash flow to plow back into production growth. Current EPS estimates for full year 2013 are $8.17/share. If that estimate is hit, it would be a 44% increase over full year 2012. Considering the company's recent performance and prospects, and a potential $10/barrel drop in WTI/LLS prices, a fairly conservative estimate for a 25% CAGR in earnings out to 2016 would not be unreasonable. That would put estimated full-year net income results at:
2013: $8.17
2014: $10.21
2015: $12.76
2016: $15.95
Even if the recent P/E (42) were cut in half over the next 3 years, it puts a year-end 2016 price target on the stock at $334/share, almost double today's price. EOG Resources is a BUY.
Risk: The Contrary Viewpoint
Considering EOG's proven track record, excellent acreage, and ability to grow productions and margins, the key risk with the stock does not appear to be operational. Yet recommending a stock at $170/share when it sports a PE=42 is likely viewed as folly by those cautioning the market is at record highs and noting the DJIA recently closed over 16,000 for the first time. Those folks are saying the market could suffer a substantial correction at any time. They could be right. If so, no doubt there would be some profit taking in EOG and the PE could might contract to say 30 for a 25% haircut. That would take the stock back to resistance at $125. Good luck waiting for that. My opinion is that EOG will run with the bulls.
Mkt Cap: $46.5 billion
P/E ("ttm") = 41.7
EPS ("ttm") = $4.08
Div (Yield) = $0.75 (O.40%)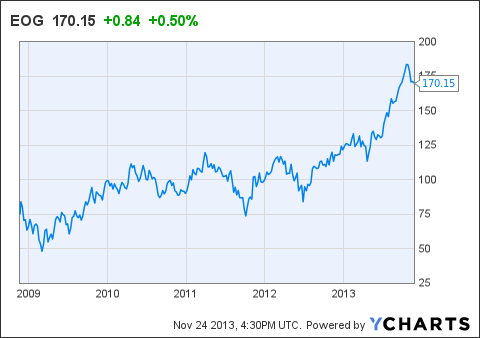 Disclosure: I am long COP. I wrote this article myself, and it expresses my own opinions. I am not receiving compensation for it (other than from Seeking Alpha). I have no business relationship with any company whose stock is mentioned in this article.
Additional disclosure: I am an engineer, not a CFA. The information and data presented in this article was obtained from company documents and/or sources believed to be reliable, but has not been independently verified. Therefore, the author cannot guarantee its accuracy. Please do your own research and contact a qualified investment advisor. I am not responsible for investment decisions you make. Thanks for reading and good luck!