China exchange traded funds surged this past week, but investors shouldn't get too caught up in the euphoria as market observers point to lingering problems in the Chinese financial sector.
The iShares China Large-Cap ETF (NYSEARCA:FXI) was up 8.4% over the past week. FXI is relatively flat year-to-date, gaining 0.4%.
In the year ended June, Industrial & Commercial Bank of China Ltd. and its four largest competitors wrote off 22.1 billion yuan of debt that couldn't be collected, compared to 7.65 billion yuan year-over-year.
"In the next three to four years, industries with excess capacity will be the main source of credit loss for banks and their nonperforming loans as China cleans up the legacy," Liao Qiang, a director at Standard & Poor's, said in the Bloomberg article. "The speed of the process will depend on the government's determination and whether they are willing to incur short-term pain for long-term gain."
J.P. Morgan warned that China's government needs to come up with a solution to solve the non-performing loan problems in Chinese banks, reports Shuli Ren for Barron's.
"Until the Chinese government comes up with an NPL solution, banks are not likely to be rerated," J.P. Morgan said in the article.
After a $6.6 trillion credit binge over the last five years, trillions of yuan in bank loans are struggling to be repaid, Bloomberg reports.
The money manager is also concerned over the effects of China's financial reform, notably from non-banks acting as proxies for banks.
"We are seeing the government licensing private lenders to the markets, adding pressure on funding cost and competition," according to J.P. Morgan. "Note, 22 private-owned banks' titles were approved by State Administration for Industry and Commerce as of Oct 30, according to the Securities Daily."
Consequently, J.P. Morgan argues for selling banks into the rally due to tighter regulation and liquidity, financial/land reform.
Most China-related ETFs have a heavy weighting in the financial sector. For instance, the iShares ETF has 57.4% in financials. However, investors who are still interested in China but are wary about financial stocks can take a look at the WisdomTree China Dividend ex-Financials Fund (CHXF), which cuts out financial exposure all together. CHXF is down 1.0% year-to-date.
Some other broad China ETFs include:
iShares China Large-Cap ETF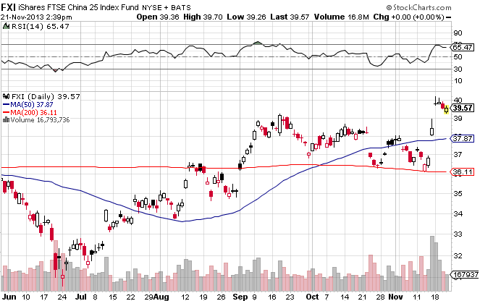 Max Chen contributed to this article.
Disclosure: I have no positions in any stocks mentioned, and no plans to initiate any positions within the next 72 hours. I wrote this article myself, and it expresses my own opinions. I am not receiving compensation for it. I have no business relationship with any company whose stock is mentioned in this article.