We consider China Mobiles Games and Entertainment Group (NASDAQ:CMGE) to be one of the most undiscovered and undervalued publicly traded Chinese mobile game and technology companies. We believe that the stock can realize over 100% gain within a 12 month period. The mobile gaming market in China is expected to grow 92% in 2014, year-over year, but we expect CMGE to grow faster, at an estimated rate of 124%. Our target price ranges between $30 and $75, versus the current share price of $18
Additional Disclosure here
Investment Overview
China Mobile Games and Entertainment Group is unknown to the investment community and not well covered by Wall Street research analysts. While better known mobile-focused firms that have limited mobile revenues command higher multiples, CMGE has not been properly rerated. We believe CMGE is undiscovered, undervalued and poised to grow rapidly in the coming quarters due to its dominant position as mobile game publisher and platform, and unique distribution channel advantages. In its recent 3Q13 earnings report published on November 15, CMGE reported quarterly revenues of RMB 98.1M as compared to RMB 43.6M in 3Q12 (125% year-over-year increase) and RMB 72M in 2Q13 (36% quarter-over-quarter increase). Mobile phone game revenues drove the sequential improvement, accounting for 91% of total revenues. The number of paying users for social games increased by 96.5% over 2Q13, primarily driven by the continued success of Joyful Zha Jin Hua (Joyful Card Series) and growth of paying users for new games such as Guai Shou Dao (Monster Island), Wu Xia Q Zhuan (Martial Arts Q Story), and Wo Shi Huo Ying (I am a Ninja). We believe by leveraging its dominant position as a #1 mobile game publisher, CMGE will continue to grow at a rapid pace as it acquires even more paying users and launches higher ARPU social games. . This article will highlight the following points:
CMGE's undisputed market share leadership in the Chinese gaming market
CMGE's distribution advantages
China mobile relationship
Handset relationships
Mediatek distribution
CMGE's Billings and revenue growth
Growth in number and diversity of game titles
Boom in smartphone gaming market.
In late September 2012, CMGE listed on the NASDAQ at $15, but hit a low of $3 in early 2013. Some of pain was self-inflicted as the company transitioned away from feature phones to smart phones, while the remaining underperformance can be explained by falling out of favor of US-listed Chinese firms. Recent strong results have driven CMGE to rebound back above its IPO price. Nevertheless, CMGE continues to trade at a depressed valuation, far below our mid-point target price of $50, a 170% increase from current valuations. The target price may be met with skepticism. Initially, we were skeptical too; however, we were able to increase our conviction during our research and due diligence process.
Our team recently came back from China and we witnessed, first-hand, the massive transition from online to mobile. The nearly-ubiquitous penetration of iOS and Android mobile devices was simply amazing. The trip focused purely on conducting due diligence on the mobile value chain. Fortunately, we were able to learn more about CMGE, interview management, and understand its remarkable growth story. CMGE, in the past was the number #1 feature phone game publisher, and has successfully transitioned to the number #1 smart phone game publisher in China. As shown in Figure 1, for 3Q13, Analysys International (易观国际) ranked CMGE as the top mobile game publisher in China (by revenue), with overall market share at 19.4%, Android Market Share at 20.3% (#1) and iOS market share at 18.3% (#3)
Figure 1: Game publisher market share for overall smartphone, Android and iOS segment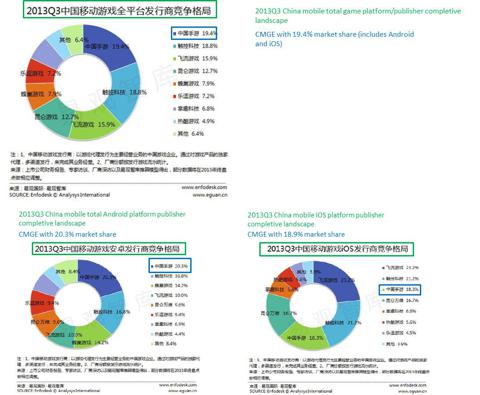 Source: Analysys International
Please note, mobile gaming sector is fast moving, so investments in companies in this sector can be tricky and we encourage readers to conduct their own due diligence on Analysys and other market data sources.
Structural advantage to drive growth in paying users and improve game distribution
Most traditional and mobile gaming companies' success highly depends on building a portfolio of successful games. Veteran video game investors would categorize the video game business as a "hits driven" business. Given the large number of mobile games produced every quarter, it is becoming harder and harder for mobile game publishers to differentiate themselves. Most mobile game publishers such as Zynga (NASDAQ:ZNGA) and Glu Mobile (NASDAQ:GLUU) rely on Android and Apple App store for distribution of its games. Thus, the success of the game, and subsequently their publishers, often rely on the game rankings and in-store featuring. No matter the quality of the game, distribution is imperative for game discovery.
CMGE has structural advantage over other game publishers due to its fortified distribution channel. CMGE pre-installs its Game Center application store on smartphones via its relationships with China Mobile, handset manufacturers, and dominant smart phone chipset supplier MediaTek. We expect CMGE sales to continue to grow at a fast rate as they leverage their entrenched position as "Grade A" strategic partner with China Mobile. China Mobile has over 700M subscribers and is the world's largest mobile carrier. From June 2011 to 2013, CMGE is among China Mobile's top three content providers in terms of operating revenue, and ranked number 1 among all of China Mobile's smartphone game bundles in terms of revenues.
Per Gartner Research, Mediatek in 2012, globally became the number 2 cellular baseband provider after Qualcomm, and became number 1 in China. CMGE has a strategic co-operation with MediaTek (David Ku, CFO of MediaTek is a board member), where CMGE's games will be pre-installed on MediaTek's future chipsets going into China. MediaTek is incentivized to ensure the success of CMGE as it has a strategic equity stake of 7.2% ownership in the company.
We expect CMGE to leverage its relationship with their 440-strong group of handset manufacturers including Chinese household brands such as ZTE, Coolpad and K-Touch. Unlike traditional mobile game publishers who rely on the Android and Apple App store for distribution and discovery, CMGE can ensure distribution and discovery by pre-installing directly on the handset (i.e. think Brick Breaker on Blackberry). Furthermore, CMGE has plans to pre-install its games in more than 60M smartphone handsets in 2013. CMGE has one of the largest and most extensive mobile game sales and distribution network in China. Although CMGE acquires a lot of users from the pre-install market, it continues to grow its user base by promoting its games on dominant Android App Stores such as 91 Mobile Assistant and 360 Mobile Assistant, and the Apple App Store.
Figure 2: Strong growth in billings and paying users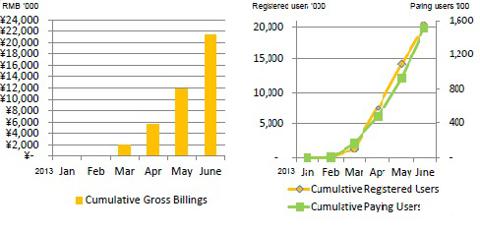 Source: Company documents. Updated figures for 3Q13 were not available at time of publication
Figure 2 shows the cumulative gross billings accelerating, accompanied with increasing paying users. We expect this trend to continue as CMGE launches more social games licensed from mobile game partners. The average revenue per user or ARPU for social games (2012 ARPU = RMB 108.48) is approximately 20x higher than single player games (2012 ARPU = RMB 3.56 and predominantly distributed for feature phones). As reported in 3Q13 earnings report, total paying user accounts for social games were 2.8M in third quarter of 2013, compared with 67,995 in the third quarter of 2012 and 1.4M in the second quarter of 2013.
Variety of hit games driving revenue
CMGE develops massively multiplayer online role-playing (MMORPG) and social games for Android and iOS-based smartphones. As of 3Q13, the top 4 games, by revenue are Joyful Zha Jin Hua, the first social poker game in the Joyful poker game series, reached RMB 10M, or approximately $1.6M, in sales during every month of the third quarter, a significant milestone given the game launched nine months ago..
At of the beginning of November, CMGE's new game I am a Ninja reached the #3 rank, top grossing, in the Apple App Store, and is expected to generate between $1.6M and $2M per month in gross sales, or an annual runrate between $19M and $24M. I am a Ninja, also launched on Android, so assuming both Android and iOS monetize at similar levels, than the annual runrate for this single game is between $38M and $48M, which is significantly higher than the entire 2012 revenues of approximately $29M. Figure 3 lists various top games based on current App Store rankings on iOS, and cumulative downloads on 91 Mobile Assistant and 360 Mobile Assistant. Given the challenges in estimating revenue on Chinese App Stores, our goal is not to provide pinpoint estimates on sales per game, but instead to provide ranges of magnitude. Based on the current rankings (as of 11/11/2013) and downloads, I am a Ninja, Monster Island, Joyful Card Series and Martial Arts Q Story generate revenues at a monthly runrate between $10.6M and $15.4M, or at an annual runrate between $120M and $180M. These revenue figures would imply 300% plus growth over 2012 sales.
Figure 3: Current top games and revenue estimations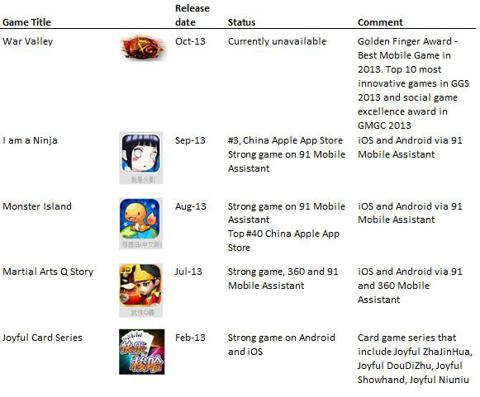 Source: Connective Capital estimates based on App Store rankings. Per 3Q13 Earnings Report: "Many of the games that we published are currently ranked in the top 10 in terms of total downloads on major app stores and gaming platforms, such as Qihoo 360, 91.com and Android Market
The self-developed MMORPG game War Valley has received several mobile gaming awards for Best Mobile Game of 2013, Online Game Award for Excellence etc. These awards reflect the high quality of the game. We expect War Valley to begin to make traction in 4Q13 and 1Q14. As mentioned in company documents, several overseas publishers are on track to adapt the game for Asian countries for 4Q13. Expansion into other Asian counties can potentially provide revenue upside.
Most the CMGE's revenues are derived from the Android market. However, we expect iOS revenues to continue to grow as CMGE launches more games for Apple devices. These games will eventually taper off in sales contribution, but we expect CMGE to replace these top games with internally developed or licensed games. For 4Q13, CMGE is expected to launch 5 new proprietary games, for a total of 15 in 2013. Figure 4 shows the number of licensed social games to be launched in 4Q13.
Figure 4: Licensed 3rd party social games to be launched through the CMGE distribution network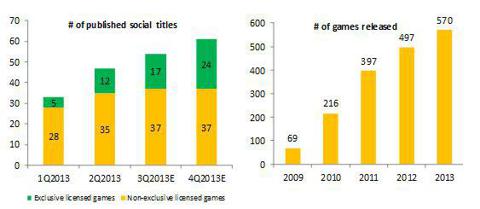 Source: Company documents. Updated figures for 3Q13 were not available at time of publication
Secular tail winds: smart phone and mobile gaming boom
According to data released by iResearch in October 2013, China mobile game market is expected to grow at breathtaking speeds up to 94% year-over-year. iResearch attributes this massive growth due to the increasing ownership of smartphones, subsequent increase in mobile game players, and further development of the value chain including game publishers and distribution platforms.
Figure 5: Smartphone adoption is growing at a massive rate in China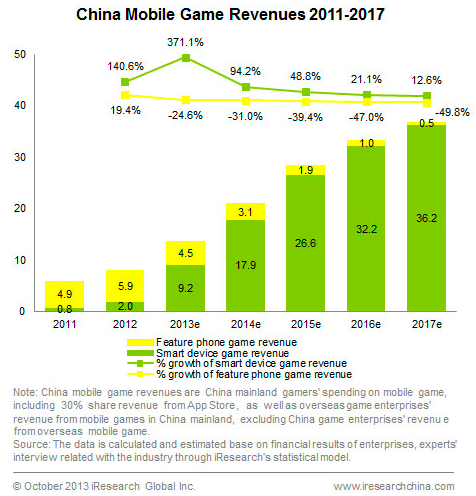 Source: iResearch
Smartphone shipments on the mainland are expected to exceed more than 450 million units next year, following the issuance of 4G mobile licenses and an expected deal allowing China Mobile to launch new iPhones next year. To highlight the importance of the mobile app economy, and specifically gaming, Baidu (NASDAQ:BIDU) bought 91 Wireless Websoft for $1.9B in July 2013 as described in this Seeking Alpha Article. The mobile economy will continue to growth with gaming making the up the largest portion of revenue.
Figure 6: Smartphone penetration rate expected to increase with 4G LTE driving much of the growth to 2017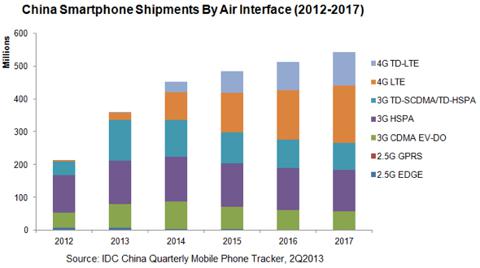 Source: IDC
Undervalued, and expect stock to at least double
CMGE's topline is growing over 100% yoy, and yet the firm's valuation does not reflect this explosive growth. Based on our conservative modeling, CMGE is currently being valued at 2014 EV/Sales = 3.9x. Our comparable group includes a wide range of pure play mobile companies such as ZNGA and GLUU, other Asian pure plays like GungHo (3765.JP) and Colopl (3668.JP), and general Chinese internet companies such as Qihoo 360 (NYSE:QIHU) and BIDU - QIHU and BIDU are fair comparables since a large part of their growth will depend on mobile games and apps. The average 2014EV/Sales multiple for the peer group is approximately 9x, with a consensus revenue growth rate of 38% yoy.
If we apply these assumptions to our base case, we believe CMGE could trade up to approximately $50. Based our estimates for 2013 and 2014 sales, CMGE's forward sales multiple is 3.9x, but is expected to grow sales by 124% yoy. As one can see, there is significant disconnect. The mobile gaming market in China is expected to grow at an approximate rate of 92% yoy, and CMGE is expected to grow faster. For investors looking undervalued companies with significant growth, CMGE offers a rare investment combination
Figure 7: Valuation and target price suggesting rerating will give significant upside to stock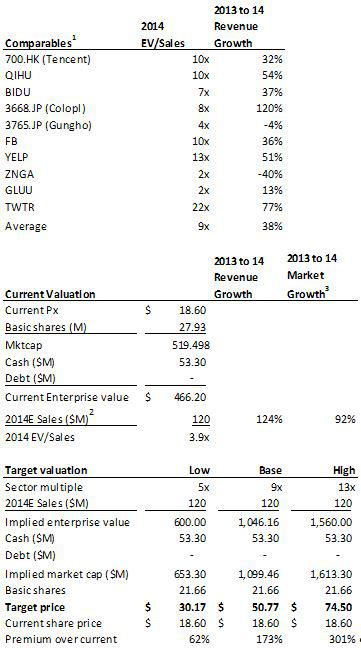 Note: (1) Bloomberg estimates and (2) based off Connective Capital sales estimates for 2013 and 2014 and (3) mobile gaming growth rate per iResearch
Our sales target is dependent on the health of the overall gaming market and ability of CMGE to deliver relevant games to the market. However, the recent investment by National Council for Social Security Fund, who is known for making conservative investments ( as the name implies for social security needs of the retirees), should be viewed as a vote of confidence for CMGE. Because the fund has the backing of the Chinese government, this also may support the view that CMGE is a legitimate and thriving company. ICBC Credit Asset Management, who also participated in the private place round, provided the reasons for the investments. Per ICBS Credit Suisse Senior Analyst, Liu Tianren:
Mobile gaming industry is growing fast, and in recent years, the annual growth is approximately 100% - mobile gaming has potential to be a RMB 50B business (in 3 to 5 years).
CMGE management is highly experience in mobile gaming and mobile internet
CMGE is both a distributor and developer, and this business structure can help diversify various risks (specifically referring to mobile game sector risks)
CMGE has a good track record of selecting, distributing and promoting games
CMGE is a listed company purely focused on mobile gaming. With the background of a booming market, it should perform better than Boyaa Interactive(434.HK) and Forgame Holdings (484.HK).
In conclusion, we are excited at the prospects of CMGE. Investors in China are beginning to realize the value in CMGE and in time so will US based investors. Nevertheless, we encourage reader to conduct their own due diligence and develop their own estimations and assumptions.
Disclosure: I am long CMGE. I wrote this article myself, and it expresses my own opinions. I am not receiving compensation for it. I have no business relationship with any company whose stock is mentioned in this article.