I think it's time I upgraded my participation on Seeking Alpha from a passive reader to an author. I have a background in engineering, but I have always enjoyed reading about finance. I'll apologize ahead of time if my interpretation of financial concepts contains errors - I'll look forward to learning from your comments! This year, I finally decided to put some of my money to work in the market and test out my theories. I'd like to share how I crafted my humble portfolio.
Before I go any further, I'd like to give credit to "The Intelligent Investor" by Benjamin Graham. It explains value investing and dollar-cost-averaging beautifully with plenty of examples. If I could sum up that book in one line it would be, "never pay too much for a stock." There may be good companies with great prospects, but if that company's stock is so expensive that the potential is already priced in, then there's not much room left except for disappointment.
I took the time to craft a portfolio this year with the goal of reinvesting the dividends and dollar-cost-averaging my investments every quarter.
This is the criteria I use to select a stock for my portfolio:
- Must be profitable. I like to visualize my stock investments as "cash generators." I invest or "fuel" them at regular intervals and their profit margin is the "engine efficiency." This criterion eliminates "turn around" stocks (JC Penny JCP), many IPOs (Twitter TWTR), and the swarm of small-cap biotech companies. I realize I'm giving up some potential blockbusters here, but I'm more interested in what is successful now (a well-oiled machine) - not what *might* be successful later (a cheap fixer-upper that might not work anyways).
- Must have a dividend that consistently grows. Although I want to see the company maximize its return on capital, I like how dividends provide me with the option of cash or re-invested ownership in the company. No dividend means I only make money when I sell the stock - that means I have to time the market. I'm not smart enough to do that. Writing covered-calls is a good way to generate additional income on my invested capital (it can act like a pseudo dividend) and I plan on writing another article on that. If dividends haven't been growing through the good times or the bad - then the company is in a more precarious situation that what I feel comfortable investing in. Dividend yield is like the cash generator's power output - and like goldilocks, it needs to be just right. A high yield may be hard to sustain (a payout ratio over 60%) - the engine becomes inherently unstable. Too little yield (a payout ratio below 25%), feels like an idling engine - maybe that company isn't maximizing profit as well I could (I'm excluding exceptional capital managers like Berkshire Hathaway BRK.A). I like yields between 2% to 5%.
- Must have a moderate price-to-earnings ratio (NYSE:PE) and price-to-book ratio (NYSE:PB). I consider a PE ratio below 20:1 and PB ratio below 3:1 to be moderate. This represents my focus on value thanks to Mr. Graham's book, although I'm probably not as strict as he was. I multiply the PE ratio with the PB ratio; if the result is less than 50, I consider it a good value. The multiple allows me some flexibility in choosing a stock that may exceed one of my value criteria.
- Finally, I try to keep things diversified. The ultimate in diversity would be an ETF covering the entire market. However; that's boring. I actually enjoy investing the time to research companies to see if my tiny portfolio can "beat the market" over the long haul. My goal would be to average 3% better than the market over the long haul. I chose companies in sectors I understand and like to follow: semiconductors, software, telecom, industry, finance, retail, oil, automobiles, medical devices, and heavy equipment. My portfolio is biased towards cyclical companies, but I feel that a long position in the stock market should be based on a positive outlook on the economy which cyclical stocks capture better than defensive stocks.
For example (as of November 21):
Intel (NASDAQ:INTC):
- Profitable over the past 10 years
- Dividend of 3.57% (increasing from 4 cents a share in 2004 to 22 cents a share now)
- Price-to-Earnings ratio - 13.61
- Price-to-Book ratio - 2.26
- 13.61 * 2.26 = 31.38 (less than 50, a good value)
I don't rely on future estimates, because no one knows the future. Many of the most popular companies are so expensive (like 3D systems (NYSE:DDD), Whole Foods (NASDAQ:WFM), Facebook (NASDAQ:FB), Netflix (NASDAQ:NFLX) or LinkedIn (NYSE:LNKD)), that their earnings for the next several years are already priced in. I love these companies, but I'm not willing to own them at any price! I realize that this eliminates growth stocks from my portfolio, but I'm willing to sacrifice missing the bandwagon in order to protect myself from the steep losses these kinds of stocks suffer during downturns.
Of course, I have to keep an eye out for value traps. A stock company may have a low RE and PB ratios because it's main business is dying - like Kodak. My portfolio can't be static, or I risk obsolescence. If a company's ability to generate profits reliably starts falling apart, there's isn't a price low enough to interest me.
I take the time to find a company that's profitable, has a high barrier of entry, and is not expensive.
So here is my portfolio for 2013 - I'm using year-to-date values since I entered these positions gradually over time this year and I'd like to keep a single point of reference. It's a selection of moderately priced cyclical stocks. My portfolio average: PE is 14.88, PB 2.59, and an average multiple of 37.89.
- Intel (INTC) - Up 22% + 3.57% dividend. PE 13.6 and PB 2.26 = Multiple of 30.74. I don't think PCs are going away and I think Intel is moving in the right direction in the mobile market. Risk to my assumption is that Intel's competitors are trying just as hard and may increase their lead in mobile devices. However, those stocks are already richly valued. I'm also nostalgic about my high-school days building computers with the latest Intel chip in the 90's. Beyond the fuss about mobile devices, I'm curious to see where Intel plans to go with wearable devices.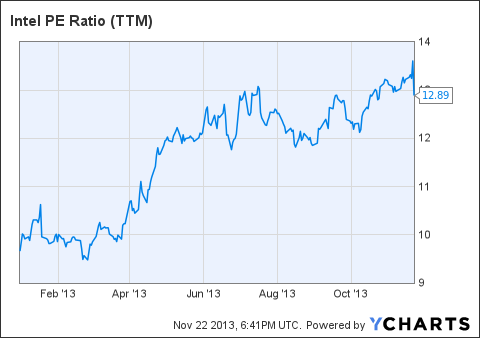 INTC PE Ratio (((((((((TTM))))))))) data by YCharts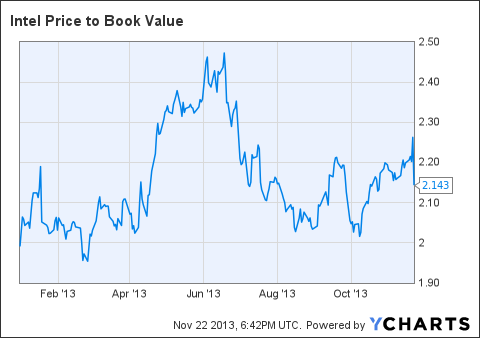 INTC Price to Book Value data by YCharts
Microsoft (NASDAQ:MSFT) - Up 40.02% + 2.99% dividend. PE 13.98 and PB 3.84 = Multiple of 53.68. There's a similar PC to mobile devices argument like Intel. I'm a big fan of their approach with the Xbox One (and I really hope they don't sell it off). A lot of businesses use SQL servers and that really boosted earnings last quarter. It offers a higher dividend than Oracle. However, it is at the high end of my value criteria - already slightly above the 50 multiple. Risks to my assumption are: Xbox flops, people hate the next iteration of Windows more than Windows 8, businesses move away from SQL.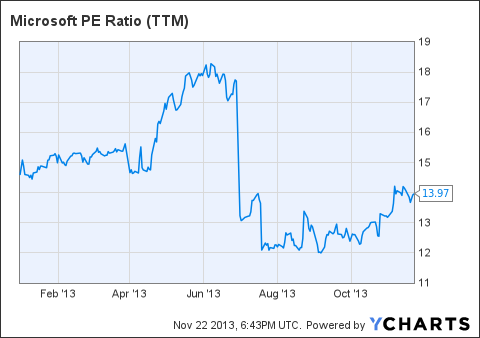 MSFT PE Ratio (((((((((TTM))))))))) data by YCharts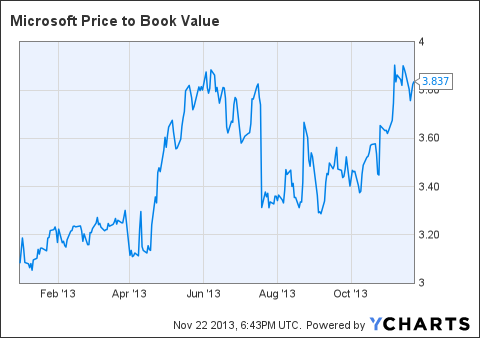 MSFT Price to Book Value data by YCharts
- AT&T (NYSE:T) - Up 4.72% + 5.10% dividend. PE 24.86 and PB 2.17 = Multiple of 53.95. Better dividend than its rival - high barriers to entry to the business. Great cash flow generation; however, it also is slightly above the 50 multiple. Risks to my assumptions are: Verizon delivers a higher dividend, and people decide they don't like cell phones anymore.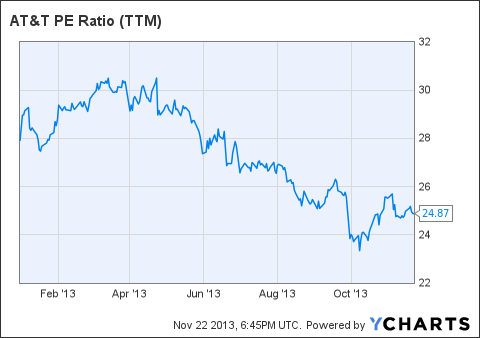 T PE Ratio ((((((((TTM)))))))) data by YCharts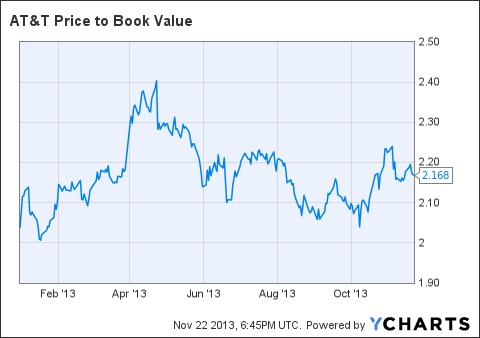 T Price to Book Value data by YCharts
- General Electric (GE) - Up 28.2% + 2.82% dividend. PE 19.41 and PB 2.22 = Multiple of 43.09. I'm happy to see them returning to their industrial roots and spinning off their financial arm. Because GE is such a large company, I see a strong correlation between U.S. GDP growth and GE's profits. Its PE ratio is a little high, but its PB ratio is 2.22. Risks to my assumption are: another recession, higher commodity and energy prices squeezing margins on industrial products.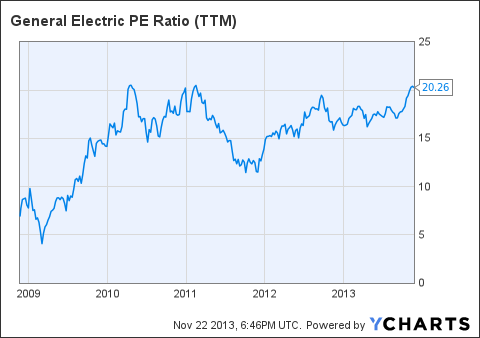 GE PE Ratio (((((((TTM))))))) data by YCharts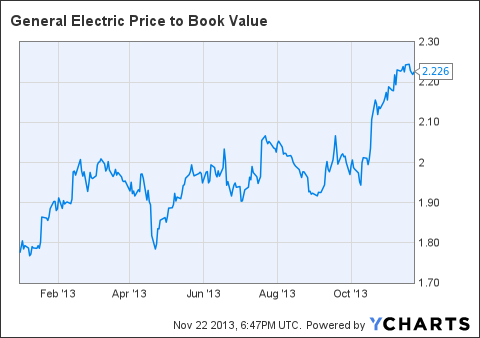 GE Price to Book Value data by YCharts-
JP Morgan (NYSE:JPM) - Up 30.40 %+ 2.66% dividend. PE of 13.02 and PB 1.1 = Multiple of 14.32. Negative press and government settlements have kept the price reasonable (except for the last week). I assume profits will increase when interest rates start returning to historical levels over the next few years. Risk to my assumption is if we have another recession and the velocity of money slows down.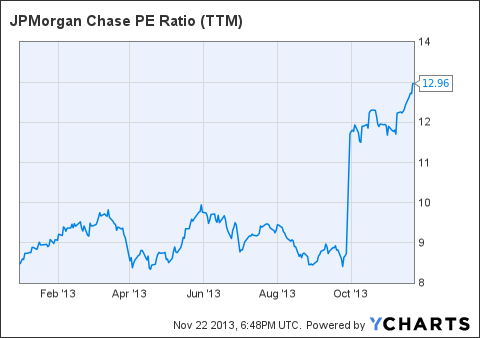 JPM PE Ratio ((((((TTM)))))) data by YCharts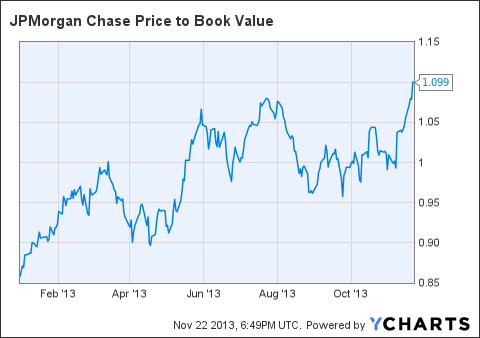 JPM Price to Book Value data by YCharts
- Target (NYSE:TGT) - Up 8.48% + 2.68% dividend. PE of 15.47 and PB 2.53 = Multiple of 39.14. Sluggish economic growth is hurting the consumer and keeping revenues down. That has helped keep this stock price at a good value while I build up a position that assumes American and Canadian consumers will recover. Also, I have tons of anecdotal evidence that young adults like shopping at "Tar-jey"… Risks to my assumption are: lower-than-expected consumer spending and Amazon (NASDAQ:AMZN) taking over the world.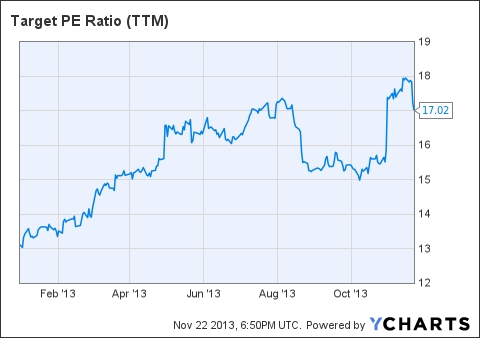 TGT PE Ratio (((((TTM))))) data by YCharts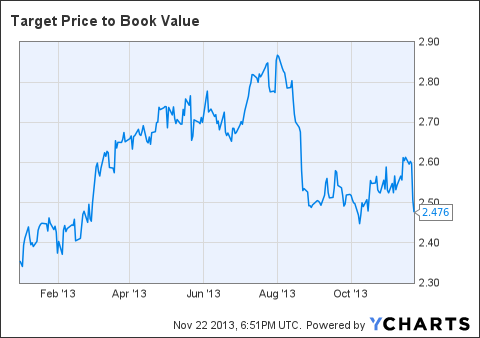 TGT Price to Book Value data by YCharts
- Chevron (NYSE:CVX)- Up 14.17% + 3.24% dividend. PE of 10.10 and PB 1.64 = Multiple of 16.56. It has the lowest PE ratio and highest dividend yield of U.S.-based fully-integrated oil companies. Diverse assets all over the world help diversify risk. A bet on energy is a bet that the world economy will improve. Risks to my assumption are: a black-swan event (oil spill), ongoing litigation from purchasing Texaco (Ecuador).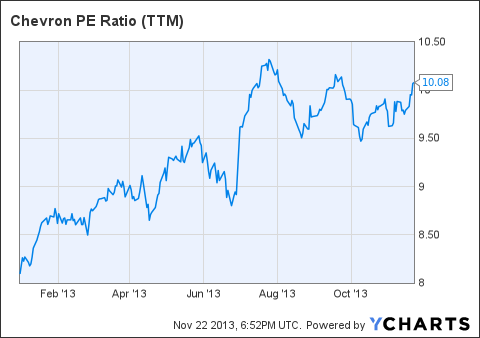 CVX PE Ratio ((((TTM)))) data by YCharts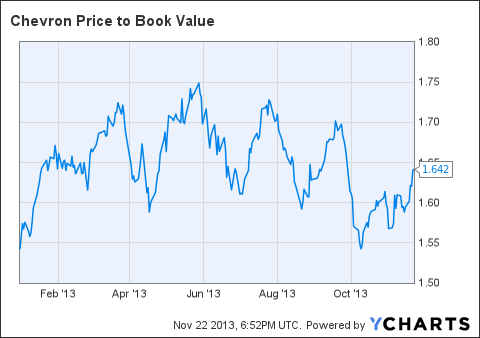 CVX Price to Book Value data by YCharts
- Ford (NYSE:F) - Up 31.38% + 2.34% dividend. PE of 12.22 and PB 3.3 = 40.33. The average ago of a car in the U.S. is at a record high - 11.4 years. Despite car quality improving a lot over the past decade, at some point more people will need to buy a new car. However, there is a trend towards urbanization which should continue to suppress the number of miles driven per year in the US. Fortunately, Ford is exposed to emerging markets where millions of new drivers are entering the market. Risks to my assumption are: black-swan event (massive recall), larger-than-expected urbanization in the US.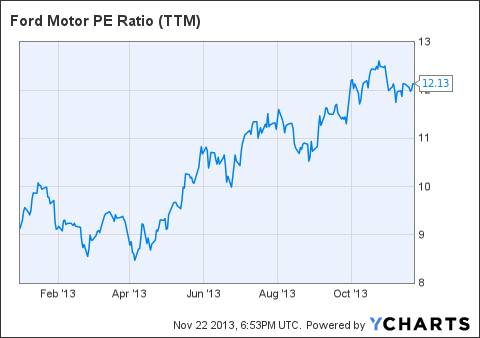 F PE Ratio (((TTM))) data by YCharts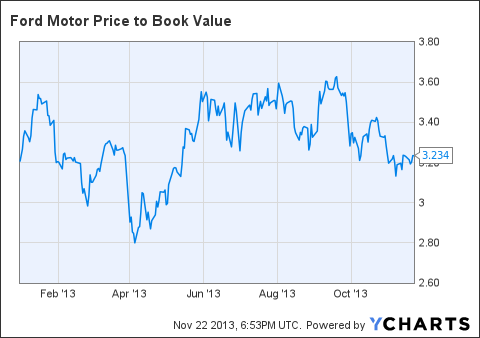 F Price to Book Value data by YCharts
- Medtronic (NYSE:MDT) - Up 39.2% + 1.96% dividend. PE of 16.41 and PB 3.08 = Multiple of 50.54. There are more old people on Earth than ever before and they need fancy gadgets to live longer and healthier. Unfortunately it's tough to find a good value in the medical devices field. Risk to my assumption is a higher-than-expected competition.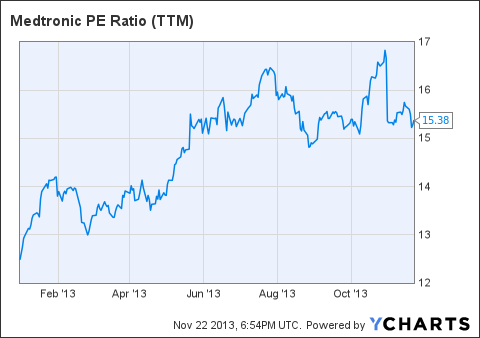 MDT PE Ratio ((TTM)) data by YCharts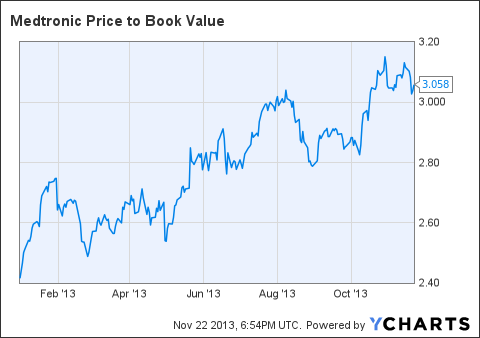 MDT Price to Book Value data by YCharts
- John Deere (NYSE:DE) - Down 2.97% + 2.43% dividend. PE of 9.76 and PB 3.74 = Multiple of 36.50. There are more people on Earth eating more food while farming the same amount of land. That's a recipe for more efficient farming and forestry technology. Risks to my assumption are lower-than-expected commodity prices and extremely efficient planet-wide birth-control…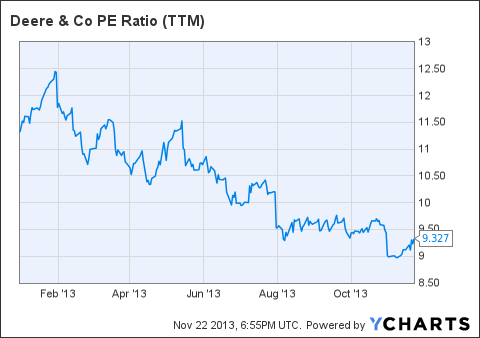 DE PE Ratio (TTM) data by YCharts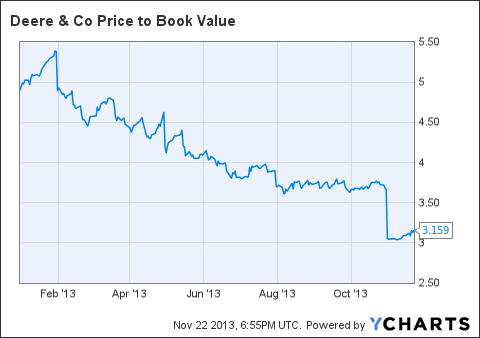 DE Price to Book Value data by YCharts
I use dollar-cost-averaging: I invest a fixed amount of money each quarter (3 months). I make my purchases by selling in-the-money puts to further reduce my purchasing costs. When stocks go up as they have this year, I can buy fewer stocks (sell put contracts) with the same amount of money. When the market goes down - stocks go on "sale" and I can buy a lot more for the same amount of money, resulting in higher profits when the economy recovers. I reduce risk when investors are greedy, and become aggressive when people run away from the market. People have a stronger reaction to losing value than gaining value. That's why markets crash so rapidly and recover so slowly. That is how I plan to buy low and sell high. In the long run, as long as there are more people becoming more productive, I see my investments growing.
So, how did I do?
Let's compare my portfolio to the total market - As of November 21:
Vanguard Total Stock Market (NYSEARCA:VTI) - YTD growth: 27% + 1.88% dividend.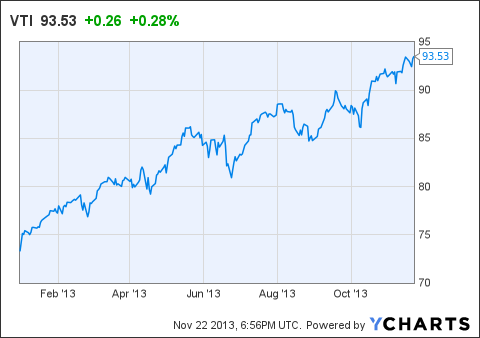 VTI data by YCharts
My Index - YTD average growth (equally split between my 10 choices) - 22.15% + 2.97% average dividend.
Although my portfolio growth was less than the market, I have a higher dividend yield. I'm also not including the gains I made by writing contracts on my positions (writing puts to purchase shares. Of course my investing costs will be higher for 10 individual stocks vs. 1 ETF. I'll periodically make updates to this article after each quarter to track my progress. So there you have it, what are your thoughts?
Disclosure: I am long INTC, MSFT, MDT, GE, CVX, F, DE, TGT, JPM, T. I wrote this article myself, and it expresses my own opinions. I am not receiving compensation for it (other than from Seeking Alpha). I have no business relationship with any company whose stock is mentioned in this article.