The hot spots for growth in smart connected devices are smartphones and tablets. No surprise there.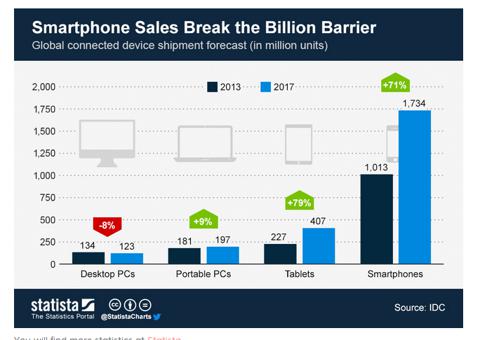 Click to enlarge
Geographically, the bulk of the growth will take place in emerging markets, and in particular in China and India. No surprise there, again.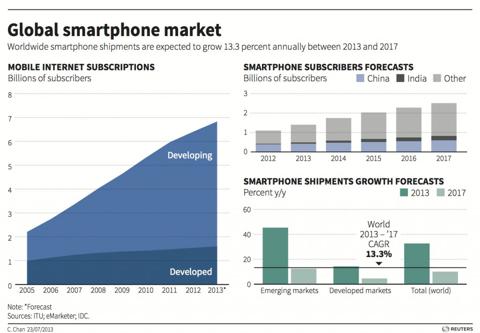 Click to enlarge
The theory of the case for a while has been that the opportunity for smartphone suppliers has been to convert feature phone users to smartphones and in particular for Microsoft (NASDAQ:MSFT) now that it has purchased the handset business of Nokia with its massive worldwide share of feature phones. Microsoft has placed a lot of emphasis on Europe and emerging markets for its Lumia line of Windows OS smartphones, the latest of which were launched in Abu Dhabi rather than New York. Lumias have so far enjoyed only limited success in North America. At the same time, smartphone suppliers including Samsung (OTC:SSNLF), Lenovo (OTCPK:LNVGY), Micromax and Nokia (NYSE:NOK) have included a tablet or hybrid offering in their portfolio, and with the emergence of "phablets" the lines between these devices have become blurred.
One can summarize the implicit strategies of each of the major smartphone platforms in a few lines. I have taken a shot at it in the table below, but I do not hold out that it is complete or comprehensive, but at the same time doubt that it is controversial.
Platform

Product focus

Geographic focus

Android

All mobile form factors and all price points
Smart devices only
Chromebooks

Worldwide

iOS

iPhones
iPads
iPad mini
Macbook
Macbook Air
Desktops
Premium pricing

Developed markets including Japan and China are a primary focus

Microsoft (Nokia)

All form factors and price points
Feature phones and smartphones
Full Windows OS
Windows RT OS
Hybrids
Ultrabooks
PC's
Desktops

Emerging markets and Europe
In these fast moving markets, timing is a key success factor. The pace of change in consumer preferences is lightning fast and their choices tend to be "sticky" at least in the short term. Data on replacement rates suggest that users in developed markets will replace mobile phones at about a 40% annual rate (that is keep each phone for an average of two and one half years) while consumers in emerging markets replace their devices at about a 25% rate (keep each device for an average of 4 years).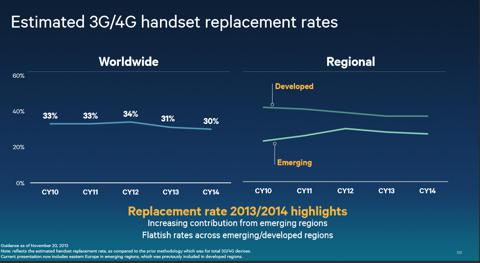 Click to enlarge
The pace at which consumers in emerging markets switch out their feature phones for smartphones is an important element in the strategies of each supplier in each platform since it will determine the base level of demand. Certainly observers have commented that trade ups from feature phones to smartphones could favor Nokia. Recent data suggest that regardless of who benefits, the trade up process is taking place very quickly.
China
In China, for example, over 85% of phones sold today are smartphones, a dramatic rise from 3 years ago.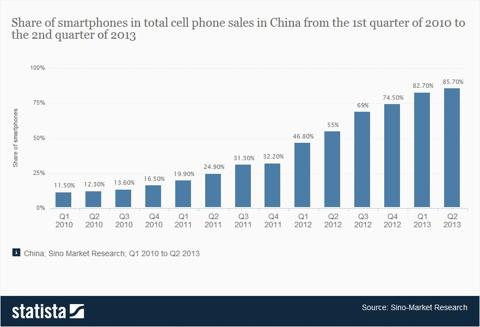 Click to enlarge
Not only is the shift from feature phones to smartphones happening very quickly, it is being driven by affordable smartphones with less than 10% of the Chinese market going to smartphones with a price above 3,000 yuan (about $500).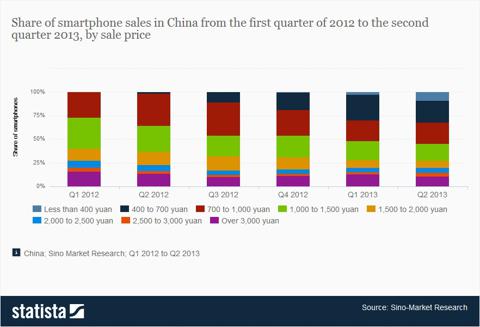 Click to enlarge
Android devices suppliers like Samsung offer devices in all form factors at all price points.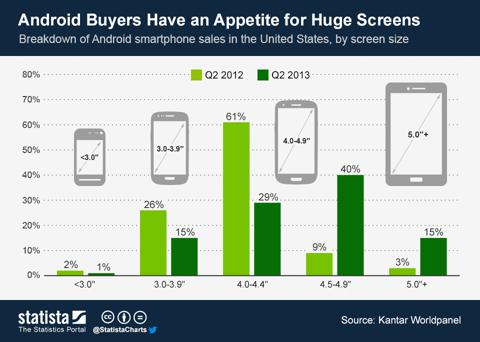 Click to enlarge
This approach has worked very well and given Samsung the leading market share in China with almost 20% of market, followed by Lenovo, Coolpad and Huawei who also use Android OS in most of their devices, although Huawei also has a strong Windows OS offering. By contrast, Apple (NASDAQ:AAPL) with its premium price strategy and focus on conventional screen sized devices has left it with less than 5% of the Chinese market. Apple's share could rise with the success of the new iPhone 5S.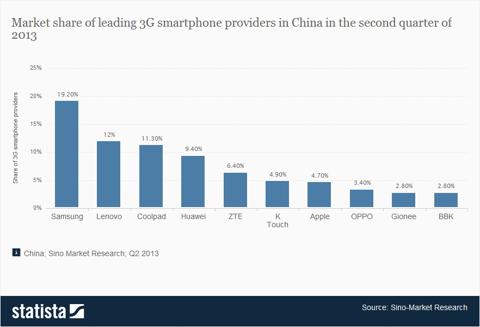 Click to enlarge
Android's platform strategy has had equal success on a worldwide basis, with four out of every five smartphones sold in Q2 2013 based on Android OS.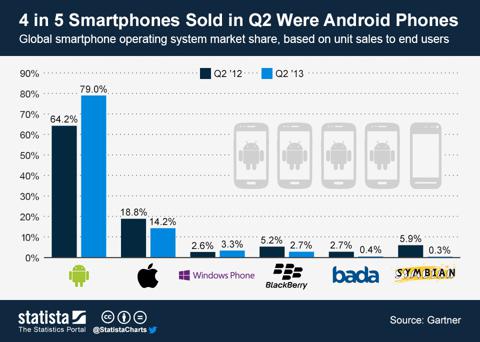 Click to enlarge
In China in particular, Android OS smartphones now represent almost 90% of all 3G devices.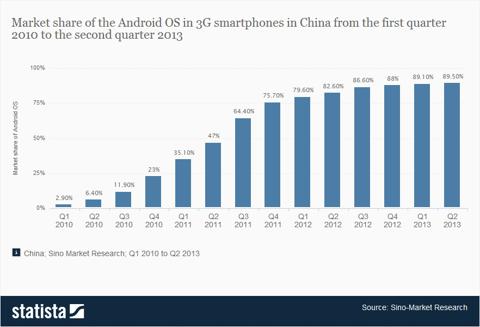 Click to enlarge
Samsung also saw the potential for "phablets" to create a market bridging smartphones and tablets and hit an early inning home run with its Galaxy "phablet" offerings. The market for "phablets" has taken off in Asia and is growing extremely quickly with forecast unit sales of 350 million by 2016, approaching the size of the tablet market.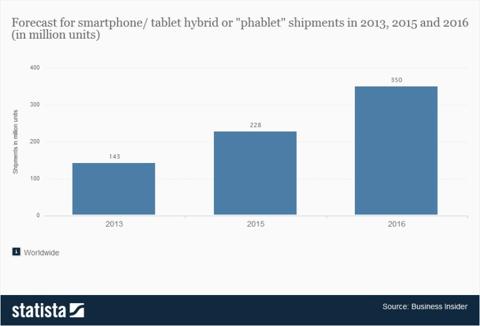 Click to enlarge
For Samsung, despite its aggressive pricing strategy, it has not been market share at the expense of profits. Samsung officially earned more than Apple in the September quarter of 2013.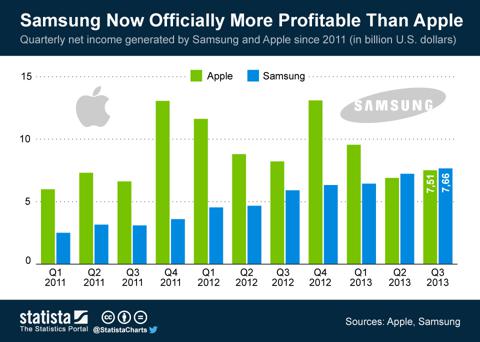 Click to enlarge
Today, there are a wide variety of "phablets" offered by numerous suppliers in a range of screen sizes from 4.5 inches to over 6 inches. So far, none of these devices are offered by Apple although some are rumoured.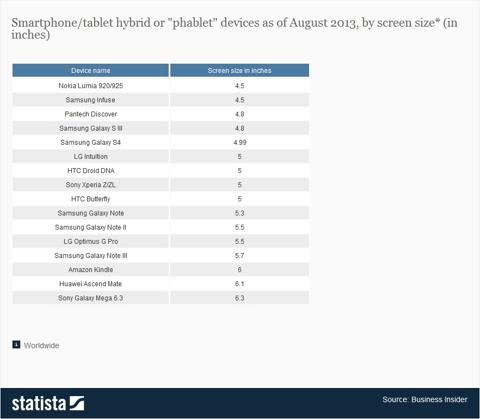 Click to enlarge
The "phablet" phenomenon is particularly important in emerging markets although they are also expected to grow rapidly as a category in North America and Western Europe.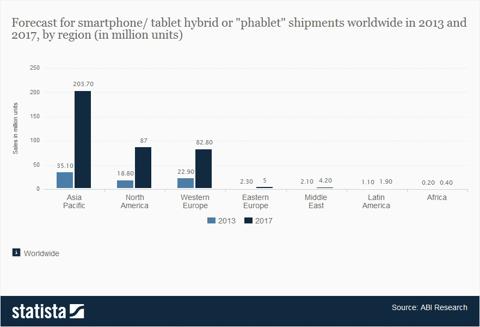 Click to enlarge
Microsoft's recent introduction of two Windows OS Lumia "phablets" and a Lumia Windows RT tablet aims directly at the fast growing emerging markets.
By 2017, the "phablet" category is expected to represent over 50% of the smartphone market in Asia Pacific and over 20% in North America and Europe. At that size, it is too large to ignore.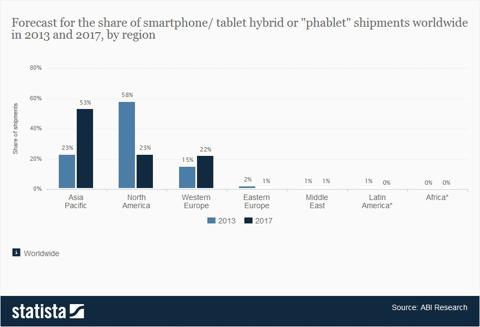 Click to enlarge
India
Like China, smart device markets in India are a source of major growth going forward. Once again, Android OS based entrants' offerings of all form factors across all price points is showing traction. Samsung once again has the leading market share followed by Micromax, Karbonn and Microsoft (Nokia). Apple is an "also ran" in the Indian market, not listed in the top five.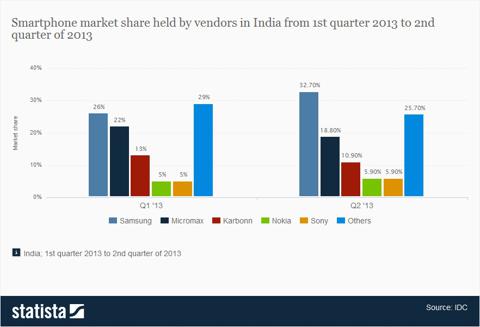 Click to enlarge
The market in India parallels that of China in that only 6.5% of smartphones sold are priced above $400.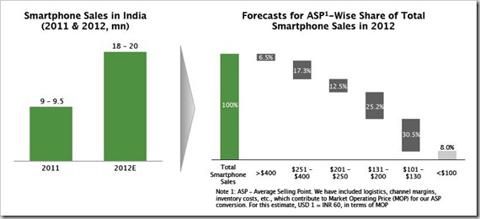 Click to enlarge
And, like many areas of Asia, phablets are the rage in India.
Micromax, the second largest supplier, reports that half of its smartphone sales are "phablet" form factor. IDC reports that "phablets" now make up 30% of the Indian smartphone market.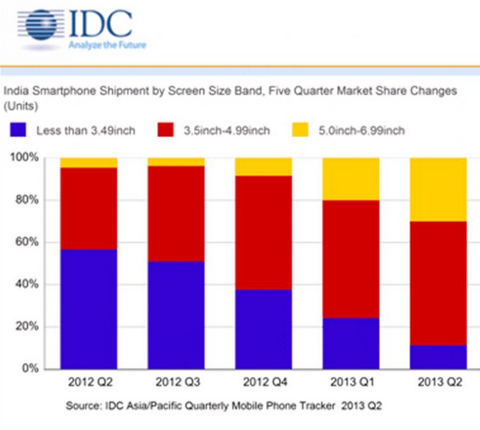 Click to enlarge
Conclusion
So what does all these data mean to investors? I will draw a few conclusions that reflect my own opinions. Others are sure to differ.
Android and its leading proponent Samsung have a winning strategy. By targeting all price points and all form factors worldwide, Android has built a massive installed based with an equally massive supporting ecosystem. Samsung will be a key beneficiary as will Google (NASDAQ:GOOG). The bulk of the pain inflicted by Android's success in upper tier devices will fall on Apple.
Apple will suffer unless it acts quickly. By focusing on premium prices in developed markets and ignoring the shift in consumer demand to "phablets" in Asia, it has exposed a weak flank and competitors are taking full advantage. As it stands today, Apple's current offering addresses only 5% to 10% of the China market and 6.5% of the India market defined by average selling prices, and within those premium segments, Apple lacks an offering with a screen size 4.5 inches or greater - a form factor rapidly grabbing half the top tier. Developed markets will also expand, albeit at a slower pace, and with its strong position in those markets, Apple should continue to show high levels of profitability, but meaningful growth will be elusive. An iPhablet will help stabilize Apple's plummeting market share but is unlikely to add much to the bottom line as I pointed out in an earlier article.
Microsoft is late to the party but has the right range of products and price points. The Microsoft ecosystem lags both Apple and Android by a wide margin but is still strong in areas related to enterprise where the Windows OS is paramount, so its success cannot be ruled out. In my view, it will continue to grind out higher shares squeezing out elements of Apple's customer base from the mid-range while higher end Android based devices devour Apple's share at the higher end. At the same time, legacy Windows PC suppliers like Dell, Hewlett-Packard, Lenovo, Acer, Asus, Toshiba, Sony, and Fujitsu will carry on introducing very well designed hybrid offerings that blur the distinction between laptop and tablet, eating into the share of iPads. Microsoft has not bet the farm on mobile and has more to gain than to lose with its efforts in the space.
In light of the above, I am long MSFT and its supplier INTC and am short AAPL, all through options.
Disclosure: I am long MSFT, INTC. I wrote this article myself, and it expresses my own opinions. I am not receiving compensation for it (other than from Seeking Alpha). I have no business relationship with any company whose stock is mentioned in this article.
Additional disclosure: I am long Microsoft and Intel while short Apple, all through options.