AIG reported third-quarter (pdf) net income of $2.17 billion and diluted earnings per share of $1.46, compared to $1.9 billion and $1.13 per share in the same period a year ago. Pre-tax income in the firm's insurance operations were solid during the quarter, with 'AIG Property Casualty' and 'AIG Life and Retirement' advancing 33% and 38%, respectively, from the same period a year ago. Third-quarter after-tax operating income attributable to AIG came in at $1.42 billion, or $0.96 per share, compared to $1.62 billion, or $0.99, in last year's quarter. Net income exceeded after-tax operating income as a result of valuation allowance releases associated with deferred tax assets (a non-core boost).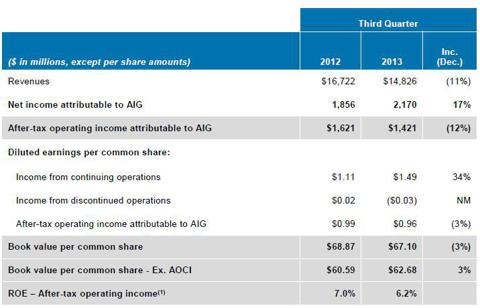 Image Source: AIG
Though we would have liked after-tax operating income to increase on a year-over-year basis, book value remained resilient, coming in at $67.10 per share in the quarter (down 2.6% from last year's quarter). Return on equity (1) was 8.8% during the quarter and 9.6% for the nine months ending in September. Return on equity (after-tax operating income) was 6.2% versus a 7% mark in the third quarter of 2012.
(1) Computed as Actual or Annualized net income (loss) attributable to AIG divided by average AIG shareholders' equity. Equity includes deferred tax assets.
Valuentum's Take
We're sticking with our $62 per share fair value estimate of AIG (at the time of this writing). The mark reflects AIG's book value per share of $67.10 at the end of the period, reduced for expectations of ongoing economic value destruction (ROE=8.8% < COE=10%) for the next few years. It also matches AIG's present book value per share, excluding accumulated other comprehensive income (AOCI). There could be upside to our fair value estimate of AIG if ROE exceeds our expectations in coming periods. We stand by our belief that AIG has valuation upside of nearly 30%, and the firm remains one of our favorite ideas in the insurance industry, though we are not currently considering it for the portfolio of our Best Ideas Newsletter.
Disclosure: I have no positions in any stocks mentioned, and no plans to initiate any positions within the next 72 hours. I wrote this article myself, and it expresses my own opinions. I am not receiving compensation for it (other than from Seeking Alpha). I have no business relationship with any company whose stock is mentioned in this article.