Taking a cruise has become a must-do activity for retirees and demand has been rocketing as the numbers of wealthy elderly increase. Now that the baby boom generation is starting to retire, cruise ship activity is set to explode.
According to cruise ship industry site cruisemarketwatch.com, the cruise industry worldwide has seen an annual passenger compound growth rate of 7% from 1990 and growth potential remains significant. This graph shows the remarkable growth in passenger numbers.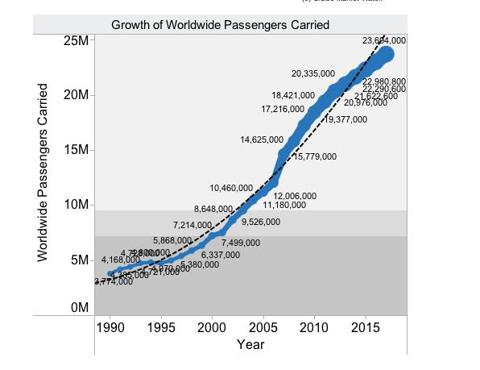 Only 24% of the US population has ever taken an ocean cruise and the passenger capacity of all the cruise ships in the world amounts to less than half the number of visitors to Las Vegas.
To invest in this long-term trend that is being driven by the baby boomers, it is hard to ignore Carnival Corporation (NYSE:CCL), the world's largest cruise ship operator, especially since its stock price has been driven down by a series of one-off or short-term factors.
Its huge scale and market dominance help it to stave off competitors like market number two Royal Caribbean Cruises (NYSE:RCL), whose revenue is only a little over half that of CCL.
About Carnival
Carnival provides cruises to various vacation destinations with a fleet of 100 cruise ships under the brand names of Carnival Cruise Lines, Holland America Line, Princess Cruises, and Seabourn in North America; and AIDA Cruises, Costa, Cunard, Ibero Cruises, and P&O Cruises in Europe, Australia, and Asia. It also operates 12 hotels or lodges, 300 motor coaches, and 20 domed rail cars.
Parts of the group can trace its origin back to the Peninsular and Oriental Steam Navigation Company, which introduced the world's first passenger ships in 1844.
Carnival Corporation was initially formed in 1972 under the name Carnival Cruise Lines by the late cruise industry pioneer Ted Arison. It made an initial public offering of 20% of its common stock in 1987. This provided capital that allowed the company to begin its expansion through acquisition. The first acquisition was operator Holland America Line (this included Windstar Cruises and Holland America Tours) in 1989, followed by Seabourn Cruise Line in 1992. In 1993, the company changed its name to Carnival Corporation, and continued to expand further into the cruise industry with the acquisitions of Cunard Line in 1998 and Costa Cruises in 2000.
Micky Arison, chairman and until June the company's chief executive, is son of the company's founder. His family own 47% of the company. As the company has a market capitalization of $25bn, that is a lot of skin in the game and should ensure a lot of motivation to resurrect the business.
Carnival UK was formed as a result of the merger in 2002 between Carnival Corporation and P&O Princess Cruises. At the time P&O Princess was the largest cruise ship operator in the UK, owning the P&O Cruises, P&O Cruises Australia, Princess Cruises, Ocean Village and AIDA Cruises brands.
P&O continued to expand throughout the latter half of the twentieth century, expanding its passenger and cruise operations with the acquisitions of Princess Cruises and Sitmar Cruises in the 1970s and 1980s. In 1999, the company entered the German cruise market with the acquisition of a majority stake in AIDA Cruises, completing a buy-out of the company in 2000.
Why the stock price is down
CCL's stock price is trading close to an 18-month low, mainly because of a number of one-off events on its ships that have led to weak quarterly results.
Engine breakdown, steering issues, power blackouts have all upset customers, deterred new bookings and lost revenue for the group in recent times.
Its latest financial result, for the third-quarter to August, was a profit of $934m, or $1.20 per share, down 30% from $1.3bn, or $1.71, from the same period last year. Revenue rose marginally to $4.72bn.
Its operating margin fell to 20.2% from 27.2% last year, indicating the company is discounting to keep passenger volumes up (an important business practice as onboard purchases make up a significant part of total revenues).
Outlook
The company expects fourth quarter earnings to range from a loss of 3c a share to a profit of 3c. This compares woefully against last year's 14c. This is expected to drag down its full year result to $1.55 a share against last year's $1.88, according to consensus estimates.
Softness in its business is also likely to spill into the first quarter of its next financial year and analysts have lowered full year earnings expectations from $2.22 a share to $1.59.
This seems like an overreaction and therefore investors have an opportunity to benefit from any outperformance by the company.
The series of mishaps that Carnival ships suffered were random and are unlikely to be repeated given the company's massive upgrade of power, fire and safety systems. Holidaymakers' memories should soon dim and appealing packages will lure them back on board. CCL is investing heavily on marketing in the US and offering a lowest price plus a 110% satisfaction guarantee, which should overcome any lingering concerns.
The current stock price reflects a lot of bad news and therefore the shares should react strongly to any positive developments.
As this graph shows, CCL's stock price was savaged after its third quarter result but has lifted sharply from a low point and it appears to have bottomed. I believe now is a good time to buy. Investors have been reacting to temporary bad news and ignoring the bigger trend that strongly suggests that cruise ship demand - and CCL's profits - will rise for many years to come.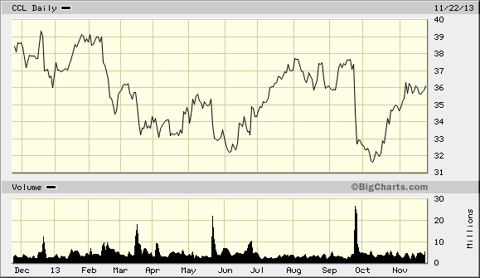 Disclosure: I have no positions in any stocks mentioned, and no plans to initiate any positions within the next 72 hours. I wrote this article myself, and it expresses my own opinions. I am not receiving compensation for it (other than from Seeking Alpha). I have no business relationship with any company whose stock is mentioned in this article.