Camtek Ltd. (NASDAQ:CAMT) provides automated and technologically advanced solutions dedicated to enhancing production processes and increasing yields, enabling and supporting customer's latest technologies in the Semiconductors, Printed Circuit Boards (PCB) and IC Substrates industries.
Camtek addresses the specific needs of these interconnected industries with dedicated solutions based on a wide and advanced platform of technologies including intelligent imaging, image processing, adaptive ion milling (AIM) and digital material deposition (DMD). Camtek's solutions range from micro-to-nano by applying its technologies to the industries' specific requirements.
The company has a healthy balance sheet with $21 million in cash and only $817 thousand in debt. CAMT generated $3.1 million from operating cash flow during the third quarter of 2013. The guidance for the fourth quarter was healthy, calling for a sequential increase of up to 11% in sales.
As also noted by 3dPrintingStocks.com, (which I consider to be the leading authority in 3d printing stocks) Camtek is now entering the 3D printing industry with a potential game-changing, commercial grade 3D printer for electronic circuit boards.
In the Q3 conference call the company announced a new, 2014 key product launch: a 3D printer that manufactures PCBs (Printed Circuit Boards) for the commercial market. This will be the world's first commercial grade 3D printer for circuit boards.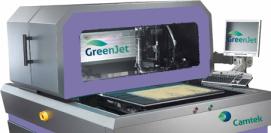 Camtek CEO, Roy Porat:
We are expecting our long-term growth plans to mature with the plant launch of 3D inkjet solder mask printer next year. I want to add a short update on our 3D digital inkjet solder mask printer, last quarter we reported that we have internally passed the technology feasibility phase and expect to bring a product into benefiting early next year, today we should reassured that you can show the technology the ink, the ink heads and the application. In our opinion, the main technology risk is behind us most of the current tasks are on an engineering level and we expect to start test at a customer site within eight to 12 weeks it has been a long way in getting this point.

We are excited and despite a much longer development stage and originally planned, we believe we are ready for these first customer tests to remind all of you, this 3D solder mask printing technology will expand our addressable market by an additional $600 million to $700 million, no doubt a big number for Camtek, it creates a great opportunity to sell many printers, but even more exciting is the opportunity for future consumable ink revenues.

I will think it will have a big impact on the revenue line in the near future, no doubt in my mind again as I've said I think, the risk element big part of the risk element is behind us in terms of the technology, and we're few weeks from putting tooling to a customer. And I think the next milestone is really meeting this milestone which will be few weeks from now. So by next quarter call, I hope I'll have more interesting update. And I think we'll take it one step at a time and I don't think I want to go into details right now of expected revenues in 2014, a little bit too early for us to estimate.

And we have to remember, although 3D printing is it's a technology out there already, but 3D printing for our application, which is a functional 3D printing, has not been done yet in the world. So as far as I know we're the first one.
The author of 3DPrintingStocks.com asked, "Anyone think companies like Apple (OTC:APPL), Texas Instruments (NYSE:TXN), Intel (NASDAQ:INTC), IBM Inc. (NYSE:IBM), etc. might be "a little" interested in these printers? I do."
CAMT has 30 million shares outstanding and a float of 10mm shares. One analyst has an EPS estimate of $0.25 for 2014. In my opinion it is unlikely this includes revenue from the 3D printer launch as CAMT did not provide guidance on it. The $0.25 EPS on the core business could be increased greatly in the future from sales of the printers and ink.
I think it is beneficial to compare CAMT to the other 3D printer stocks as they are entering the field. Organovo Holdings Inc. (NYSEMKT:ONVO) is a 3D printer company that will have no significant sales through 2014. It has a market cap of over $700 million. That kind of market cap would make CAMT a $23 stock.
ONVO has a $707 million market cap and trades 642 times sales, Voxeljet AG (NYSE:VJET) has a $559 million market cap and trades 50 times sales, and The ExOne Company (NASDAQ:XONE) has a $770 million market cap and trades 26 times sales. In comparison CAMT has a $90 million market cap and trades just over 1 times sales.
The P/E ratios for 3D printing stocks range from approximately 50 for Stratasys Ltd. (NASDAQ:SSYS) and 3D Systems Corp. (NYSE:DDD) to over 300 for VJET. Applying that range to the $0.25 EPS estimate (which may be conservative if it does not include 3D printer revenue) would make the share price for CAMT range from $12.50 to $75.
I agree with this quote by 3DPrintingStocks.com:
I believe Camtek Ltd. may be an early holiday gift for prudent investors in 3D printing stocks as few know about its pending launch of GreenJet 3D printers, and that's a good thing. When the company has an official press release announcing its launch of a commercial grade 3D printer for the PCB market, that will change. When the mainstream investment press picks up on Camtek and the company's entrance into the 3D printing industry with its GreenJet printer aimed squarely at a $600-$700M market, there is potential for significant upside move in the share price.
In my opinion, CAMT appears headed to be the DDD of the electronic printed circuit board market (plus recurring revenue for the ink). Once the market discovers this fact I think the share price deserves to be more closely aligned with other 3D printing stock valuations.
Disclosure: I am long CAMT. I wrote this article myself, and it expresses my own opinions. I am not receiving compensation for it. I have no business relationship with any company whose stock is mentioned in this article.