By Ashish Shah and Ivan Rudolph-Shabinsky
Investors who chose high-yield bank loans over high-yield bonds earlier this year, expecting to be insulated against rising rates, might be surprised to find that bonds might have worked out better.
While the 10-year US Treasury yield rose about 80 basis points from January 2 through November 1, bank loans' floating interest rate—much touted as a benefit—has actually been a detriment.
As we've pointed out, investors who rushed into bank loans in recent years may not have fully considered the potential risks, which can outweigh the perceived benefits, such as loans' floating rate feature, their seniority in an issuer's capital structure in the event of bankruptcy and the perception that loans offer a better yield than most other investments. Now, a host of other concerns have arisen:
A staggering number of loans are being refinanced—and issuers hold the cards. The bank-loan market has seen record refinancings simply because issuers can get better rates. Approximately $300 billion in loans—nearly 50% of the outstanding market—have been refinanced since the start of 2012. Issuers have saved an average of 1.2% in annualized interest costs in a sellers' market that lets issuers refinance whenever they want. Loan investors, on the other hand, have gotten the short end of the stick, with ever-contracting spreads.
The high-yield bank-loan space is underperforming. Despite the continuing demand for bank loans and months of outperformance, high-yield bonds—especially the low-volatility portion of the market—have still outperformed year to date (display). Why is that? Narrowing credit spreads and improving credit conditions have caused high-yield bonds to appreciate in price, while many loans have been repriced at lower rates.
Lower-volatility high-yield bonds—with less duration and higher credit quality—have been in a sweet spot, benefiting from both improving credit trends and a level of insulation from rising rates. In fact, only CCC bonds (not shown) have had meaningfully higher returns in the high-yield market. However, CCC bonds contain significantly more credit risk.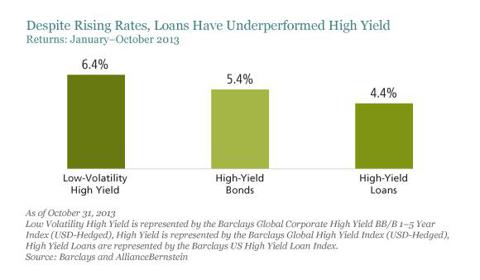 Regulations are spooking some investors. While investors' interest in individual bank loans has increased, demand from issuers of collateralized loan obligations (CLOs)—loans packaged together and issued with varying degrees of risk and yield—has recently started to slow. Concerns about the proposed Dodd-Frank requirement on risk retention and the lack of available arbitrage have lowered CLO issuance, and until the regulation is finalized, it's unclear what the demand will be for loans from CLOs.
The Fed appears to be wary of bank loans, too. The US Federal Reserve and the Office of the Comptroller of the Currency are said to have issued a warning recently that asked banks to strengthen their underwriting standards for bank loans. The warning referred to loans they view as deficient—a result of poor-quality underwriting—that could potentially lead to losses. Forty-two percent of leveraged loans were listed in this category.
What does all this mean for investors?
High-yield bank loans have underperformed high-yield bonds this year despite rising interest rates, and we expect this to hold true unless the Fed starts to raise rates aggressively. For investors concerned about rising rates, we think it makes more sense to consider higher-quality, shorter-duration high-yield bonds. These bonds have more call protection than high-yield loans and are likely to be less sensitive to interest-rate fluctuations than longer-term bonds are. They offer higher credit quality than both the broad high-yield market and the loan market; this may also provide better protection against unforeseen crises.
We still believe that high-yield bank loans can be a part of a well-diversified fixed-income portfolio, but diving into the market head first doesn't make sense to us in this environment. Investors should take a long look at what happened recently to many who took the dive…and found themselves in shallower water than they had hoped for.
Disclaimer
The views expressed herein do not constitute research, investment advice or trade recommendations and do not necessarily represent the views of all AllianceBernstein portfolio-management teams.
Bio
Ashish Shah is Director of Global Credit and Ivan Rudolph-Shabinsky is Portfolio Manager—Credit, both at AllianceBernstein.