Editors' Note: This article covers one or more micro-cap stocks. Please be aware of the risks associated with these stocks.
Two quarterly reporting seasons have come and gone since the release of the guidance on non-GAAP cost metrics by the World Gold Council describing the procedure to compute All-In Sustaining Costs for precious metal miners. In our view, this guidance has provided some long-needed standardization for cost reporting. Since its introduction, we have collected cost reports that are prepared according to these new rules. We intend to report on our data base on a quarterly basis and provide a cost comparison across the board of the gold mining space.
Since our first summary of reported All-In Sustaining Costs, or AISC, at the end of the June quarter, the number of companies reporting AISC has increased. For the present summary of the September quarter, we have included the following companies in alphabetical order: African Barrick (OTC:ABGLF), Alacer Gold (OTCPK:ALIAF), Alamos Gold (NYSE:AGI), AuRico Gold (NYSE:AUQ), B2Gold (NYSEMKT:BTG), Barrick Gold (NYSE:ABX), Brigus Gold (BRD), Endeavour Mining (OTCQX:EDVMF), Gold Fields (NYSE:GFI), GoldCorp (NYSE:GG), Gran Colombia Gold (OTC:TPRFD), Harmony Gold (NYSE:HMY), IAMGOLD (NYSE:IAG), Kinross Gold (NYSE:KGC), Lakeshore Gold (NYSEMKT:LSG), Luna Gold (OTCPK:LGCUF), McEwen Mining (NYSE:MUX), New Gold (NYSEMKT:NGD), Newcrest Mining (OTCPK:NCMGF), Newmont Mining (NYSE:NEM), Northern Star Resources [ASX:(NST)], Primero Mining (NYSE:PPP), Rio Alto Mining (NYSE:RIOM), Sibanye Gold (NYSE:SBGL), Silver Lake Resources (OTCPK:SVLKF), St Andrew Goldfields (OTCQX:STADF), Teranga Gold (OTC:TGCDF), Timmins Gold (NYSEMKT:TGD), Yamana Gold (NYSE:AUY).
This list includes all companies that we are aware of reporting AISC at this point in time. We would appreciate information on other companies reporting AISC to be included in our data base for future summaries.
The table below shows some salient data as reported by the companies listed above in their respective Q3 reports.
From left to right the columns list the company name, the ticker and the quarterly production in million ounces. Column "AISC" shows the all-in sustaining costs, column "TCC" shows the older cost metric used by the companies (often termed total cash cost in the respective reports) and column "RSP" gives the realized sales price. The rightmost column titled "sust. Margin" is the difference between the AISC and the RSP column.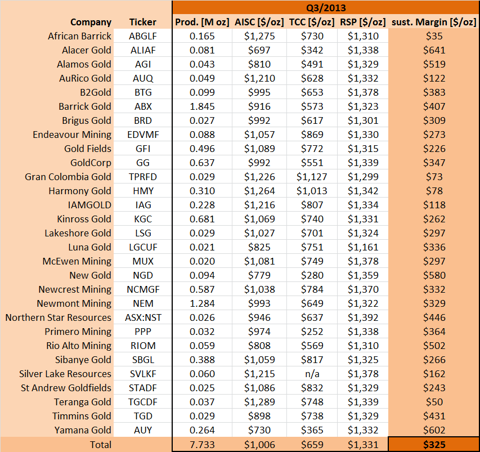 The following diagrams will offer some visualization of our data, plus comparisons with the previous quarter.
The first diagram below shows AISC for the second and third quarters for the respective companies sorted by Q3 results. Alacer Gold reported the lowest costs this quarter at $697/oz followed by Yamana Gold ($730/oz) and New Gold ($779/oz). The upper end of the range was reported by Teranga Gold ($1,289/oz), African Barrick ($1,275/oz) and Harmony Gold ($1,264/oz).
Of the senior miners, Barrick Gold leads the charge ($916/oz) followed by Goldcorp ($992/oz) and Newmont Mining ($993/oz).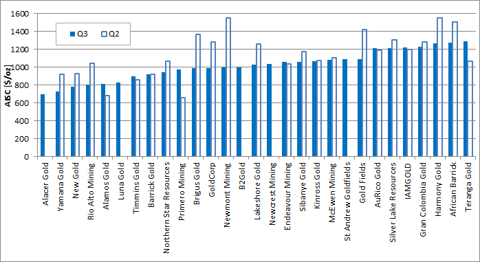 The un-filled bars in our diagrams indicate Q2 results and some significant reductions are visible for some of the companies. These differences don't necessarily represent pure cost savings as impairment charges are also part of the equation when calculating AISC. Companies reporting impairment charges will naturally have higher AISC in the respective quarter.
We therefore prefer to look at cash costs when assessing cost savings quarter-on-quarter. The following diagram shows the changes in cash costs.
Only six companies reported an increase in cash costs q-o-q. From the remaining companies, Brigus Gold achieved the largest cost reduction followed by its neighbor Lakeshore Gold.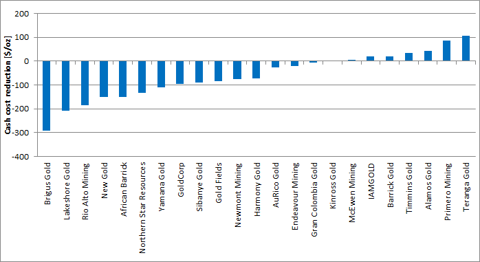 We also like to check the difference between realized gold price and AISC termed Sustaining Margin for the purpose of this article series. The following diagram shows this measure for our gold universe.
In general, the companies with the low AISC have higher margins. However, we note significant margin reductions for last quarter's winners in this category; Alamos Gold and Primero Mining.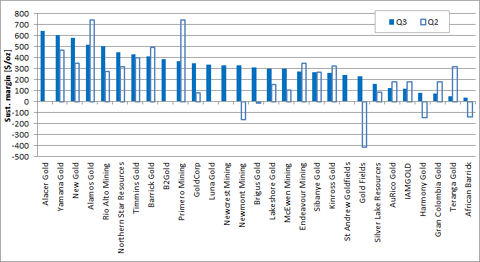 Summary
Our records include data for companies producing a total of 7.733M ounces of gold in the September quarter.
On average, each ounce was mined at AISC of $1,006/oz, a cost reduction of $181/oz q-o-q.
The average realized sales price was $1,331/oz (down $34/oz q-o-q) resulting in an average sustaining margin of $325/oz (up $147/oz q-o-q).
In our view, these are quite impressive numbers. Cost cutting programs are showing some success across the board and margins could be increased despite a further fall in gold prices.
Disclosure: I am long OTCPK:SVLKF, OTCPK:LGCUF. I wrote this article myself, and it expresses my own opinions. I am not receiving compensation for it (other than from Seeking Alpha). I have no business relationship with any company whose stock is mentioned in this article.