Qualcomm (NASDAQ:QCOM), a leader in next-generation wireless technologies, reported decent fiscal fourth-quarter results. Revenue leapt 33% on a year-over-year basis (4% sequentially in the period), and operating income advanced 29% from the same period last year. MSM chip shipments jumped 35% in the fourth quarter, to 190 million units (above expectations). Both net income and diluted earnings per share increased 18% from last year's quarter. Cash generated from operating activities was phenomenal in the period at $2.52 billion, up 79% on a year-over-year basis (and 39% of revenue). Qualcomm's capital-light, licensing business model converted almost all of the quarterly operating cash to free cash flow ($2.38 billion, or 37% of revenue). For all of fiscal 2013, free cash flow totaled $8.08 billion, 32.5% of annual revenue. The firm's cash, cash equivalents and marketable securities swelled to $29.4 billion at the end of fiscal 2013 (almost $17 per share).
Looking ahead, management reiterated its expectations of generating double-digit compound annual growth rates for both revenue and earnings per share over the next five years, thanks to continued solid expansion of 3G and 3G/4G multimode devices around the world (particularly in China). However, its outlook for the first quarter of fiscal 2014 was a bit light with respect to both revenue and earnings, the latter missing consensus estimates by more than a dime at the midpoint of the range. In any case, we weren't too disappointed with its outlook for fiscal 2014, which reveals expectations of a year-over-year revenue increase in the range of 5%-11% and a non-GAAP diluted earnings per share increase in the range of 10%-14% ($4.95-$5.15 per share).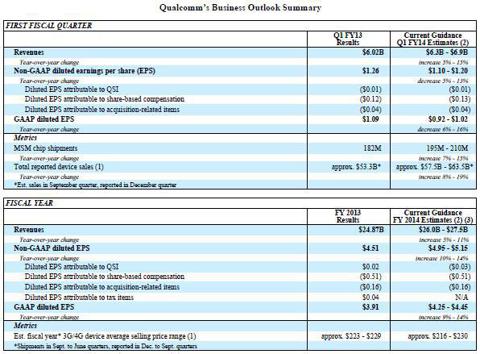 Image Source: Qualcomm
Valuentum's Take
Backing out Qualcomm's $17 per share in net cash, the firm is trading at less than 10 times fiscal 2014 non-GAAP earnings. We think this multiple is too low on the basis of the company's rapid expected growth rate and cash-rich, licensing business model. We think the market has Qualcomm priced wrong, and we expect valuation upside to nearly $80 per share on the basis of our fair value estimate (at the time of this writing). We're keeping a close eye on shares, but have not yet included the firm in the portfolio of our Best Ideas Newsletter. The company's financial strength is simply remarkable.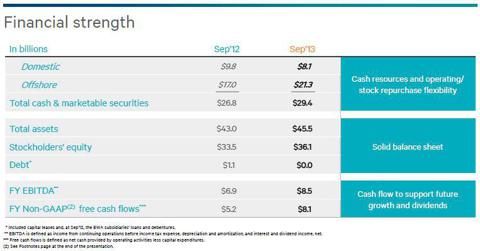 Image Source: Qualcomm
Disclosure: I have no positions in any stocks mentioned, and no plans to initiate any positions within the next 72 hours. I wrote this article myself, and it expresses my own opinions. I am not receiving compensation for it (other than from Seeking Alpha). I have no business relationship with any company whose stock is mentioned in this article.