Introduction
In this article, I'll have a closer look at Tyson Foods (NYSE:TSN) which reported interesting financial results earlier this week and sounds very upbeat about its prospects for 2014. I'll provide my view on the company's financial results and its balance sheet and I'll discuss its outlook for the financial year 2014 which ends September 30. This will result in my investment thesis at the end of this article.
Tyson Foods has been on my radar for a while now and I actually already wrote put options last year, but those options expired worthless whereafter Tyson almost doubled.
My view on the financial results
In the final quarter of its 2013 financial year, Tyson Foods reported an operating income of $416M record revenue of $8.9B. The net income increased to $261M or $0.70/share (per class B share and $0.77 per class A share) and this was also a record number for the company, and caused the management to sound very upbeat about the financial year 2014 (I will discuss the outlook in a later paragraph).

It's interesting to see the company paid $36M in interest expenses, and I think this number will drop considerably as Tyson Foods paid off a bond which matured in October with a principal amount of $458M. This means the company will save approximately $11M per quarter on interest expenses and this will be accretive to the EPS in 2014 to the tune of $0.10 per share, which is obviously excellent.
Looking at the cash flow statements for the full year ending on September 28th, Tyson saw an operating cash flow of $1.3B and spent this cash very wisely as approximately half of it was spent on capex and other investing activities ($643M) and the other half was spent on share buybacks and dividends ($600M). This resulted in a net cash inflow of $74M.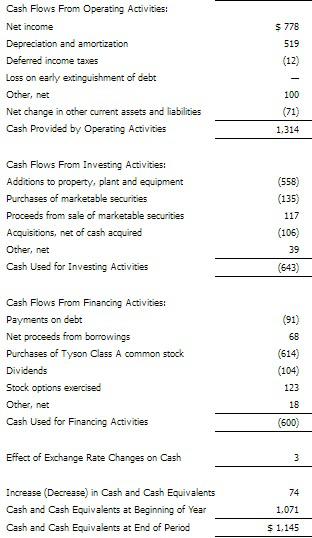 I think the Tyson Foods management shows a lot of shareholder love, as it bought back $614M worth of own shares. I think the share buybacks during FY 2014 will be lower as the company chose to buy back almost $500M of maturing debt, which will have a very positive impact on the interest expenses.
My view on the balance sheet
Moving over to the balance sheet, Tyson Foods had a very healthy working capital position of $2.6B, which allowed the company to retire its debt in October of this year. The current ratio was a healthy 1.87 (keep in mind a ratio higher than 1 means the company has sufficient current assets to cover its current liabilities). It's also good to see almost $1.15B was held in cash, although I expect the current number to be around $750M as the company repaid a $458M loan.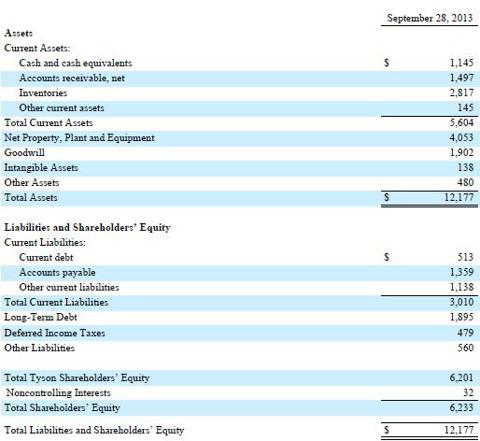 At the end of FY 2013, the company had a book value of $18.02 per share (by using 344M outstanding shares), which is a 7.5% increase compared to the book value at the same period of last year. As Tyson will undoubtedly continue to buy back its own shares, the book value per share will likely continue to increase over time.
The Outlook for 2014
It's safe to say Q4 2013 was a fantastic quarter for Tyson Foods, and the company thinks it can continue this positive trend in 2014, as the official guidance is quite upbeat. Tyson expects a 1% production growth, and this bodes well for the 2014 financials as the company is also expecting lower grain prices which will obviously reduce the cost of goods sold. So basically Tyson Foods expects to win on both sides of the equation by generating higher revenues and lowering its production costs.
Tyson will also save approximately $45M on interest expenses thanks to retiring $458M of debt. As the company expects to grow its total revenue by 4.6% and is aiming for lower production costs, the expected capex increase will only have a marginal impact on the company's free cash flow profile.
Investment thesis
I'm positively surprised by Tyson's excellent Q4 performance, and I'm charmed by the company's outlook for 2014. The company thinks it'll be able to increase revenues and reduce costs, and that's something every investor really likes to hear.
As most of my readers know, I prefer to write put options instead of just buying the shares. In Tyson's case, I'm looking at put options with a strike price of $27. I chose this level because it represents a 1.5 times book value, and a free cash flow yield of 7.5%. I'm particularly looking at the April 2014 and July 2014 expiry dates with option premiums of respectively $0.45 and $0.95. This translates in a respective annualized yield of 4.45% and 5.65%. And if you get the shares assigned, you'll be the proud owner of a company with a 7.5% free cash flow yield which is repurchasing its own shares and increasing its quarterly dividend.
I currently do not own a position in Tyson Foods, but might write out of the money put options any time.
Disclosure: I have no positions in any stocks mentioned, and no plans to initiate any positions within the next 72 hours. I wrote this article myself, and it expresses my own opinions. I am not receiving compensation for it (other than from Seeking Alpha). I have no business relationship with any company whose stock is mentioned in this article.
Additional disclosure: I currently have no position in Tyson Foods but might write put options as explained in the article.