Today's focus is upon some reader questions which have been piling up and we focus on two of the stocks which seem to have drawn the most interest.
We are also watching this cold snap which has hit the east coast here in the US and the winter storm which is making its way across the country and will hit the heavily traveled east coast right around the peak Thanksgiving travel days.
This could affect retail sales but our attention is much more focused upon the natural gas and heating oil prices as this will be some of the coldest weather of the year for parts of the country and could force a large draw down in energy storage.
Chart of the Day:
We are once again using the three year chart to highlight the bear market that coffee has been in over the past 3 years. It has been rough for the bulls, but there is one thing we have learned in our time investing in commodities; both bear and bull markets can last far longer than one can ever imagine, even if the data says otherwise.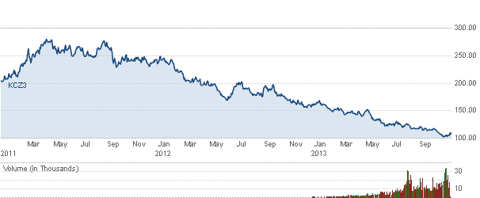 Source: CNBC
Commodity prices this morning are as follows:
Gold: $1228.80/ounce, down by $15.30/ounce
Silver: $19.655/ounce, down by $0.202/ounce
Oil: $93.53/barrel, down by $1.31/barrel
RBOB Gas: $2.6898/gallon, down by $0.0363/gallon
Natural Gas: $3.803/MMbtu, up by $0.035/MMbtu
Copper: $3.2105/pound, down by $0.0035/pound
Platinum: $1382.00/ounce, down by $0.70/ounce
Down and Out? Or Just Down?
We were recently asked out opinion on some of the junior names in the mining sector by a friend and since we have also received numerous requests from readers about a myriad of names we decided to once again address this sector as part of a refresh.
The name which specifically came up was Molycorp (MCP) which has operations out in California and hopes to become a dominate player in the rare earths business by owning production assets as well as the entire supply chain. The company wants to insulate themselves from any future downturns in prices of the mined elements by adding value at each step along the process of making high value, finished goods, such as powerful magnets.
The company is trading very near 52-week lows and has raised money via share offerings far too often in the last few years, including this year. Our view when it comes to this name is that one needs to stay away and wait until the company shows some type of improvement in either their operations or their ability to execute. Yes the shares could rally when that news becomes public, but we would rather lose out on that initial jump than get bogged down in an underperforming asset - which has been the case for those who have tried to buy on the dips here every time.
Another name which came up, and we do own shares in this name, is Halcon Resources (NYSE:HK). The underperformance here has been mindboggling as the company is not a dry natural gas player and has positions in some of the best plays in the country. We understand some of the events which have forced some investors to walk away, but the latest quarter left us scratching our heads. The company is not performing up to expectations and is even lagging in certain key plays where it seems that all of their competitors are fairing quite well. That looks bad in the market and investors were correct to punish the company for it.
Buying on the dips in Molycorp shares has certainly not worked thus far, and we doubt will work right now. Readers should wait until it is apparent that the company has turned the ship around.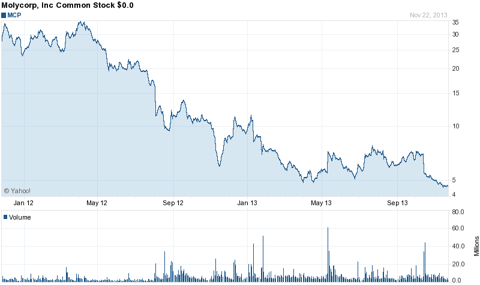 Source: Yahoo Finance
This position is a bit tricky as it is well underwater but held in a long-term account. Usually we would rotate out of the name and into something that was performing according to plan, but the value we see here in their property portfolio and the potential to grow production intrigues us. We are not buyers at this level, but neither are we sellers. Right now we are simply long but in a neutral manner. We will give the company two more quarters to show some improvement and then will have to revisit our position.
Visiting the 'Chart of the Day' provides an excellent example of buying names out of favor that seem as if they have to go up. Even when the data tells you that something cannot get cheaper because of the cost of production that is not always reason to get long. One would be surprised at how fickle markets can be as well as their reluctance to always act rational. The coffee market is a great example, but an even better one is the uranium market which has been in a bear market for nearly a decade and trading at levels which do not cover the cost of production at new mines. This is with most production and resources controlled by a few names and Cameco (NYSE:CCJ) doing its best to maintain the market. So when readers lay out these bull case scenarios based upon market fundamentals, we always take them with a grain of salt; as should everyone.
Disclosure: I am long HK. I wrote this article myself, and it expresses my own opinions. I am not receiving compensation for it (other than from Seeking Alpha). I have no business relationship with any company whose stock is mentioned in this article.