Introduction
In this article I'll have a closer look at Gold Resource Corp. (NYSEMKT:GORO), a US-listed precious metals mining company which is operating in Mexico. I will provide my view on the company's financial results and balance sheet and will explain why I'm still not keen on going long GORO. This will result in my investment thesis at the end of this article.
My view on the financial results
In the third quarter of this year, GORO produced almost 22,000 gold-equivalent ounces (even though GORO's company name is "Gold" Resource, the majority of its revenue is generate through silver sales, as less than 9,100 ounces of pure gold were produced during the quarter). This resulted in a total revenue of $29.4M and a gross mining profit of $11.4M. However, as the company also spent $5.5M on G&A (which is quite high) and $7.7M on capex and exploration expenditures, GORO was in fact free cash flow negative during the quarter, despite boasting about a "total" cash cost of $746/oz gold-equivalent. This "total" cash cost does not seem to include any sustaining capex, G&A and exploration expenses, so basically the "total" cash cost is just the normal cash cost and most definitely not the All In Sustaining Cost which is the new standard to report the costs in the sector.
Let's now have a look at the cash flow statements for the first nine months of this year (as most of my readers know, it makes more sense to look at cash flow statements instead of at the bottom line of mining companies).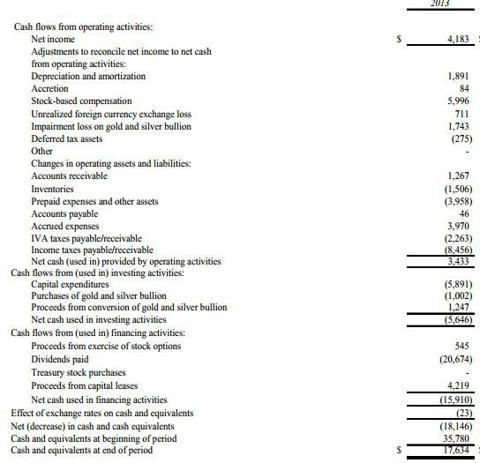 Click to enlarge
In the first nine months of the year, GORO reported an operating cash flow number of just $3.4M which is quite low if you see the company also spent $5.9M on capex. As GORO also paid $20.6M in dividends so far, the company had a net cash outflow of $18.1M even though it received $4.2M from capital leases. Fortunately the final verdict will be better, as the company is still awaiting a $8.6M tax return from the government.
These results don't make anyone happy, and I'm still not inclined to purchase GORO at the current share price as the company shows it has a very difficult time to be cash flow positive at the current gold price of $1245/oz, even though it "brags" about its low cash cost of less than $750 per gold-equivalent ounce.
My view on the balance sheet
Let's now have a look at the company's balance sheet. At the end of the quarter, GORO had a working capital position of $36.2M, which is considerably lower than the $46M at the end of last year. GORO's current ratio still is a very healthy 3.46 (keep in mind a current ratio higher than 1 means the company has sufficient current assets to cover its current liabilities).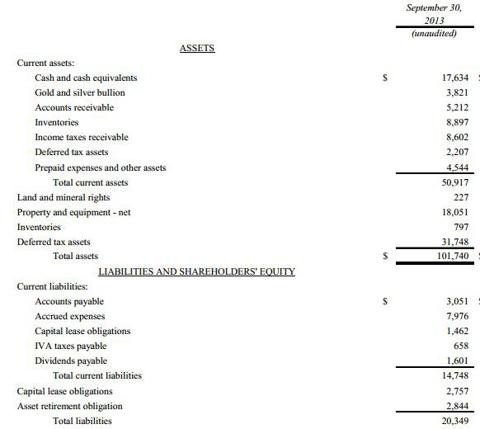 Click to enlarge
The book value of GORO is quite disappointing, as it came in at just over $1.50/share, which means the company is currently trading at more than three times its book value.
Outlook
The company hasn't announced an official production and cost guidance for 2014 yet, but as GORO is expanding its mill capacity, investors could be hoping for a much higher production rate at a (hopefully) reduced cash cost. However, I don't think the mill capacity might be the problem and I expect some production bottlenecks in the mining process. I hope I'm wrong, but I'm not so extremely excited yet about GORO's outlook for 2014.
It's a fact GORO will have to show much better operational cash flow if it doesn't want to cut its dividend again, as at this moment it doesn't look like the monthly dividend of $0.03 is sustainable.
Investment Thesis
Earlier this year, I wrote an article on GORO about how I didn't like the fact a family member gets appointed to replace the CEO and how I didn't like the overhang of the shares held by Hochschild Mining (OTCPK:HCHDF). The latest batch of quarterly results hasn't changed my opinion and I'm still not impressed by Gold Resource's operational performance and one can only hope 2014 will be much better.
For the punters who do believe in a turnaround at GORO, the P5 December 2013 looks attractive at an option premium of $0.25. Otherwise, one can put in a stink-bid (well, actually a stink-ask, considering we're talking about writing put options) for the P2.5 June 2014 at $0.15.
I currently have no position in GORO and have no intention to initiate a position.
Disclosure: I have no positions in any stocks mentioned, and no plans to initiate any positions within the next 72 hours. I wrote this article myself, and it expresses my own opinions. I am not receiving compensation for it (other than from Seeking Alpha). I have no business relationship with any company whose stock is mentioned in this article.