After a 14% rally this year, shares of Wal-Mart (NYSE:WMT) are sitting at a 52-week and all-time high. Still, the stock is trading at 15.4x earnings, a slight discount to the market while sporting a decent (through not great) yield of 2.4%. Should investors take this opportunity to buy into WMT for the long run or is now a good selling opportunity?
Over the past month, we have seen a lot of bad news from lower-end retailers with Kohl's (NYSE:KSS), Ross Stores (ROST) and Target (NYSE:TGT) reporting weak numbers and extremely conservative guidance. However as the following chart shows, WMT has been unfazed. Many retailers are blaming the fact that the holiday shopping season is one week shorter for increased promotions and lower guidance. I don't fully buy this as I don't know of anyone who will use a shorter shopping season to avoid buying someone a gift.

Moreover, with gasoline prices comparatively low, we should see a decent quarter of consumer spending. It seems like we are continuing a trend of consumers spending more on "gizmos" than clothing, which is taking a particular bite out of ROST and KSS. Similarly, J.C. Penney (NYSE:JCP) is still in business and likely reclaiming a small bit of the business it lost under Ron Johnson. JCP has been so bad over the past 18 months that survival essentially guaranteed some market share gains once it went back to couponing. JCP's existence is making the holidays a little less jolly for other discount retailers.
Wal-Mart is somewhat agnostic as to what consumers buy, so long as they buy things because it is one of the nation's biggest grocers, clothing stores and tech stores. Wal-Mart sells a lot of everything and gets little respect from Wall Street in the process. Many see WMT as a slow moving company of the past, and as a consequence, the stock has consistently traded at a below-market multiple, barely moving for years at a time even as it continues to grow sales and profits. Since 1990, Wal-Mart has arguably been the most disregarded growth companies in the world. One look at its revenues shows the company's growth: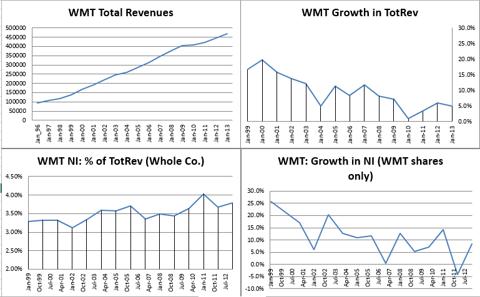 Over the past 20 years, WMT has grown revenue by 10% and shareholder net income by 11.6%. Even as Amazon (NASDAQ:AMZN) and the internet have brought more transparent pricing, WMT has gradually increased margins during this time. This suggests to me that the AMZN threat is somewhat overstated. Granted as Wal-Mart has grown bigger, its growth has decelerated because the company is nearing saturation in the United States with inner-cities the only major area it has yet to penetrate. As a consequence, its U.S. sales growth will closely track U.S. nominal GDP growth. Over the next ten years, I am expecting an average of 1.5-2% real growth and about 1.5-2.0% inflating, meaning 3.5% total growth. With some store openings, I am looking for WMT to grow U.S. sales about 0.25% faster than GDP or 3.75%.
On the other hand, Wal-Mart is poised to profit from development in Africa, India and China through its international operations. International, which accounts for about 25% of Wal-Mart revenue and looks a lot like the Wal-Mart of 20 years ago when it had not yet saturated the United States. As a consequence, I am looking for 10-year growth of 10%.
With these parameters, I believe Wal-Mart will grow revenue by between 5.5% and 6% annually over the next ten years. I expect the company to consistently buy back at least 1% of its shares every year, which means EPS growth will be between 6.5% and 7%. This would translate to $9.52 in EPS in 10 years and an annual dividend of $3.57 (assuming a constant payout ratio). With a market multiple, WMT is then worth $143, discounting that back to the present day, WMT is presently worth $88, suggesting there is another 10% of upside right here.
Wal-Mart remains the premier retail stock in the country, and it should be able to grow over the next few years thanks to a slowly healing U.S. economy and significant international potential in BRIC nations. While retail stocks may face some pressure over the next few weeks with market sentiment clearly negative, I would use any weakness to buy Wal-Mart.
Disclosure: I have no positions in any stocks mentioned, and no plans to initiate any positions within the next 72 hours. I wrote this article myself, and it expresses my own opinions. I am not receiving compensation for it (other than from Seeking Alpha). I have no business relationship with any company whose stock is mentioned in this article.