Atlas Pipeline Partners (NYSE:APL) is a midstream natural gas player with a market capitalization of $2.6 billion. The company operates about 11,200 miles of pipelines in Oklahoma, southern Kansas and Texas as well as 14 processing plants. The company also has a 20% interest in the West Texas LPG NGL pipeline which is operated by Chevron (NYSE:CVX).
Attractive asset footprint in high-impact shale regions
Atlas' assets are located in high-prospect areas such as Eagle Ford, Woodford, Permian and Mississippian Lime. As such, the company is greatly positioned to profit from the ongoing shale boom in the United States. The graph below summarizes APL's asset footprint in the most attractive oil- and gas exploration regions in the United States:
I will readily admit it: Even though I own Atlas Pipeline Partners for my income portfolio, I have missed substantial parts of the unit price rally. Since I'm invested in Atlas Pipeline Partners because I consider the company to be a viable yield alternative to Kinder Morgan Energy Partners (NYSE:KMP) and Plains All American Pipeline (NYSE:PAA), I do not pay too much attention to capital gains coming from my MLP investments. Nonetheless, Atlas Pipeline Partners has surely been one of the top-performing pipeline companies over the last five years.
During this time period Atlas has gained a staggering 386% while other MLPs have done well on average. Kinder Morgan Energy Partners returned 68%, Enbridge (NYSE:ENB) 185%, Plains All American 204% and Magellan Midstream Partners (NYSE:MMP) 313%.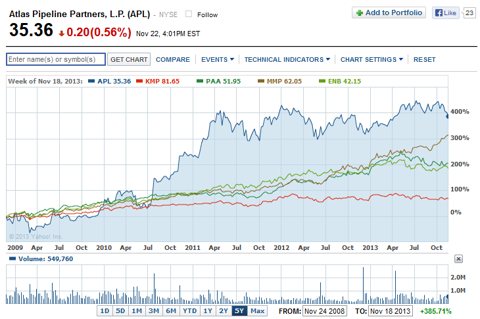 Financial and operational performance
Atlas Pipeline Partners has achieved an adjusted EBITDA of $220 million in 2012 and estimates to bring in $343 million in 2013 (plus 56%) and $475 million in 2014 (a plus of 38%). Strong adjusted EBITDA growth is a reflection of above-average projected processing capacity growth over the next few years. Processing capacity stood at 613 mmcfd in 2011 and is expected to increase to 1,535 mmcfd in 2013 (an increase of 150% over the last two years). 2014 is projected to see further growth of 39%.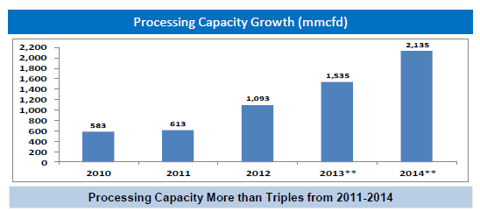 Q-o-Q volume growth depicts strong underlying fundamentals
The Eagle Ford and Woodford Shales as well as the Permian Basin are high-impact drilling regions in the US. Not surprisingly, Atlas Pipeline Partners posts great q-o-q improvements in throughput and processed volumes for those regions. Arkoma (Woodford Shale) increased processed volume by 21.5% q-o-q. WestTX (Permian) increased throughput volume by 8.7% and processed volume by 13.3%. Velma (Woodford Shale) increased throughput volume by 12.6% to 157,330 Mcfd vs. 139,736 Mcfd in Q2 2013. Processed volume increased 14.4% q-o-q. SouthTX posts equally impressive q-o-q growth rates (see below).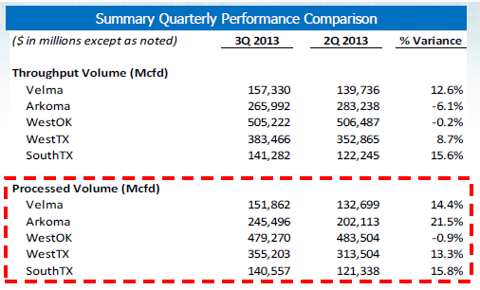 Distributions
Strong EBITDA and cash flow growth over the years (both organic and through acquisitions) have allowed the company to pay a steady stream of distributions to unit holders. In Q1 2011 Atlas paid a quarterly cash distribution of $0.37 per unit. In Q4 2013 those quarterly distributions have increased to $0.62 (an increase of 68%). Atlas' annualized distribution now stands at $2.48 per unit which leads to a forward distribution yield of 7%. At this level Atlas Pipeline Partners is a valid alternative to other high-yield MLPs in the pipeline sector.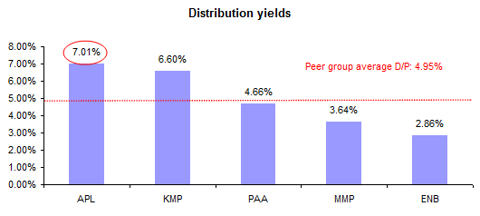 Conclusion
Investors looking to diversify their MLP holdings or investors looking for interesting additions to their income portfolios should have a close look at Atlas Pipeline Partners. In particular, I highly recommend Atlas' most recent presentation for the RBC MLP conference in Dallas (here) to gain an overview over the company. I found the conference materials to be of extraordinary quality and transparency.
Atlas Pipeline Partners offers investors a highly attractive, yet diversified, asset footprint in the most promising oil- and gas production areas in the United States. Further, the MLP has a record of increasing EBITDA, processing capacity as well as cash flows and distributions. Its past unit price appreciation of 386% is a reflection of strong underlying fundamentals. Q3 2013 results have shown that processed volumes continue to increase strongly and I do not see a slowing in either drilling activity and or demand for pipeline capacity. Atlas Pipeline Partners is a well-run, proven MLP with very promising assets and a 7% yield. Strong long-term buy.
Disclosure: I am long KMP, APL. I wrote this article myself, and it expresses my own opinions. I am not receiving compensation for it (other than from Seeking Alpha). I have no business relationship with any company whose stock is mentioned in this article.