Over the past two, three months, the Baltic Dry Index has seen new highs with the Capesize daily rates hitting three-year highs. The rally was based on Chinese demand for coal and iron ore, which were trading at record lows. This helped to propel DryShips Inc. (NASDAQ:DRYS) to new two-year highs. Some of this was likely investors not fully understanding the contracted rates and exposure to the spot market that DRYS has while also feeling like the dry bulk shipping market was improving.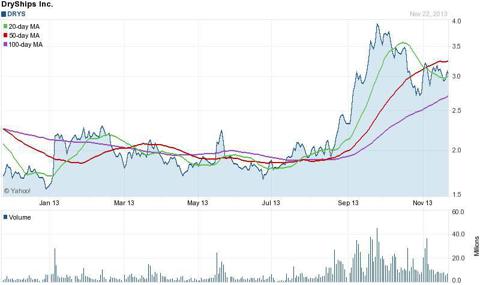 While the Capesize rate has been cut in half, it is still sitting at a higher average rate, which bodes well for the industry as a whole. I believe DRYS will form a new bottom around $3, 50% higher than the previous bottom just below $2. This indicates the market believes the company and industry are improving going forward.
Industry improvements
If DRYS does form a new bottom and the company begins to improve, it will be because market fundamentals and international trade has improved, primarily from China. During the 3rd quarter, rates were driven by an increase in Brazilian and Australian iron ore exports by 15%, Chinese iron ore imports by 16%, and Chinese coal imports by 21%. These rates may only be temporary and eventually fall some.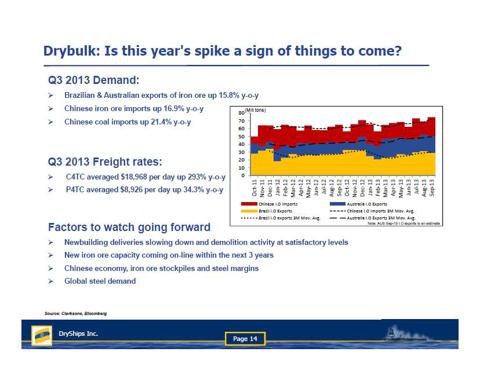 If China, Australia, and Brazil fall back to normal export levels, then a stabilizing of the fleet growth will be needed. While growth of the fleet has slowed so have demolitions. What the industry really needs is an increase in demolitions and a decrease in new buildings.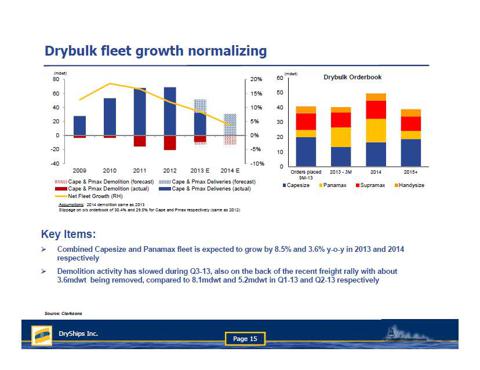 Short interest
While the industry does seem to be improving, shorts are betting that DRYS will fall back down. As the rates were increasing and the price was climbing, the short percentage in mid-September sat at 1.65% with 5,700,000 shares short. They now sit at 3.28% with 10,770,000 shares short. The increasing number of shorts may drive the price back down eventually.
Conclusion
DRYS will likely settle into a new pattern around $3 for the near term. Demand from Australia, China, and Brazil will drive the improvements in the sector, but the supply side still has significant room to improve before the industry will see sustained higher rates. There are still investors and traders who are betting against the industry improving in the near term, and dry shippers, especially those companies that are showing some weakness, will likely still be beaten down.
Disclosure: I have no positions in any stocks mentioned, but may initiate a long position in DRYS over the next 72 hours. I wrote this article myself, and it expresses my own opinions. I am not receiving compensation for it (other than from Seeking Alpha). I have no business relationship with any company whose stock is mentioned in this article.