It has been a few weeks since my last reporting on the prescription sales story of Arena Pharmaceuticals (NASDAQ:ARNA) Belviq. In the past three weeks we have seen an expansion of the marketing deal between Arena and Eisai (OTCPK:ESALY), the quarterly call, and progress on prescription sales.
Before moving into the data, I wanted to touch on the new deal between Arena and Eisai. The deal was well received by the market and could bring some synergy to sales as Belviq gains approvals in new territories. With what essentially equates to a global deal now (South Korea and Taiwan are contracted with separate partners), the marketing plan can carry a consistency in its message. In addition, the politics of studies and how they are paid for can be avoided. The expansion of the Eisai deal beyond the Americas was a good deal for Eisai as well as Arena. While Arena did not receive a European deal that mimics the U.S. deal, the bonus structure is now easier to obtain. Over the longer term the deal with Eisai can be rewarding for both companies.
My last prescription data report was for week 20 of Belviq sales. We have now just passed week 23. Data from IMS had sales for week 20 at just above 4,400. Week 21 was just above 4,500, with week 22 coming in at just above 4,900, and last week flat with just over 4,900 again. Symphony Health had week 20 sales of just under 5,400, week 21 sales of just under 5,400, week 22 sales of just over 5,800, and last week was flat with sales of just over 5,800 again. It would appear that we may see IMS numbers break 5,000 with this week's report, while Symphony numbers can possibly test 6,000. The reporting period after that should be very weak because of Thanksgiving, so be prepared.
With 23 weeks of data under our proverbial belts, it is time to assess the adjustments I attribute to each of these data sets (IMS and Symphony). With a new drug launch, there is always room for error as these data reporting services dial in on what types of allowances to make to try to cover the market as a whole. Up until this point I have adjusted IMS numbers up by 30% and Symphony numbers by 20%. After listening to the quarterly calls of Eisai, Arena, and Vivus (NASDAQ:VVUS), I am changing my adjustments on IMS from 30% upward to 25% upward and on Symphony from 20% upward to 10% upward. On an adjusted basis, my data would typically act as a blending or averaging out of the Symphony and IMS numbers. Please bear in mind that as yet, we as investors have not seen actual numbers reported by Arena at the retail level, which is what IMS and Symphony data is tracking.
In looking at the sales tracking, we want to see traction. Even modest traction, over time, is positive and can bring about impressive numbers. In looking at IMS data, Belviq spent 2 weeks in the 1,000 block, 4 weeks in the 2,000's, and then what was essentially 12 weeks in the 3,000's (there was 1 week in that period that was just over 4,000). The good news is that to navigate through the 4,000's should take just 6 weeks. Of course, with Thanksgiving, the numbers will turn down again, but that is expected. The key here is seeing an acceleration in how long it is taking to get through these 1,000 increment blocks.
As we move forward, and close out 2013, we do need to carry a bit of caution with respect to weekly sales numbers. This year represents the fewest shopping days between Thanksgiving and Christmas, and while that may not seem important for weight loss, it actually is. Patients that are already active in losing weight will continue on their path. The issue over the next month is bringing in new patients. With fewer shopping days than normal, taking time out to go to the doctor can be a real challenge. Over the next few weeks, the importance of front-end growth should be less of a focus. What we want to watch is that the refill growth statistics maintain. In fact, MAINTAIN should be the key word until 2014.
Looking at the chart, we can see that the current tracking of sales according to IMS and Symphony is tracking between my model and what I feel is the current company (Eisai and Arena) forecast.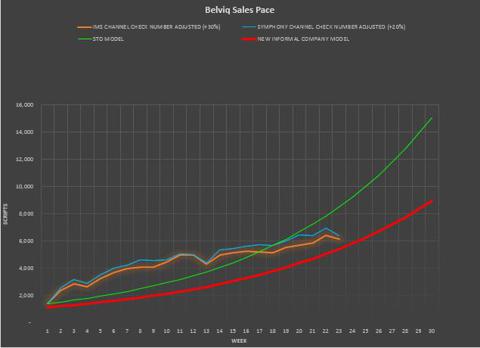 Click to enlarge
Investors should note that while the trajectory is flatter than the presented models, the actual sales numbers are slightly ahead of my model, and well ahead of the company model. This is because the sales have spent a good number of weeks above the projections. My total sales estimate through 23 weeks is at about 103,000 for IMS and 110,000 for Symphony. My model has cumulative sales through week 23 at 92,000, while the informal company total should be at 64,000. Investors should note that a ramp up, or hockey stick effect should begin to take shape in the coming weeks, with more substantial growth beginning after January 1st of 2014. The chart above takes us through the end of 2013.
The story here is that while we are indeed seeing a flatter growth currently, we are not yet seeing the benefit of a sales force that is twice the size of the launch, or a coordinated television ad campaign that may start as the new year rolls in. I am projecting a lull of sorts until the end of the year, and then a steady and healthy progression in 2014.
I currently show that gross sales to consumers since launch are $20,502,046.
I currently have net sales to consumers since launch of $10,276,705 with the Arena share being $3,237,162. Please note that Arena is booking sales when Eisai makes purchase, and not when the consumer makes a purchase. IMS and Symphony track retail purchases and not wholesale/distributor purchases. The difference between the wholesale number (what is reported by Arena) and the retail number that I am reporting is, in theory, the supply sitting on distributor shelves.
IMS sales to date are 79,241 unadjusted. Symphony sales to date are 92,472 unadjusted. My adjusted IMS total is 102,767. My adjusted Symphony total is 110,384. Stay Tuned!
Disclosure: I am long ARNA. I wrote this article myself, and it expresses my own opinions. I am not receiving compensation for it (other than from Seeking Alpha). I have no business relationship with any company whose stock is mentioned in this article.
Additional disclosure: I have no position in Eisai or Vivus