2013 has been kind to investors as the three major indices are all up 20% or greater. I believe that we will still see a Santa Claus rally that will see the indices close out the year at new highs. With that said, I expect to see the rise in stocks to extend to 2014, but that investors will need to be more stock specific in their investments. I have identified four stocks that I believe could double in 2014 and which are all takeover candidates.
Brocade Communications Systems (NASDAQ:BRCD):
Brocade Communications Systems engages in the supply of Internet protocol based Ethernet networking solutions and storage area networking (SAN) solutions to businesses and organizations worldwide. Brocade has seen a return to growth and has been generating huge positive cash flows. As cash flows increase in 2014, it will allow Brocade to continue with its buyback or make small strategic accretive acquisitions.
Reasons to be bullish on Brocade Communications Systems:
Huge positive cash flows: this past quarter, Brocade generated $170 million in free cash flow and is forecasting cash generation of $500- $535 million in FY2014.
CEO, Lloyd Carney is focusing on growing core strengths while divesting lower margin business. Brocade is now seeing its highest profit and operating margins since 2000 when it was $30.00 per share.
Brocade is focusing on cloud and virtualization and is focusing more on software as opposed to hardware.
Buyback: Brocade has a $1 billion buyback in place. In FY2013 it bought back $241 million. The continuance of the buyback should drive the stock higher.
Chart: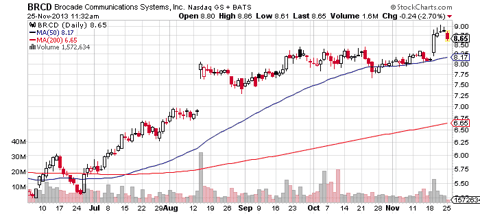 Looking at the daily chart we can see that after earnings last week it broke out from its trading range to new highs at $9.00. The chart is signaling that it should rally into year end and I expect it to be around $12 after the Santa Claus rally.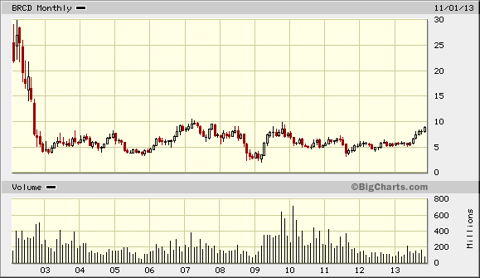 What really excites me is the 12 year chart. As you can see on the chart, Brocade has been in an 11 year trading range. It brings to mind the saying "The longer the base, the higher in space." When Brocade breaks above $10.00, I expect to see it make a move back to 12 year highs of $30. The move will not be straight up, but I expect it to reach my 2014 price target of $20.00.
Radware Ltd. (NASDAQ:RDWR):
Radware Ltd., is an Israeli based company that provides application delivery and application security solutions for virtual and cloud data centers. It competes against Riverbed Technology (NASDAQ:RVBD), F5 Networks (NASDAQ:FFIV), Aruba Networks (NASDAQ:ARUN) and Cisco Systems. Radware recently returned to growth and with the excitement surrounding its DefenseFlow product, I expect revenue growth to continue through 2014.
Reasons to be bullish on Radware:
Growth has returned to Radware as its focus on cloud cyber security through its new product offerings such as DefenseFlow appears to be paying off. Last quarter it saw product revenue growth, particularly in North America, its largest market.
With a return to growth, I believe that we will be able to see a return to increasing revenues quarter over quarter which will bring earnings momentum back to the stock.
Radware has a strong balance sheet with $271 million in cash ($6.15 per share) and no debt. It has high, enviable gross margins of 82% and management believes it can retain these levels.
Radware has an active buyback of $40 million in place.
Takeover Candidate: Radware's return to growth has been at the expense of Cisco Systems as it has been taking market share from them. As a much bigger player Cisco is an obvious candidate to buy Radware; other potential buyers are Riverbed Technology, F5 Networks, and Aruba Networks as we see consolidation in the sector.
Chart: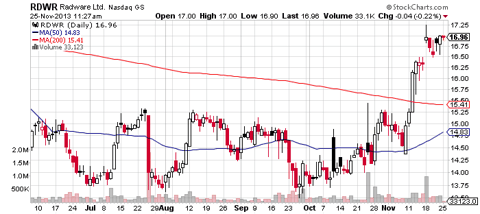 On a daily chart we can see that Radware made a triple bottom at $13.75 and broke out $15.25. That initial breakout took the stock to $17.00 where it is currently in the process of consolidating. Expect to see it form a short-term trading range here before it continues its ascent upwards. With momentum players coming into the stock and as multiples expand it should be able to hit my 2014 price target of $35.
AudioCodes Ltd. (NASDAQ:AUDC):
AudioCodes is a small cap Israeli VoIP Communications Company in the Unified Communications (UC) and data center markets. AudioCodes was my favorite stock in 2013 and I wrote a number of articles on it. I believe the growth story is far from over and that it will see further growth in 2014 as its Microsoft (NASDAQ:MSFT) Lync strategy leads to increased revenues quarter over quarter. This morning Dell announced that "AudioCodes has been selected by Dell as the voice networking solution provider for the company's Accelerate Program for Microsoft Lync."
Reasons to be bullish on AudioCodes:
Partnership with Dell: One of AudioCodes' business models is to be a plug and play for Microsoft Lync, this fits with Dell's business model of being a complete end-to-end solutions provider to Enterprises. This morning's announcement from Dell solidifies the relationship between the two companies and could lead to takeover rumors.
Analyst coverage: following on the heels of today's Dell announcement I would look for analyst upgrades, or additional analyst coverage.
All IP networks are going to the cloud. The growth of cloud data centers continues unabated and AudioCodes' will be a direct beneficiary of this growth as the leading voice IP company.
Mobile play: 2014 could be the year when AudioCodes sees greater adoption from enterprises and service providers of its VMAS solution to enable them to offer a cloud OTT mobile solution.
Chart: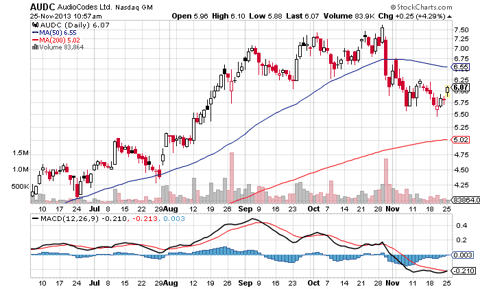 AudioCodes looks to have found support at $5.50 and with a MACD crossing at low levels; the stage is set for a move to $6.00 - $6.50 by early 2014. On the back of announcements like the one with Dell today and further earning beats on upcoming quarters, my 2014 price target is $12 - $15.
MoSys Inc. (NASDAQ:MOSY):
MoSys is a fabless IP-rich semiconductor company that develops and sells integrated circuits (ICS) for the high-speed networking, communications, storage, and computing markets. Its patent protected Bandwidth Engine IC increases data path connectivity, speed, and intelligence while eliminating data access bottlenecks on line cards and systems scaling from 100G, to 400G, to multi-terabits per second. With Internet and cloud traffic increasing dramatically and the networking equipment OEMs in the initial stages of moving to 100G and 400G networks; MoSys with its Bandwidth Engine IC chips is seeing it be designed into these new products and 2014 should be the year the market realizes the potential for MoSys.
Reasons to be bullish on MoSys:
MoSys is run by an industry veteran, Len Perham who has an unbelievable track record. As Chairman Integrated Device Technology (NASDAQ:IDTI) from 1992 - 2000, the stock went from $3 to $100. While at IDTI he spun off four companies: MoSys where he is now CEO and Chairman. Galileo Technology (sold to PMC Sierra (NASDAQ:PMCS) for $2.3bn), Quantum Effect Devices (sold to Marvell Technologies (NASDAQ:MRVL) for $2.7bn), and NetLogic Microsystems where he was Chairman (sold to Broadcom (BRCM) for $3.7bn).
Its patent protected Bandwidth Engine IC has started generating revenues and the second generation goes into production this quarter.
GigaChip Interface (GCI): MoSys developed this chip to chip interface and it is being adopted by chip designers, with Tabula Inc. being the latest to come out in support. With the GigaChip Interface becoming an industry standard it raises MoSys' profile and should lead to a greater number of design wins for its IC chips.
In July, MoSys introduced LineSpeed a new product for line cards, already the company says it is winning orders and seeing a high level of interest in it. This new source of revenue will allow it to achieve profitability faster than anticipated.
Takeover candidate: MoSys could be targeted by the networking OEMs such as Cisco Systems, Alcatel-Lucent (ALU), or Juniper Networks (NYSE:JNPR), or it could be snapped up by one of the companies it has highlighted as potential partners such as Cavium Networks (NASDAQ:CAVM), Broadcom, or LSI Corp (NYSE:LSI).

Chart: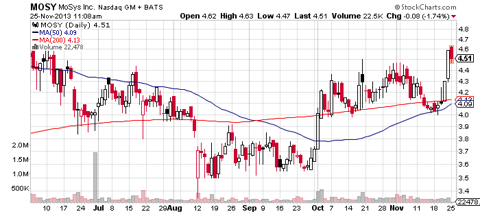 MoSys made a bottom at $3.50 and was recently in a $4.00 to $4.50 trading range. Friday saw the stock break out of this trading range and next week we should see the 50 day moving average cross above the 200 day moving average which will be a Golden cross and should drive shares up to $5.50 - $6.00 by year end. As new orders and design wins are announced the stock should climb to my 2014 price target of $10.
Disclosure: I am long AUDC, BRCD, MOSY, RDWR. I wrote this article myself, and it expresses my own opinions. I am not receiving compensation for it. I have no business relationship with any company whose stock is mentioned in this article.