A positive development for Energy Transfer Partners (NYSE:ETP) this month has been the capacity expansion at Texas. Lone Star NGL is a joint venture between Energy Transfer and Regency Energy Partners. Lone Star has put into service the second natural gas liquids, or NGL, fractionator at its facility in Mont Belvieu, Texas. This second fractionator, known as Lone Star Frac II, has a fractionation capacity of 100,000 barrel per day, which will double Lone Star's fractionation capacity at Mont Belveiu. These fractionators receive NGLs from several sources, which include Lone Star's West Texas NGL pipelines and Energy Transfer's Justice NGL pipeline. This volume expansion capitalizes on Energy Transfer's and Regency Energy's growing footprint in prolific energy producing regions, creating synergies and avenues for new organic growth. This growth in fractionation volume will help the companies in meeting international demand through increase in the export of butane, ethane and propane. This project hence serves as a step in enhancing the partnerships' objective to increase unit holder value.
Additionally, the project has been completed 10 weeks ahead of the scheduled completion and under budget, which highlights Lone Star's ability to execute large-scale NGL projects. Earlier this year, the company also filed for a permit to construct a third fractionator at Mont Belvieu in order to address the increasing production in the Permian Basin and the Eagle Ford region.
Increasing Distribution
Being a master limited partnership, Energy Transfer is required to distribute the bulk of its cash flow to investors. In the last five years starting the second quarter of 2008, the company has paid a steady distribution of $3.575 per unit annually. So, that naturally begs the question as to why the company, unlike some of its peers, has not raised its distribution over the years. To an extent, Energy Transfer has answered this question by raising its distribution to $3.62 per unit annually, in the third quarter of 2013. It will be interesting to look at what has allowed the company to raise its distribution after such a long period of lull on that front.
Previously, Energy Transfer transported natural gas using an energy-sales model, which exposed the company to fluctuations in natural gas prices. In 2012, the company took measures to improve its business by shifting to a fee-based model for its transportation activities. This eliminates the risk of fluctuations in natural gas prices. Also, the distributable cash flow over the first nine months this year has increased to $1.37 billion, up $414 million from the same period last year. The bulk of this increase is due to a number of strategic acquisitions made last year. Additionally, the company has projects worth $2.1 billion, which have come into service over the last 12 months and are now generating earnings and cash flow. This has resulted in an increase in the distributable coverage ratio to 1.02 in the nine months ending Sep. 2013, up from 0.93 in the corresponding period last year.
Enterprise Products Partners (NYSE:EPD) and Genesis Energy (NYSE:GEL) are another two companies in the midstream segment, which, I like purely from the dividend yield perspective. Enterprise Product Partners' distribution coverage ratio has improved to 1.42 in the third quarter of 2013, up from 1.27 in the same quarter last year. The company has registered a quarterly dividend growth of nearly 13% in the last two years. It also plans to expand its Houston Ship Channel liquefied petroleum gas facility and has reported a major build-out in its storage terminal on the Gulf Coast. Furthermore, Enterprise Products has also undertaken expansion of its pipeline facilities. These developments are a pointer to the growth prospects of Enterprise Products. At a current dividend yield of 4.4%, it looks a good prospect for investors seeking a safe, growing income.
At a dividend yield of 4.2% at the current price, Genesis Energy is in line with Enterprise Products. However, the point that should be considered for Genesis is its robust dividend growth. The quarterly dividend for this company has grown by over 20% in the last two years. The growth drivers for this midstream player are its business segments. Its pipeline business transports crude oil to the Gulf Coast refineries. Genesis also transports CO2 through its pipelines to this field to help the producers generate maximum gains out of their assets. Its sulfur removal services business employs a proprietary process of removing sulfur and creating sodium hydrosulfide in the process. This sodium hydrosulfide is collected by Genesis as payment in 'kind' from the refineries and sold to mining, pulp and other companies.
A comparative analysis of the dividend yield of these three companies is presented below for reference: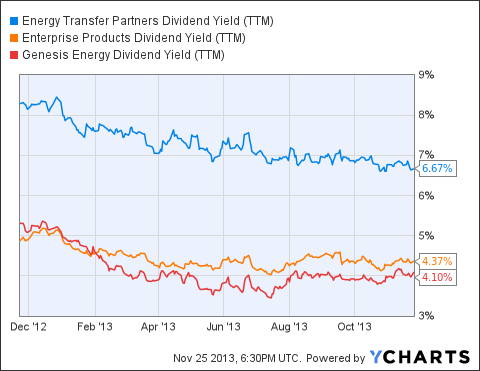 ETP Dividend Yield (TTM) data by YCharts
Conclusion
Energy Transfer, which has rewarded investors with a high dividend yield, had a very stagnant dividend distribution over the last few years. However, at present, it is reaping the rewards of strategic investments made last year, which has allowed the company to increase its dividend payment in this quarter after a long time. Additionally, the newly constructed fractionator at Mont Belveiu, put into service this month has doubled the fractionation capacity at the facility. Enterprise Products and Genesis are also good investments for investors seeking a steadily growing income.
Disclosure: I have no positions in any stocks mentioned, and no plans to initiate any positions within the next 72 hours. I wrote this article myself, and it expresses my own opinions. I am not receiving compensation for it (other than from Seeking Alpha). I have no business relationship with any company whose stock is mentioned in this article.