It is fairly easy to analyze the valuation of companies that have steady earnings and growth. This isn't the case with Dendreon (NASDAQ:DNDN) and other biotech companies that might never show a profit but still have very valuable assets. Analysts estimate the value of Dendreon from $4 a share all the way down to zero. The $4/share estimates are based on future revenue from a promising drug along with others in the pipeline, while analysts providing the low estimates believe revenues will shrink, liabilities will increase, and ultimately bankruptcy will occur. Bankruptcy would lead to the break up of the company and the sale of any assets to creditors, leaving equity investors with nothing. Fortunately for Dendreon shareholders, analysts sometimes overlook other aspects of value in the company.
First, the basics taken from the latest Dendreon 10-Q:
Dendreon - Consolidated Balance Sheets (In Thousands, Except Share Amounts)
Sept. 30,

Dec. 31,

2013

2012

(Unaudited)

ASSETS

Current assets:

Cash and cash equivalents

$

87,694

$

188,408

Short-term investments

78,947

165,396

Trade accounts receivable

34,711

38,884

Inventory

96,116

76,300

Prepaid expenses and other current assets

20,308

18,302

Total current assets

317,776

487,290

Property and equipment, net

132,130

150,604

Long-term investments

66,708

76,045

Other assets

5,526

7,180

Total assets

$

522,140

$

721,119
Dendreon has over $233 million in cash, cash equivalents, and short-/long-term investments. During the last three quarters, Dendreon has also stated earnings of -0.48, -0.45, and -0.44, respectively. Using these three quarters as a guide, without implementing any cost reductions, Dendreon would still have enough cash assets to see it through three more quarters of similar results. Based on Dendreon's recently announced restructuring plan, this could be stretched out to six or more quarters.
The liabilities section is fairly straightforward except for the large convertible senior notes due in 2016. These notes are for $552 million as of Sept. 30, 2013, with an interest rate of 2.875% and a conversion price of $51.24 per share. If a fundamental change occurs the notes can be required to be repaid, but it is up to Dendreon to pay in cash, stock, or a combination of the two.
Liabilities and Stockholders' Equity (Deficit)

Current liabilities:

Accounts payable

$

7,881

$

12,845

Accrued liabilities

46,489

44,821

Accrued compensation

20,828

27,050

Restructuring and contract termination liabilities

4,843

14,214

Current portion of convertible debt

27,685

-

Current portion of capital lease obligations

2,400

4,418

Current portion of facility lease obligations

629

594

Total current liabilities

110,755

103,942

Long-term accrued liabilities

5,676

5,081

Capital lease obligations, less current portion

4,244

6,219

Facility lease obligations, less current portion

10,296

10,835

Convertible senior subordinated notes due 2014

-

27,685

Convertible senior notes due 2016, net of discount

552,326

532,744

Commitments and contingencies (Note 13)

Stockholders' equity (deficit):

Preferred stock, $0.001 par value; 10,000,000 shares authorized, no shares issued or outstanding

-

-

Common stock, $0.001 par value; 250,000,000 shares authorized, 157,644,031 and 154,414,811 shares issued and outstanding at September 30, 2013 and December 31, 2012, respectively

152

150

Additional paid-in capital

2,001,028

1,988,666

Accumulated other comprehensive income

75

147

Accumulated deficit

(2,162,412

)

(1,954,350

)

Total stockholders' equity (deficit)

(161,157

)

34,613

Total liabilities and stockholders' equity (deficit)

$

522,140

$

721,119
Current assets are more than twice current liabilities ($317,776 / $110,775 = 2.87), so Dendreon is considered to have good short-term financial health and is able to meet short-term obligations.
Operations
Dendreon's statement of operations shows how much potential the company really has after cost cuts or after a merger with a larger company.
Dendreon - Consolidated Statements of Operations (In Thousands, Except Per Share Amounts, Unaudited)
Three Months Ended

Nine Months Ended

Sept. 30,

Sept. 30,

2013

2012

2013

2012

Product revenue, net

$

67,982

$

77,942

$

208,848

$

239,878

Royalty and other revenue

20

29

63

159

Total revenue

68,002

77,971

208,911

240,037

Operating expenses:

Cost of product revenue

46,933

51,749

134,106

173,521

Research and development

17,579

18,643

54,190

55,683

Selling, general and administrative

56,207

68,109

185,484

243,643

Restructuring, contract termination and asset impairment

1,188

80,994

2,844

81,969

Total operating expenses

121,907

219,495

376,624

554,816

Loss from operations

(53,905

)

(141,524

)

(167,713

)

(314,779

)

Other income (expense):

Interest income

158

313

553

1,071

Interest expense

(13,458

)

(13,732

)

(40,973

)

(41,312

)

Other income (expense)

(10

)

79

71

105

Net loss

$

(67,215

)

$

(154,864

)

$

(208,062

)

$

(354,915

)

Basic and diluted net loss per share

$

(0.44

)

$

(1.04

)

$

(1.37

)

$

(2.39

)

Shares used in computation of basic and diluted net loss per share

152,246

149,593

151,849

148,455
Dendreon has significant net product revenues for a company with such a low market capitalization. Product revenue of $68 million in the most recent quarter is $3.5 million over the costs of product revenue plus research and development. This is a figure that is attractive to larger pharmaceutical companies since it shows that the product can be profitable. Dendreon's price/sales ratio is also one of the lowest in the biotechnology industry at 1.51x vs. 85.84x. As a comparison, Onyx Pharmaceuticals (NASDAQ:ONXX) reported total revenue of $153 million in the second quarter of 2013, approximately twice the revenue of Dendreon, and received a takeover offer from Amgen for $10.4 billion or $9.7 billion net of cash.
Provenge
Dendreon's revenue is dependent on Provenge, its advanced prostate cancer drug that was approved in May 2010. This drug has also gained approval in Europe as of September 2013. According to the Provenge.com website, "Provenge is the only personalized treatment that is clinically proven to help extend life in certain men with advanced prostate cancer" ("What Is Provenge Immunotherapy?," 2013). Clinical trials are currently underway to test if Provenge can also be used in combination with other prostate cancer treatments to achieve additional benefits.
Click to enlarge images.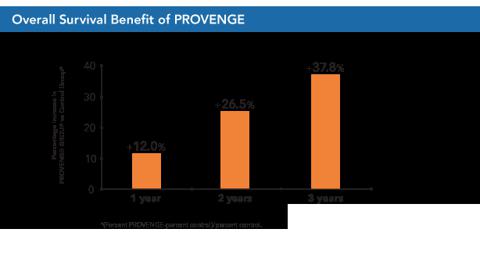 Provenge also increases the lifespan of patients vs. patients not treated with Provenge.

Due to the high costs of development of cancer treatments, estimated at approximately $1 billion, Provenge is a therapy that is attractive to other pharma and other biotech companies.
The last part of my valuation method has to do strictly with a potential acquisition by a larger and profitable pharmaceutical company. Dendreon has an accumulated deficit, or net operating loss, of $2.16 billion as of Sept. 30, 2013. This net operating loss can become quite useful to a profitable company in the 40% corporate tax bracket. If an acquisition took place under the right procedures, the deficit could be used to offset profits from the acquiring company's profits. This benefit could not be taken in the year of the acquisition, but would be a future tax benefit of approximately $865 million. Corporate tax laws are very complicated, so any M&A action would need to have expert tax and legal advice.
Now for the Fun Part
Dendreon's (total assets) - (total liabilities) = $522 million - $683 million = ($161 million equity)
Dendreon market cap as of market close ($2.79) on 11/22/2013 = $439 million
Total of $600 million
Dendreon is currently trading for $600 million above liquidation value not including any patents, marketable drugs, pipeline drugs, or other intellectual property. And at a minimum these assets are worth:
Acquisition value by large biotech or pharmaceutical
Tax benefit of accumulated deficit = $865 million
Value of Provenge, over $250+ million annual revenue = $1 billion
Pipeline / Patents = positive value but difficult to determine
Total of $1865 million or $11.84 per share
As you can see from the calculations above, a large pharmaceutical company could acquire Dendreon for approximately $475.7 million at current prices and gain all the benefits of the much higher valuation. Dendreon is reportedly to be working with JPMorgan to find suitable buyers according to Bloomberg. The risks of such an acquisition are minimal to a large pharmaceutical company that possesses a more developed sales team, while the benefits could be significant.
Investor risks include the possibility that the talks of a sale amount to nothing more than a rumor, Provenge sales continue to decline, and that Dendreon may not be able to raise future funds. While these risks are significant, I believe the potential rewards are even greater at the current price levels.
Disclosure: I have no positions in any stocks mentioned, and no plans to initiate any positions within the next 72 hours. I wrote this article myself, and it expresses my own opinions. I am not receiving compensation for it (other than from Seeking Alpha). I have no business relationship with any company whose stock is mentioned in this article.