Retail sales were soft in the last week of January, as limited clearance inventory and unseasonable weather left bargain-hunting consumers with little reason to shop. As retailers close out their fiscal year, they are looking ahead to next month where they hope events such as the Super Bowl, Valentine's Day and Presidents Day will spur increased consumer activity.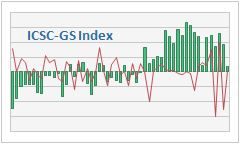 The International Council of Shopping Centers (ICSC) reported that chain store sales for the week ending Jan 30th increased a slight 0.1% from the prior week as volatility continues on low volume, while sales were up 0.4% from the year-ago period. January was characterized by wild week-to-week swings, the result of a low-volume month dominated by clearance activity and weather fluctiations. ICSC expects January comp-store sales to be up about 1% from last year.
ShopperTrak won't release weekly results until later today, but this is what the company had to say earlier in the month when they predicted sales would increase 1.2% in the first quarter:
Early in Q1, retailers should experience lower sales and traffic levels following the frantic final two weeks in December that ultimately pushed the holiday season into the Black. ShopperTrak reports that these slower levels will most likely continue through President's Day (Feb. 15) – which should provide a slight uptick due to the long weekend – then remain slightly above last year's pace until St. Patrick's Day (March 17) which could also provide a slight retail uptick as well.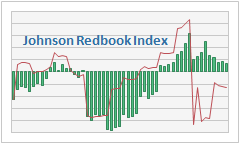 Redbook Research reported that same-store sales rose 0.8% for the final week of January compared to last year, while month-over-month sales dropped 1.5% relative to December. There was a slight pullback from the previous week, but better inventory management allowed retailers to discount much less heavily than last January, and most stores were satisfied with their inventory position at the end of the month. Retailers are aggressively trying to lure Super Bowl shoppers with interest-free offers and price cuts on HDTV's. Redbook expects February comp sales to be up 1.0% from last year.
January is typically the lightest month of the year in terms of volume, and we will see the final tally of retailers' performance on Thursday when 30+ major chains report monthly results. More importantly, January was the fiscal year-end for the majority of retailers, many of whom will be reporting financial results and commenting on the near-term outlook in the weeks ahead.
Disclosure: No Positions