Meta Financial Group, Inc. (NASDAQ:CASH) is a stock I bought in last week at around $37. The stock is on the verge of a multi-year breakout and the technicals and fundamentals of CASH show that new highs are around the corner.
Some of my readers have asked about my rules. I only risk 1% maximum in my portfolio, with a stop set when I buy, and will add to my position if the trade rises higher. I always sell losers quickly and let my winners ride. I never average down. I do not make targets, I do not make predictions.
But let's cut to the chase and explain why I like CASH and why I initiated a position.
Company profile
CASH is the holding company for MetaBank, a federally chartered savings bank. The bank is a community-oriented financial institution that offers a variety of different financial services. These services attract retail deposits from general public and funds are invested in one-to-four family residential mortgage loans, commercial and multi-family real estate, agricultural and construction operations.
In 2004, the bank also created a division known as Meta Payment Systems. This issues prepaid cards and provides consumer credit products, sponsors ATMs into various debit networks and offers other payment industry products and services. This payment system continues to grow and is doing very well for the company.
The growth in the Meta Payment Systems has been stellar. In 2009, Meta Payment Systems reached 1 million in transactions, which was doubled in 2010. In 2012, this has reached an impressive 5 billion transactions. You can see how the payment systems works in the picture below.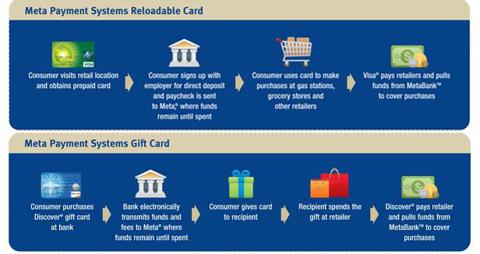 CASH also makes money from interest on commercial and residential mortgage loans, mortgage-backed securities and fees generated through the Meta Payment Systems. Other income is derived from loan origination fees, loan servicing fee income, income from service charges and commercial, consumer and agricultural operating loans.
Rankings
On November 12th, 2013 CASH ranked number 7 in the best banks list. This is very good news for shareholders of CASH as it shows that management is doing a very good job. They beat the likes of big banks like Wells Fargo & Company (NYSE:WFC) who ranked 14 and Citigroup Inc. (NYSE:C) who ranked 43. You can read more here.
Latest earnings
Earnings issued on August 6th, 2013 were very strong. Here are some numbers that caught my eye.
1. Net income came in at $3.7 million versus $2.4 million in 2012 comparable quarter.
2. Meta Payment systems recorded earnings of $2 million compared to $1.3 million in 2012.
3. Total loans increased by 3.7% compared to 2012.
4. Retail bank also experienced strong loan growth in the residential real estate and agricultural lending segments.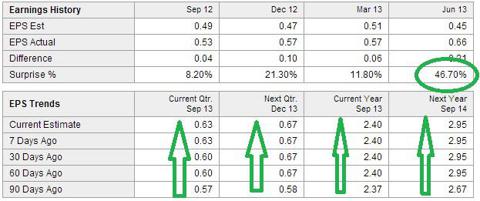 Adapted from Yahoo Finance.
The numbers above show that estimates have been steadily increasing going into next year. Furthermore, last quarter was a record beat as compared to previous years, so I believe that analysts estimates' are very low going forward.
On September 5, 2013 analyst Sterne Agee stated that CASH can easily beat estimates by a wide margin. The range given was between 17 and 43%.
Fundamental analysis
The fundamental analyses of CASH are very strong. CASH has a market capitalisation of just $220 million, which is very low considering this is a bank. The float is very small at 4.22 million shares. Of interest is that around 26% is owned by insiders, whilst around 70% of the float is owned by institutions. This leaves 4% of the float to the public for trading. Interestingly, 2.6% of the float is short. I believe that once the demand for these shares starts to pick up, and supply decreases, we will see new highs. I expect this to happen in the next few weeks. CASH will present earnings on December 16th, 2013 and I think that leading to big numbers, we can expect multi-year highs in the stock.
One must also note that the book value per share reads at only $23.22.
The company has $26 million in cash and $95 million in debt. The CEO stated in August 2013 that they do not expect another offering of shares as their cash will be good till fiscal 2014. He stated:
"As a result of the at the market (stock offering) success we were able to suspend the offering this past Friday as we believe such proceeds will be adequate to support our expected higher seasonal balance sheet through the second quarter of 2014".
Technical analysis
The weekly chart is a thing of beauty. A bull flag has been forming and price has been consolidating. The 13 simple moving average has been acting as support. Also, one can see that the volume has been diminishing, this is what you want to see when prices are consolidating. An uptick in volume will cause the demand for shares to pick.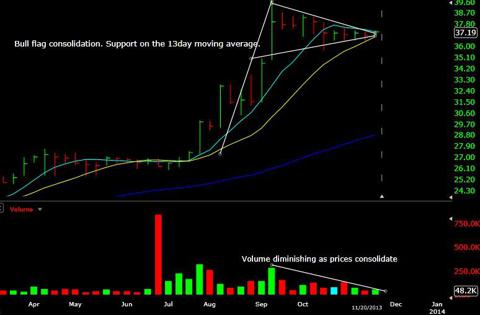 The monthly chart is also something I like to study. There was an uptick in volume in July, August and September, followed by a decrease in volume in October as prices consolidated. I expect an uptick in volume again going into December earnings.
Competitors
The biggest competitor for CASH is Bank of America Corporation (NYSE:BAC). BAC continues to do well, this also seen in the share price as shares are up around 25% for the year. The company has $495 billion in cash so I am sure they are keeping an eye for any opportunities to scoop up banks that are showing huge growth.
The other competitor in the prepaid debit card business is Green Dot Corporation (NYSE:GDOT). GDOT sells its cards in major retailers and stores. GDOT has a strong cash position of $467 million and a very low debt of $52 million. GDOT might be interested in buying CASH not only because they can benefit from CASH's card business, but they can also enter the loaning industry.
Conclusion
I like CASH at these prices. The float is very low, and a high percentage is owned by institutions and insiders. With a float of just 4m shares, and revenues bound to be over $100m in 2014, I think CASH is very cheap at these levels considering the market capitalisation is just over $200 million. I expect new highs going into 2014, and thus, CASH remains one of my favorite banks going forward.
Disclosure: I am long CASH. I wrote this article myself, and it expresses my own opinions. I am not receiving compensation for it (other than from Seeking Alpha). I have no business relationship with any company whose stock is mentioned in this article.