Colloquialisms are verbal shorthand's capable of condensing complex theories and concepts into catchy phrases or memorable idioms. They are a popular instrument of both written and oral communication. One such axiom is the phrase "like a moth to a flame." This term represents one's conflict based tendency to be helplessly drawn to an inevitably destructive force. Such a concept is a fundamental one in the observation and study of human behavior. It is why some young women often find themselves attracted to the "bad boy." It is why some college age men often pursue promiscuous, or otherwise spoken for, women. Humans are, for the most part, hard wired to be enticed by risk, challenge, and opportunity. Despite all the examples capable of supporting this premise, the most common personification of human beings acting like moths to a flame, is in the world of gambling.
Gambling is, by definition, the wagering of money on an event with an uncertain outcome. Seen in its simplest form, one can easily draw the parallels between gambling and investing. However, most commonly, gambling is associated with casinos, entertainment, and an all-encompassing experience. In its modern form, gambling has taken on an identity far greater than just a simple wager. Most notably, there have been empires built, and cities forged, by this human desire to make wagers of material value. In essence, such kingdoms of opportunity have been built on hope. In the United States, no kingdom of hope better embodies the gamblers dream more than Las Vegas. However Las Vegas, for all of its popularity, acclaim, and myth, is no longer the gambling capital of the world. That title belongs to a place 7300 miles west, tucked away along the South China Sea.
The Gambling Capital of the World
Macau is one of two Special Administration Regions of the People's Republic of China. The other such region is nearby Hong Kong. As a Special Administration Region, Macau functions under the Chinese slogan, "one country, two systems." This phrase essentially means that while Macau is defended by, and under the foreign affairs policies of, the Republic of China, the territory of Macau is otherwise autonomous. Macau maintains its own legal system, police force, monetary system, customs policy, and immigration laws. This freedom of infrastructure has allowed Macau to flourish. By 2002, Macau had become one of the world's richest cities. By 2006, it had become the world's biggest gambling center. This is one of the reasons why Wynn Macau Limited (OTCPK:WYNMY), a subsidiary of Wynn Resorts, opened the Wynn Macau Resort Complex in 2006.
The Wynn Macau
The Wynn Macau opened its doors on September 6, 2006, in the center of casino and resort activities, on the Macau peninsula. The following year, in December of 2007, Wynn Macau completed a significant expansion. This expansion included additional gaming space, more restaurants, and further retail amenities. In 2008, Wynn Macau became the only hotel in Macau, and one of only five hotels in Asia, to receive the coveted Mobil Five-Star Award. Improvements, luxuries, and added amenities have continued annually well into 2013. In fact, the Wynn Macau became the first Macau resort to win the highly sought after Forbes Five Star Hospitality Award in 2009. It has continued to win the award every year since.
The Wynn Macau includes the following features;
• Approximately 265,000 square feet of casino space, offering 24-hour gaming and a full range of games, including private gaming salons, a sky casino, and a poker area
• Two luxury hotel towers with a total of 1,008 spacious rooms and suites
• Approximately 54,200 square feet of high-end, brand-name, retail shopping, including stores and boutiques by Bvlgari, Cartier, Chanel, Dior, Dunhill, Ferrari, Giorgio Armani, Gucci, Hermes, Hugo Boss, Louis Vuitton, Miu Miu, Piaget, Prada, Rolex, Tiffany, Tudor, Van Cleef & Arpels, Versace, Vertu, Zegna and others
• Casual and fine dining restaurants, including Michelin Award winners
• Recreation and leisure facilities, including two health clubs and spas, a salon, a pool
• Lounges, business centers, wedding facilities, and corporate meeting facilities
Relentless Market Growth
Since early this past summer, observers of the Chinese economy began to report growing fears regarding a steadily declining rate of pecuniary expansion. This so-called slowdown was reported and covered by numerous major banks. ING (NYSE:ING), Bank of America (NYSE:BAC), and Credit Suisse (NYSE:CS) all reduced their GDP growth estimates substantially. The alleged catalysts for this widespread downgrade included diminished wage growth, slowing global demand of exports, and a contraction of government spending via more restrictive proposed reforms. However, despite the fact that many of these fears continue to grow regarding the crossroads of the Chinese economy, the autonomous region of Macau appears immune to such uncertainties.
While China has, in recent times, seen their economic growth largely predicated on investment and export, Macau has been unilaterally different. Macau has thrived on tourism, consumption, and entertainment. While China as a whole has focused on creating jobs with infrastructure, roads, railways, manufacturing, production, and technology, this model now appears to have peaked. Whereas, in Macau, economic stimulus focused on accessibility, vices, expectations, and luxury, all of which are marketed internationally, have pushed the economy into another stratosphere.
In October, Macau casinos produced a record shattering single-month revenue record of 4.6 billion dollars. This number not only broke the previous record (set in March) by more than 600 million dollars, but also represented a 31.7 percent increase over the October 2012 total. In regards to this record setting month, Stifel Nicolaus Capital Markets gaming analyst Steven Wieczynski said;
"Although most investors expected a new all-time monthly record to be established in October, we believe the degree to which the end result eclipsed the prior record was ahead of consensus expectations."
In 2012, Macau had produced 38 billion dollars in gambling revenue; a new world record. To put that number in perspective, casino revenue on the Las Vegas Strip in 2012 was only 6.2 billion in comparison. Furthermore, all gaming revenues for the entire State of Nevada for 2012 were reported to be 10.8 billion dollars. Thus, all of Nevada equated to earn revenues equal to only 28% of those earned in Macau for the same period.
Over the first 10 months of 2013, Macau gaming has produced 37.13 billion dollars in revenue. This number nearly equates to the total revenues earned for all of last year. Macau gaming revenues are up 18.4 percent over the same 10 months of 2012. According to Union Gaming Group's Grant Govertsen, who is based in Macau, the market's growth could exceed 20 percent by the time the year is out. Govertsen also belives that the results from October, coupled with projections for the last two months of the year, indicate that Macau will produce seven times more gaming revenues than Las Vegas in 2013. He went on to say that;
"Our forecast is driven in part by historical trends with average gross gaming revenues in November and December, which generally running 6 percent higher, or more, than the January-October gross gaming revenue run-rat."
Moreover, RBC Capital Markets gaming analyst John Kempf has been quoted as saying, in speaking about Macau, that "Economic indicators continue their positive trends" and went on to say that "We continue to favor Macau."
Therefore, while questions seemingly exist about the overall industrial and infrastructure based economy of China as a whole, the forecast for the territory of Macau, specifically to its gaming revenues, remain feverishly bullish.
Wynn Macau as an Investment Vehicle
Wynn Resorts is a well-known name in domestic gaming and entertainment. If there were a Mount Rushmore of Las Vegas gaming, Wynn Resorts would almost certainly be on it. However, what many United States based gaming enthusiasts may not know, is that in 2012 almost 72% of the Wynn Resorts overall revenue was made in Macau. The total of 997.6 million dollars in revenue made there, proved to be the vast majority of the company's overall revenue of 1.39 billion for the year.
At the time of this article being written, Wynn Macau carried a PPS of 38 dollars, a yield of 5.66%, a market capitalization of 19.7 billion, and was forecasting net income growth of 22% for 2013 over 2012. The net income growth from 2011 to 2012 was representative of 25% growth. Noteworthy growth since 2011 also included increases in earnings per share, total assets, and stockholder equity. Total liabilities have decreased since 2012, as have current debts and liabilities. Here is a closer look at viable metric data;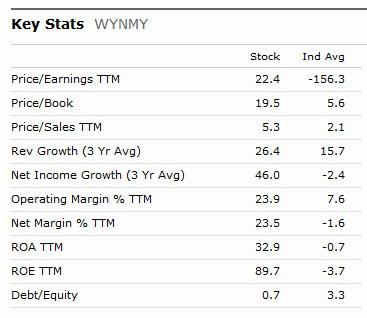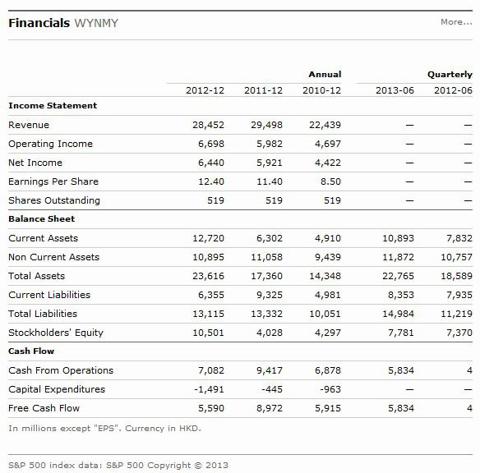 Click to enlarge
Projections for 2014 and Beyond
According to Barron's, Macau gaming stocks are up over 22 percent in the past month alone, and profits are forecast to grow 41 percent next year. Furthermore, gross revenues for Casino gaming in Macau are forecast to grow at a compound annual growth rate of 24.7% thru 2016.
Many sources believe that gaming and entertainment in Macau has only begun to display its prowess. According to macaubusiness.com, the latest report from the Economist Intelligence Unit forecasts that the Macau economy will see average growth of 11.75 percent from 2013 into 2014. This will happen despite a slowing economy in mainland China. The report states that while there is a potential risk that the inflow of visitors from mainland China, into Macau, may slowdown in the upcoming few years, that Macau's international appeal, and wealthy patrons, will serve as the territories safety net. The report stated that regardless of the threat of economic stagnation against China, that in Macau "casinos gross gaming revenue will continue to increase."
While gaming revenues in Hong Kong, Singapore, and Japan have decreased over the last two years, in Macau they have grown exponentially. The territory has successfully managed to define itself as the gaming and entertainment hub of the eastern world. It is easily accessible by any mode of transportation, and its luxuries, amenities, autonomy's, and aesthetics have made it a global icon for travel and leisure.
Among all of the attractions in area, the Wynn Macau stands on top. It was one of the first luxury resorts in the region, and has since been the first to win international acclaim from a frenzy of notable vendors. The Wynn is also leading the way in transforming market appeal in Macau as has been successfully done in Las Vegas. While gaming revenues are the principal and primary source of profits in Macau, the Wynn is spearheading expansion by marketing to corporate convention clients, domestic events, and international trade occasions.
At the Wynn, annual net income is poised to grow at an average of no less than 16% over the next three years. This coincides with anticipated reductions in annual debts and liabilities of 8% annually. In consideration of the margins, this would lead to balance sheet improvements of nearly 24% per annum from 2014 thru 2016. This number is based solely on economic indicators in Macau, and gaming revenue. With further marketplace procurements in convention and trade clients, these numbers could grow even further by between 4-7% annually.
Risks
The gaming industry, as an instrument of investment, tends to have its own internal protection in place; the human condition. Gambling is, after all, a vice, a temptation, an ambition wrapped in depravity. For as long as there has been human life, there has been a need to seek out risk and reward. For that reason, the business of gambling will always have ample support. However, where there is money to be made, there is always competition. Unlike the rest of China, Macau is, by comparison, quite capitalist in philosophy. For the Wynn Macau, there is plenty of competition to be weary of. At any time, a new resort, or a newly improved resort, could suddenly make all others appear to be "second rate." As a result, continuous improvements are always a consideration. Of course, these improvements come with additional costs. Long term liabilities and debts could increase exponentially at any time. In the event projected gaming revenue figures fall short, and happen to coincide with increased improvement costs, any resorts margins could quickly and dramatically find themselves upside down.
Furthermore, investing in a foreign economy is always something to be weary of. When one fails to have a daily sense of an area's economic pulse, one's instincts then come second to research and reports. While these are ample and valuable indicators of a locations fiscal health, it is different than being able to step outside one's home and actually see, feel, and gauge a market's strength. In can leave much to be desired for the proactive investor.
Lastly, travel, leisure, and gambling are luxuries as opposed to necessities. In other words, they are activities traditionally financed with disposal income, not budgeted income. Therefore, any dramatic pullback in the world economy, the Asian-Pacific economy, or increased caution among the world's wealthiest gamblers, could easily affect forecasts and revenues at the Wynn Macau.
Conclusion
Steady growth, a developing territory, increasing revenues, and diversification, all indicate substantial upside for the Wynn Macau over the next three years. Where fears exist among some that the equity markets in United States could be approaching a bearish period, the economy in Macau, especially among gaming and resort entities, currently show no such doubts. The Wynn Macau could be a strong alternative for those investors looking to rebalance their portfolios in the presence of domestic market uncertainties.
As an investment, the Wynn Macau offers downside protection due to geography and revenue source. It also offers substantial upside predicated on economic projections and territorial autonomy. The sale of 600 million dollars' worth of bonds without conditions from Wynn Macau in October, indicate that strong demand for Asian gaming debt continues to grow. Based on these factors, and the details included herein, the Wynn Macau should prove to be a profitable and steady investment for years to come. With 16% annual upside potential each of the next three years, coupled with increasing net income and well managed expenses, a price target of 57 dollars by 2016 appears more than reasonable.
In consideration of macroeconomic indicators, continued growth of Macau's gaming industry, Wynn Macau's growing income, and prevalent bullish forecasts among various analysts, the Wynn Macau should be perceived as an investment vehicle with lucrative future prospects.
Disclosure: I have no positions in any stocks mentioned, and no plans to initiate any positions within the next 72 hours. I wrote this article myself, and it expresses my own opinions. I am not receiving compensation for it (other than from Seeking Alpha). I have no business relationship with any company whose stock is mentioned in this article.