Intel (NASDAQ:INTC) needs no introduction but the stock could certainly use some friends now. The recent analyst day was a mixed bag for investors. While we got to know some of the company's plans for its future, we also got a lukewarm 2014 guidance. The latter announcement sent the shares down. As of this writing on November 25th, shares reached a day's low of $23.50, a level it hasn't seen since October 2013. While Intel languishes, the NASDAQ is reaching levels it has not seen since 2000.
Are things really so bad for Intel? Aren't there any positives. Let's find out as this article points out a few positives. Let us get into the details.
Dividend Growth: Intel has now paid the same quarterly dividend of $0.225 per share for 6 consecutive quarters. So, a lot of dividend growth investors (including us) have thrown in the towel. However, if you look at the table below you will notice that Intel's annual dividend per share has grown every year since 2003/2004. Believe it or not, even in 2013 the company paid out more than it did the previous year. So, technically the dividend growth streak is intact. Personally, we sold it because we like companies that follow a set pattern: like an increase after paying the same dividend for four quarters.
But the point here is, Intel still has time till 2014 to keep this dividend growth streak intact.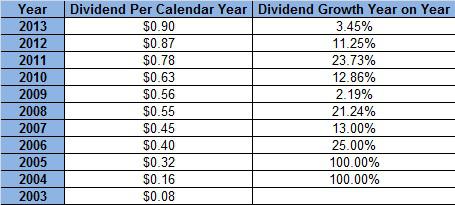 (Data Source: Finance.Yahoo.Com)
The 4% Yield Point: Intel is not far off from the 4% yield point, for which many retirees and income investors yearn. If the stock loses 4% more and gets to $22.50, the yield will reach 4% at the current 90 cents per share dividend level. A 4% fall might seem far off but this stock has lost 6% from the highs on Nov 21st and has a wave of negativity following it. So, watch out. The 4% level might be here quicker than you think.
While the dividends have not been raised with the regularity that we like, Intel doesn't fare too badly when compared to some of the dividend paying technology stocks included below.
Intel's yield is still handsomely the highest here.
Intel's valuation seems so depressing that it is lower than every company in this list except Cisco (NASDAQ:CSCO). And mind you, the list includes some really "boring" stocks like Microsoft (NASDAQ:MSFT).
Intel's payout ratio is the highest in this group but is not too far off from the rest, except maybe Apple (NASDAQ:AAPL).

Very Low Expectations: The stock has certainly lost a lot of friends among investors and analysts. The table below shows the continuously declining analyst estimates and why not, the company itself said 2014 revenues will be flat. The fact that earnings are expected to go down is not the positive we are talking about. When expectations are so low, it doesn't take much for the stock to spring up at the slightest of good hint from the company.
(Source: Finance.Yahoo.Com)
Things seem so desperate that even SA's Ashraf Eassa, the person who perhaps has covered Intel the most extensively here, has started questioning some of the company's moves and admits he is not the bull he once was. Darkest before the dawn?
Smartphone and Tablet: Believe it or not again, Intel's efforts on the smartphone and tablet fronts have started paying dividends (no pun intended). Sure, it has taken a long time and Intel is still nowhere close to being dominant but things are at least a bit positive. Intel's Atom based SOC's are now in 12 smartphones and 15 tablets and it expects its tablet market share to grow by 400% in 2014.
The market obviously seemed to like what the management had to say at the analyst day, sending the shares up almost 3% at one point. Things quickly turned sour after the 2014 guidance was announced. Does this not imply short-sightedness, if the market likes the long term plans but suddenly sells off if the next year's guidance is not good? We think so.
Conclusion: Intel's problems are well known and we are not trying to cover up those or mislead investors. But things aren't as bleak as they sound. This company:
Is still the leader in server processors
Is still the dominant player in the stagnant notebook and desktop processor market
Is trying to capture more share in the growing smartphone and table market
Pays a handy dividend as we wait till they try a turnaround (no denying that has been going on for some time now)
Might still be a good dividend growth technology stock
Do you think there are more positives to add, like the change in management ? Or the report that Intel's core business has an intrinsic value greater than the stock price ? If so, please add your comments below.
Disclosure: I have no positions in any stocks mentioned, and no plans to initiate any positions within the next 72 hours. I wrote this article myself, and it expresses my own opinions. I am not receiving compensation for it (other than from Seeking Alpha). I have no business relationship with any company whose stock is mentioned in this article.