I had the opportunity to attend the November 20 Energy Transfer analyst day presentations held in Dallas, Texas. The event was decidedly upbeat. Energy Transfer Partners (NYSE:ETP) and Energy Transfer Equity (NYSE:ETE) have effectively completed a transformation from sleepy Texas intra-state natural gas and NGL carriers into a national, diversified energy partnership. Three trading sessions after the presentations, ETP was up 3.4% and ETE popped a remarkable 9.7%.
ETP and ETE 3-month daily charts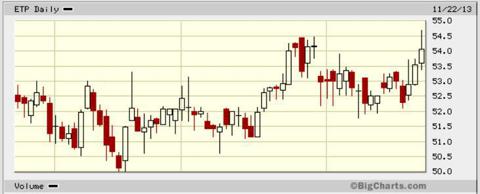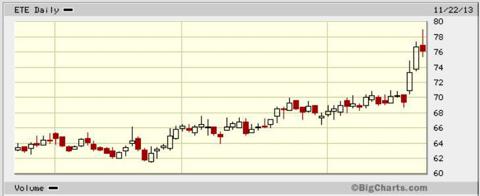 Quietly, Energy Transfer Partners' one-year unit price performance has exceeded those of large-cap MLPs Kinder Morgan (NYSE:KMP), Enterprise Products (NYSE:EPD) and Williams Partners (NYSE:WPZ). Energy Transfer Equity has blown away all of them, rising 67 percent YTD. Not bad.
Analyst Day: The Ten-Second Takeaway
Here are four key points gleaned from the Analyst Day presentations:
Partner distributions are up and will continue to rise
An announced $1 billion "Regas Exchange Transaction" will move the Trunkline LNG assets from Energy Transfer Partners to Energy Transfer Equity, opening doors to several strong business development projects
Energy Transfer Partners has achieved remarkable growth in the Eagle Ford
Energy Transfer management has no intention of selling the Sunoco retail facilities, in fact, segment expansion may be more likely
I departed Dallas with the following post-session observations:
The Louis-Dryfus, Southern Union and Sunoco acquisitions have been unmitigated success stories.
Energy Transfer management has made good on promises to focus upon asset integration and simplify the corporate structure
Energy Transfer Partners now has the capability platform for strong, sustainable cash flow growth
Nonetheless, Energy Transfer Equity may very well be the better investment
Let's review these points in a bit more detail.
Partnership Distributions Will Continue to Rise
ETP and ETE have created strong platforms for future growth of cash and distributions.
In my November 10 article, Energy Transfer Validates Bulls: Why It's the Real Deal, I discussed how the third quarter earnings report evidenced the company turned the corner on cash. Several years of flat distributions were cracked when management increased the third quarter cash payout by a little over a penny to 90.5 cents per unit.
The following slide from CFO Martin Salinas' presentation sums up just how far ETP has come: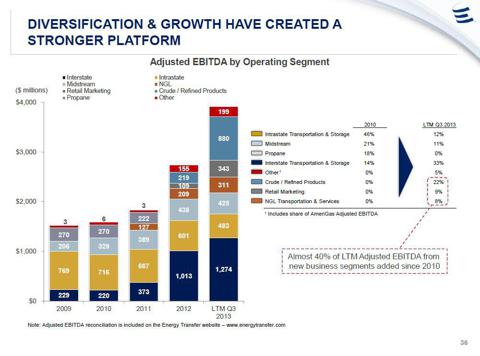 Unquestionably, senior leaders are intent to build upon it. Within his prepared remarks, Mr. Salinas noted ETP is "targeting ongoing distribution growth in a sustained manner." He predicated the comment upon Energy Transfer having achieved several key financial milestones. Included are a Distribution Coverage ratio of 1.05x, and a Debt-to-Adjusted EBITDA ratio of 4.0 to 4.25x.
More than $2 billion of capital projects have been placed in service within the past 12 months, all underpinned by long-term, fee-based contracts. This represents a step-change from the "old" Energy Transfer Partners: too much commodity price exposure. Currently, the business looks to hedge up to three-quarters of its exposure, thereby shifting to a more cash-consistent, fee-based transportation carrier. Here's a recap slide from the same presentation: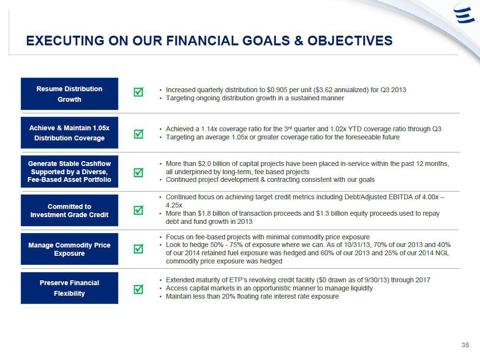 Despite ETP's fine run, I believe the Energy Transfer Equity story is even stronger.
This company is not only rapidly improving cash flow, it is doing so largely via alignment of its interest in the LP distributions of ETP, Sunoco Logistics Partners (SXL) and Regency Energy Partners (NYSE:RGP).
Energy Transfer Equity is the General Partner for Energy Transfer Partners and owns 100% of its Incentive Distribution Rights (IDRs). In addition, ETE owns approximately 49.6 million ETP common units.
Sunoco Logistics is 100% owned by ETP. However, Energy Transfer Equity owns approximately 50.2 million ETP Class H Units, which track 50% of the underlying economics of the general partner interest and the IDRs of Sunoco Logistics Partners L.P.
Energy Transfer Equity also owns the general partner and 100% of the IDRs of Regency Energy Partners LP and approximately 26.3 million RGP common units.
Those familiar with the Energy Transfer narrative recall that ETE agreed to defer some IDRs to enable recent ETP acquisitions. The subsequent success of the Energy Transfer Partners M&A activity, coupled with the ultimate re-instatement of these IDRs, will produce a powerful one-two cash flow punch, even if ETE does nothing going forward.
Here's some bottom line facts:
Year-end 2012 ETE adjusted-EBITDA was approximately $723 million.
Projected 2014 adjusted-EBITDA is forecast to be $987 million.
YE 2012 cash distributions to ETE limited partners were $703 million.
Some quick math indicates compelling go-forward rewards for Energy Transfer Equity limited partners.
Regas Exchange Transaction
Energy Transfer management used Analyst Day presentations to confirm and provide details for the Regas Exchange transaction. Effectively, this intra-company transaction facilitates the movement of Trunkline LNG interests from ETP to ETE. A schematic of the deal is found below: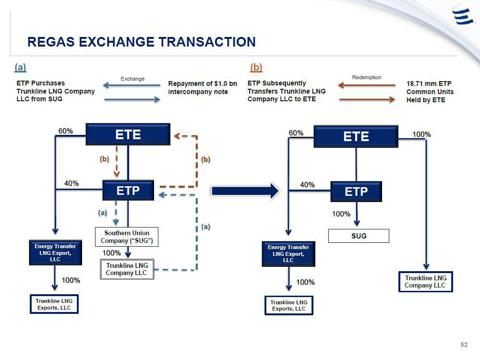 Source: Energy Transfer Analyst Data slidepack
The fact that the $1 billion deal is between two Energy Transfer companies adds fascinating story lines. First, ETP "buys" Trunkline from wholly-owned subsidiary Southern Union in exchange for repayment of a $1 billion inter-company note. Then, of more interest to unit holders, ETE buys Trunkline LNG from ETP for $1 billion, paid for by ETE relinquishing ownership of 18.71 million ETP common units. This retires about 7% of the total outstanding ETP units, along with their approximate 7% annualized associated cash distributions.
Energy Transfer Equity, thereby owning 100% of Trunkline LNG, will have the starting nucleus for a new stand-alone public MLP that will permit Energy Transfer to create its own entity similar to Cheniere Energy Partners (CPQ).
Without trying to get too far upfield, nor making the narrative too complex, this asset re-structuring also compliments another Energy Transfer initiative: the Lake Charles LNG liquefaction project.
This project transforms existing Trunkline NG facilities into a bi-directional facility capable of exporting and importing liquefied natural gas. Furthermore, Energy Transfer and BG Group, a worldwide leader in the natural gas business, have reached terms on a minimum 25-year "tolling agreement."
Under such tolling agreement, the customer (BG Group) procures its own feed gas, delivers it to the liquefaction facility using ETP's pipeline network, and contracts with Energy Transfer for the use of its NGL liquefaction trains. BG is the project construction manager for the 3 trains, and is responsible for all project costs, performance and overruns. BG will then operate the facility and absorb all expenses and capital associated with the operations.
Energy Transfer, via Lake Charles LNG, will own and finance the NGL liquefaction trains, then contract out the facilities to BG at a formula-based rate that provides a negotiated, unlevered 25-year return.
ETP Eagle Ford Growth
Energy Transfer Partners has become the fastest-growing midstream partnership in the Eagle Ford Shale. The company has increased NGL processing capacity from 120 Mcf/d in 2010 to a projected 1.34 Bcf/d in 2014.
The following presentation slide tells the story: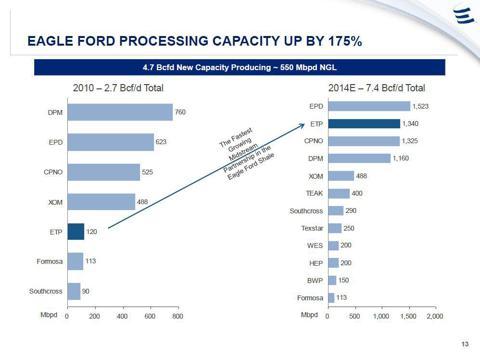 Source: Energy Transfer analyst day slidepack
A picture tells a thousand words. Investors should note that low NGL prices have squeezed transportation spreads. This has dampened returns. Any improvement in spreads and rates will have a multiplying effect on the segment of the Energy Transfer business.
Sunoco Retail Marketing Facilities
When Energy Transfer acquired Sunoco, Inc., many analysts considered the nearly 5,200 retail sites as a quick spin-off. I agreed with the prognosis.
However, two years later, this business has been cleverly folded into the MLP structure and become a "cash-flow cash-cow." Energy Transfer management made it clear there was no intention of selling these assets. Indeed, there is a greater potential to augment the retail business via acquisition of more facilities. To the point, Mid-Atlantic Convenience Stores, a leading C-store operator in Maryland and Virginia with a network of ~300 locations, was purchased in October for $400 million.
Senior management wisely made the decision to permit Sunoco to independently continue to run itself. This has allowed the segment to simply do what it does best: generate ratable free cash flow. Ratable free cash is the lubricant sought by ETP unit holders: the grease to provide sustainable increases in the cash distribution.
Retail Marketing provided third-quarter adjusted EBITDA of $100 million.
Post-Session Analysis: Energy Transfer Companies are Primed
Over the past several years, Energy Transfer Partners and Energy Transfer Equity have effectively overhauled their respective businesses, corporate structures and resultant cash flows. The primary vehicles for change have been the Louis-Dryfus, Southern Union, and Sunoco acquisitions.
But this is only part of the story.
These deals have been augmented by several billion dollars of associated capital projects. To its credit, Energy Transfer has demonstrated the ability to consistently complete these projects on time and on budget. The planned business development capex has provided accretive cash flows almost immediately after commissioning.
Another $2 billion of near-term growth projects are being actively developed.
Annual expense savings related to asset acquisition has been identified and implemented. A full-year run rate of more than $150 million will be achieved in 2014 and onward.
Furthermore, Energy Transfer management has done a workman-like job rationalizing the large transactions. Senior leadership has focused upon core businesses and spun off the non-strategic parts and pieces.
Remaining disposals include the sale of New England Gas, anticipated to close before year-end. The $1 billion proceeds will be used to pay down debt. ETP also owns 22.1 million Amerigas (AGP) units with a current market value of approximately $950 million. These units will be prudently monetized per the Unitholder Agreement, thus further adding cash to the coffer.
Unitholder Cash Distributions and Valuation
ETP
My opinion is the recent Energy Transfer Partners 1.2 cent per unit bump is just the beginning of a string of modest increases. ETP units already offer a generous distribution yield that ranks near the top of its MLP peer group.
Over the next several quarters, I believe it's reasonable to anticipate DCF improving at least 4%, and the annualized distribution rising from the current $3.62 to as much as $3.76 per unit.
If so, my ETP unit price target range is $63-65. Such unit appreciation would decrease the yield to around 5.9%: well-aligned with the midstream peer group. Indeed, such a yield will also offer MLP unit holders a sufficient income return above the anticipated rate for no-risk, 10-year Treasury investments.
ETE
Unquestionably the story is good for ETP. Nevertheless, readers who visited my November 20 Seeking Alpha Energy Transfer article noted I suggested Energy Transfer Equity may actually offer better growth opportunities, and with it better total investment returns.
The Analyst Day presentations reinforced that view.
My expectation is that Energy Transfer Equity may raise its annualized cash distribution to as high as $3 per unit over the course of 2014. That represents an 11% increase from the current $2.69 level. Explosive top-line growth should begin to make its way to the bottom line as evidenced by widening EBITDA margins.
In 2013, I expect Energy Transfer Equity to report 10-K operating cash flow of ~$8.80 per unit. Estimating a modest 10% improvement in 2014, then applying a conservative 9x Price-to-Operating Cash Flow multiple, a target price of $87 appears reasonable. Prior to the 2013 third-quarter earnings release, ETE units were priced at $69 each.
However, my bullish view of these units isn't about the next twelve months. It's about a multi-year run of accelerating revenue growth and widening margins, all built upon a lower-risk General Partner business plan.
Most of ETE's revenues simply roll in via cash distributions and IDRs from ETP, SXL and RGP. Growth in these MLPs leverage up Energy Transfer Equity returns.
Disclosure: This article is not a recommendation to buy or sell units of ETP or ETE. Investors should perform their own careful due diligence, or consult a professional financial advisor before making any final investment decision. Good luck with all your 2013 investments.
Disclosure: I am long ETP, ETE. I wrote this article myself, and it expresses my own opinions. I am not receiving compensation for it (other than from Seeking Alpha). I have no business relationship with any company whose stock is mentioned in this article.
Additional disclosure: I took a position in ETE prior to the Energy Transfer third-quarter earnings release.