When it comes to making up the meat of any diversified portfolio, you want to have a good sized position in staple stocks - companies that are at little risk of going anywhere, pay dividends and have consistently performed with, or above the market averages over the last 10 years.
I spent a little time this morning drawing up ideas for "core portfolio holdings" for a friend that I was discussing investing with last night. I thought, heading into a new year, it'd be a great topic for an article - a handful of Dow Component "tried and true" stocks that provide consistent yields and pay dividends as a bonus.
So, here's a list of five companies that I would consider as "buy and hold" stocks, and stocks that I would continue to hold onto if I already had a position in them.
Stock : American Express (AXP)
Current Price : $83.85
52 Week Low/High : $54.16-$84.00
Synopsis: American Express is, in my opinion, truly the "luxury" brand in the credit card business. American Express cardholders tend to be the type of people who are hell bent on paying their bills on time and have plenty of money to spend, removing a lot of risk that other credit card companies potentially have to face.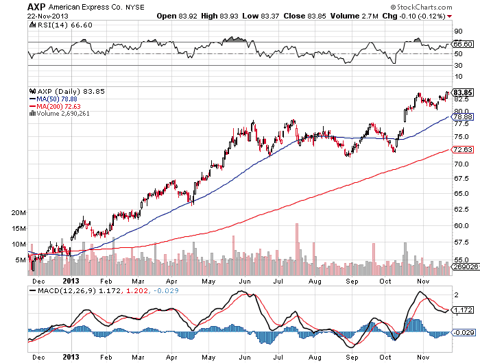 American Express does pay a rather small dividend of $0.23/share/quarter, but the company has raised it consistently over the past 5 years, making AMEX a safe stock to hold onto for the credit portion of your portfolio.
Stock : Bank of America (BAC)
Current Price: $15.64
52 Week Low/High: $9.38-$15.79
Synopsis : If you read my articles regularly, you know I'm bullish on BAC going forward. First and foremost, you're riding with the Oracle here, as Buffett, who maintains a great relationship with BAC's CEO and has already netted billions from BAC, continues to hold his position in the banking giant.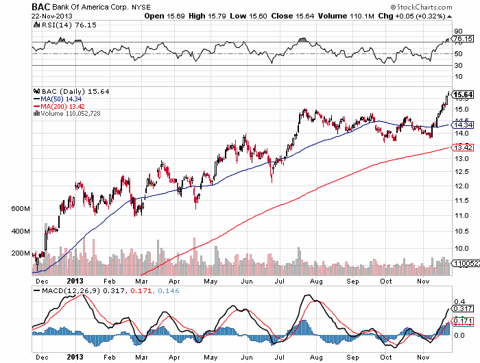 CEO Brian Moynihan has done well to curb some of the company's legal issues and keep the bottom line moving in the right direction by cost cutting, lay offs and general efficiency cuts for the company across the board. BAC, which is in the midst of a stock buyback, is long overdue to raise its dividend and will likely continue to prosper in the long term for investors with each day we move further away from the 2007-08 financial crisis.
Stock : Microsoft (MSFT)
Current Price : $37.57
52 Week Low/High : $26.22-$38.22
Synopsis: With my recent notes about Microsoft being able to use Xbox One to monetize the Xbox division as it moves into the future, I think that Microsoft has a great future ahead.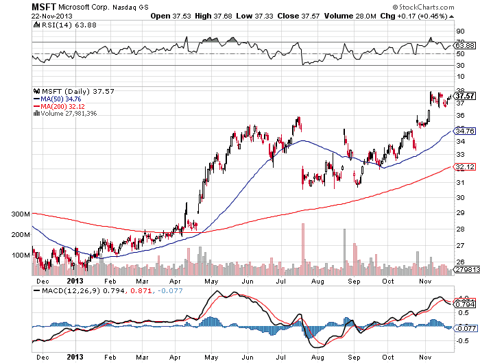 If you're able to look past the CEO search and the way that Microsoft has lagged behind Apple (NASDAQ:AAPL) in recent years, you can focus on the important things that Microsoft is executing successfully, like monetizing Windows. Microsoft continues to raise its dividends in recent years and is a safe tech. staple stock in any portfolio.
Stock : AT&T (NYSE:T)
Current Price : $35.42
52 Week Low/High: $32.76-$39.00
Synopsis: AT&T is a great dividend monster to hold, paying a monster $0.45/share/quarter dividend that the company has raised consistently dating back the last five years. The stock, over the year, hasn't done a whole lot - with a beta of 0.48 it's been holding steady, but the dividends have done well to provide returns for investors.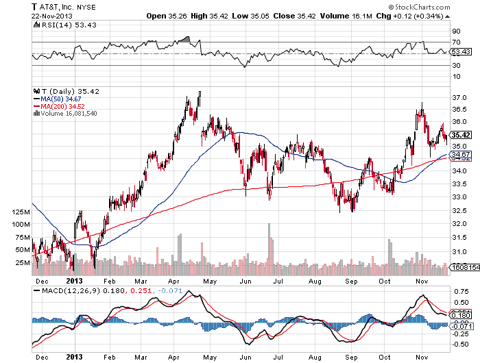 Over the coming years, as AT&T continues to monetize things like its internet access and continues its battle with Verizon (NYSE:VZ), I'd expect returns from the stock as well as the dividend.
Stock : Johnson & Johnson (JNJ)
Current Price: $95.25
52 Week Low/High: $68.60-$95.90
Synopsis: Up almost 40% in the last year alone J&J continues to provide returns for investors not only from its stock, but from its roughly 3% annual dividend yields - a double bonus for J&J stockholders. Placing J&J in your portfolio, alongside the others listed above, give you a diversification leg up by adding healthcare alongside technology and banking to your holdings.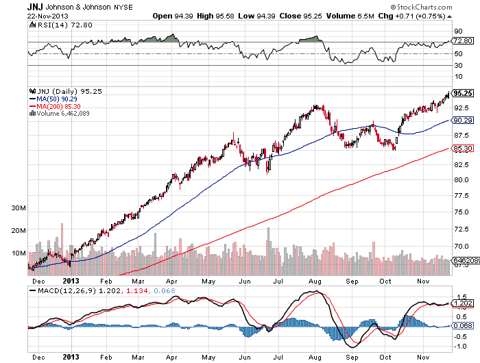 J&J has been hampered by lawsuits in the last couple of years (including a recent $2.5 billion settlement over hip replacements), but the outlook for the company has still never been stronger. The company still has an enormous drug pipeline, enormous cash position and massive list of core products. J&J is the definition of a multi-year long-term hold.
Disclosure: I have no positions in any stocks mentioned, and no plans to initiate any positions within the next 72 hours. I wrote this article myself, and it expresses my own opinions. I am not receiving compensation for it (other than from Seeking Alpha). I have no business relationship with any company whose stock is mentioned in this article.