Perhaps one of the most interesting storylines in technology as we end 2013 is Microsoft (NASDAQ:MSFT). The technology giant is looking for a new CEO, whether it be one to take over the company for quite a while, or someone who will act as a caretaker while another candidate is groomed for the position. It has been three months now since Steve Ballmer announced his retirement, and the selection process has narrowed greatly. However, the next CEO announcement is just the start of a process that will transform Microsoft going forward. Today, I'll break down the latest Microsoft information, and detail why this is a very tough balancing act, one investors might want to bet against.
First, who will be next?
The candidates have been discussed in great depth, so I'm not going to go into all of their personal histories. Right now, the leading candidate still seems to be Ford's Alan Mulally. AllThingsD states that if Mulally gets the position, he will be more of a short-term caretaker until someone currently inside Microsoft is ready to take over the top spot. Enterprise/cloud chief Satya Nadella is said to be the top pick to be groomed for the job. However, it is also possible that Microsoft chooses another internal candidate right now, someone like COO Kevin Turner. Stephen Elop, who headed Nokia, is also in the running, as is ex-Skype CEO Tony Bates.
The sale of Bing and Xbox?
If given the job, Stephen Elop says that he is open to unloading both Bing and Xbox. This would be a major shift for the technology giant, one that could create major ripples depending on who the acquirer were to be. Microsoft sold over one million consoles of its new Xbox One within 24 hours post-launch.
This would seem like a move to boost margins, as the Online Services unit (that includes Bing) has had substantial operating losses if you look at Note 21 of the 10-K annual filing. The Entertainment and Devices segment (which contains Xbox) is also lower margin. Nomura's Rick Sherlund thinks a sale of the two units plus some other cost cutting could boost Microsoft's fiscal 2015 (ending June 2015) earnings per share by 40%. Following the launch of the Xbox, Sherlund made another set of comments on Monday regarding the Xbox, speculating about its possible sale. I encourage all to read the entire article, but here are some snippets of his comments:
We have estimated 4.2 million Xbox One console units may be sold in the December quarter, but this may be ambitious given there is competition from Sony PlayStation 4 at $399 vs retail price of $499 for Xbox One and the product will only be available for a bit less than 6 weeks and in 13 countries.

We suspect the number will be between 3 - 4 mil units, but have not altered estimates at this early stage. If there is demand for 4 million units, it is not clear there can actually be supply of this volume in the next 6 weeks.

We believe Microsoft may lose about 5% - 10% on the Xbox One console for a negative gross margin versus break-even to a small profit on the Xbox 360.

Overall, after we include sales and marketing, R&D and G&A costs, we think Xbox is likely to lose money this year, and after the allocation of corporate level expenses likely loses over $1 billion.

We hate to be a damper on the feel good moment in the launch of Xbox One, and no disrespect to the terrific success of the Xbox team, but we have made the point previously that the business is just not that strategic to Microsoft if they need to narrow their focus and return greater value to shareholders.
Whether Elop gets the job or not, this is an interesting storyline to watch. Microsoft made an interesting purchase with the devices and services business from Nokia. Will it now turn around and sell some large assets? Additionally, would it package the two together or sell them separately, and how much could these units fetch? This will be something to watch closely in 2014.
Interesting balance sheet situation:
I mentioned in my Q1 results overview for Microsoft that an interesting situation had developed with the balance sheet. Microsoft's domestic cash balance had dipped to below $5 billion, as you can see in the table below showing some key balance sheet statistics. Dollar values are in millions.

*Liabilities to assets ratio.
About $76 billion of the company's cash pile was located outside the US, and would be subject to material repatriation tax effects. Microsoft pays its dividend and buys back shares using domestic cash resources, and it can't use foreign funds.
So what's the big deal here? Well, two months ago Microsoft announced a large dividend increase and expanded buyback plan. Microsoft raised its quarterly dividend from $0.23 to $0.28, a sizable raise, and announced a new $40 billion buyback plan. With such a huge capital return plan, the company obviously needs cash to execute said plan. In the most recent 10-Q filing, associated with the Q1 results, Microsoft showed on page 24 that the increased dividend will result in an extra payment of $404 million over last year's quarterly amount. If you annualize that, depending on how the share count fares, the extra dividend payments alone will be $1.5 billion or more.
Microsoft, which does generate substantial cash flow, may need to add some debt if it wants to repurchase a decent amount worth of shares. Debt for the buyback isn't a terrible strategy in a low interest rate environment, but it will all depend on what maturity is used and what rates are paid. If Microsoft has after-tax debt at say 1.5%, it will have a cash flow savings buying back stock with a dividend yield of 2.98% (as of Monday's close). But if the company's after-tax debt is at say 4.0%, it will not be cash flow positive until the dividend yield is above that debt rate level. For a time, it will be cash flow negative.
The balance sheet is another delicate balancing act that the new CEO will need to execute. Now if Microsoft were to sell off the Bing and Xbox units, you would figure that it would pocket a decent chunk of change. That would certainly help shore up the cash pile in the United States. Most companies like Microsoft and Apple (NASDAQ:AAPL), that have large cash piles outside the US, do not plan on bringing those funds home and paying large sums of taxes. It would take a huge shift in US tax policy for that to occur.
Microsoft stock too expensive?
Microsoft shares are up more than 17% (dividend adjusted) since Ballmer announced his retirement. Could that lead the new CEO announcement to be a perfect buy the rumor, sell the news event? It is possible, especially with shares less than 60 cents from their 52-week high. But it isn't just share price that I am concerned with. Let's also look at some growth and valuation numbers, comparing Microsoft to other top tier tech names like Apple, Intel (NASDAQ:INTC), Google (NASDAQ:GOOG), and Cisco Systems (NASDAQ:CSCO).

*Non-GAAP values for EPS growth and P/E.
In terms of revenue growth, Microsoft slides into third place, just behind Apple. Microsoft is in fourth place in terms of earnings per share growth, with analysts looking for just a penny rise in earnings this year. However, Microsoft could pass Intel in the coming days/weeks if analysts continue to take down Intel estimates after Intel's warning. Thanks to the rise in stock price, Microsoft's dividend has fallen below the 3.00% annual yield level.
In terms of overall growth, Microsoft is in third place, but it is a distant third. Additionally, if you take out Google and normalize Cisco's earnings to GAAP, Microsoft is the most expensive of the four dividend paying names. Just think, Microsoft trades at more than a 17% premium to Apple. While Microsoft has a higher dividend yield, Apple has more potential growth over the next few years, and Apple has the substantial buyback. Microsoft has had trouble reducing its share count recently, while Apple's share count is plunging. On the valuation side, I think Microsoft is a bit expensive, and a short position may actually be warranted.
Technically elevated:
I try not to bring too much technical analysis into my work, but sometimes it is necessary. Microsoft shares are creeping toward their upper Bollinger band, which has been a level of resistance in the past. You can see how this has played out over the past year in the chart below.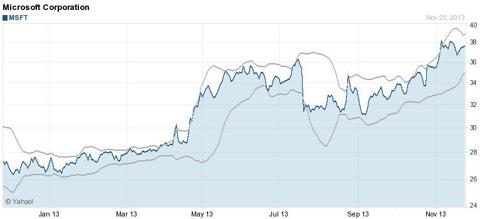 Click to enlarge
(Source: Yahoo! Finance)
Reaching this upper technical limit is not going to cause the stock to crash by any means. But if Microsoft shares get back to $38 again, I could easily see a pullback of a few dollars. This is not a stock that has taken bad news lightly in 2013. Microsoft shares dropped 11.4% on a bad quarterly report and 4.6% on the Nokia deal. If the buy on the rumor, sell on the news theory proves true, shares could easily lose 2% to 3%. If the market does not like the candidate who is chosen, I could easily see a fall of double that, or maybe triple that at worst.
Final thoughts:
Microsoft has a key CEO decision to make, one that will shape the future of this company. The new CEO might have a more delicate balancing act, as key decisions need to be made regarding certain business segments. Microsoft will also have to figure out how to manage the balance sheet which is cash constrained in the US. Microsoft shares have rallied this year, to levels I do not believe are justified when compared against others in the tech space. I do think shares will come back down to $35 over the next few months, and potentially as soon as a new CEO is chosen.
Disclosure: I have no positions in any stocks mentioned, and no plans to initiate any positions within the next 72 hours. I wrote this article myself, and it expresses my own opinions. I am not receiving compensation for it (other than from Seeking Alpha). I have no business relationship with any company whose stock is mentioned in this article.
Additional disclosure: Investors are always reminded that before making any investment, you should do your own proper due diligence on any name directly or indirectly mentioned in this article. Investors should also consider seeking advice from a broker or financial adviser before making any investment decisions. Any material in this article should be considered general information, and not relied on as a formal investment recommendation.