Since the middle of the month on November 15th, we've seen a lot of choppy action in this market. The S&P 500 is up 0.24% since November 15th, while the Nasdaq 100 (the largest stocks in the Nasdaq Composite) is up 0.14%. Within the major indices, though, we've seen a lot of stocks go up and a lot of stocks go down, effectively cancelling each other out to result in a sideways market.
Year-to-date through November 15th, the average stock in the Nasdaq 100 was up a whopping 39.90%. As shown in the chart below, the average stock in the Nasdaq 100 is down 0.41% since then, but the divergence in sector performance has been stark. Since 11/15, the average Health Care stock (mostly Biotechs) in the Nasdaq 100 has surged 3.19%. The average Technology stock, however, has averaged a decline of 1.22%. If you're overweight Tech and underweight Health Care, chances are you've been underperforming the market since the middle of the month.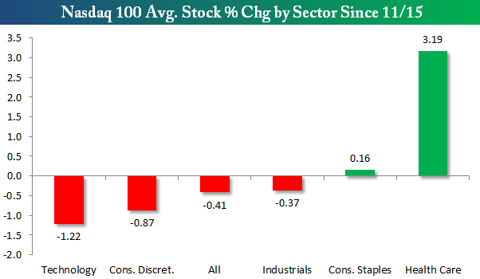 Click to enlarge
Below is a look at the 10 best and 10 worst performing Nasdaq 100 stocks since November 15th. In a flat market, we've seen some pretty sharp moves on both the upside and downside. Biotech stocks like Biogen (NASDAQ:BIIB), Celgene (NASDAQ:CELG), Vertex (NASDAQ:VRTX), Gilead Sciences (NASDAQ:GILD) and Regeneron (NASDAQ:REGN) are all up more than 5%, while Tesla (NASDAQ:TSLA) and other Tech stocks like Facebook (NASDAQ:FB), eBay (NASDAQ:EBAY), SanDisk (SNDK) and Sirius (NASDAQ:SIRI) are all down more than 5%. There has been a lot of pain and a lot of gain so far in the second half of November.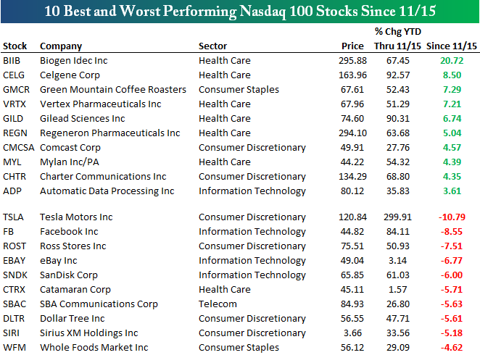 Click to enlarge