One more measure of China's growing global clout – so much Saudi oil is flowing China's way that it may soon replace the U.S. as the leading market for the world's largest oil exporter.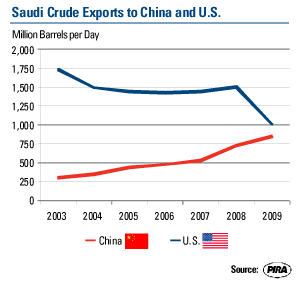 A report from oil-industry consultant PIRA says Saudi Arabia accounted for 11 percent of total U.S. oil imports last year, down from 18 percent in 2003. Over the same period, China's shipments of Saudi crude increased from 16 percent of total imports to 20 percent.
In just the past two years, Saudi oil imports to China have increased 60 percent, reflecting the rocketing demand for energy to fuel economic growth. Xinhua, China's official news agency, says crude oil imports could surge more than 40 percent in the next three months after hitting an all-time high of 5 million barrels per day in December.
Oil demand in the U.S. fell about 4 percent in 2009 as a result of the economic slowdown, and imports from Canada are playing a bigger role.
The Saudi-China linkup appears to be growing on several fronts. Partnerships are being formed between the respective national oil companies, and Chinese companies are also doing more work in the Saudi oil patch.
In addition to the $20+ billion in cross-border deals China made last year, the country has increased its refining capacity and energy infrastructure for better transports from places like Russia, Latin American and the Middle East.
Just today, the Venezuelan oil minister arrived in Beijing to discuss refining and trade agreements with China. Venezuela is the fourth-largest importer of oil to the U.S.—about 11 percent of total imports.
In contrast, the U.S. continues to rollback its refining capacity while neglecting to invest in new infrastructure.
China's ever-increasing appetite for oil will continue to play a major role in the country's foreign relations with both partners and allies. Any disruption could cause volatility for oil prices.

Disclosure: No positions